Bluehost WordPress Tools: The Good, The Bad and the Ugly
Bluehost, one of the top website hosting companies in the U.S., recently announced it will begin automatically updating their customer's WordPress websites for security purposes. They sent emails out to their customers with this announcement in August 2015. With the recent increase in hacking attempts on WordPress websites, Bluehost decided to take this somewhat drastic action to help protect their customers and their servers. If you have a Bluehost account, this is very important information, so read on! We appreciate that Bluehost is trying to do something to curb the rash of WordPress website hacks, but automatic updates are not a foolproof method for updating your site, and they could actually cause a lot of problems.
We called Bluehost to find out exactly what they had planned, and here is what they told us:
The Good: The Update & Backup Tools
They have introduced a new element to their cPanel called WordPress Tools. To access it, you log in at Bluehost.com and then you will see the WordPress Tools button on the top navigation. Note, this is NOT the same as logging into your WordPress Dashboard.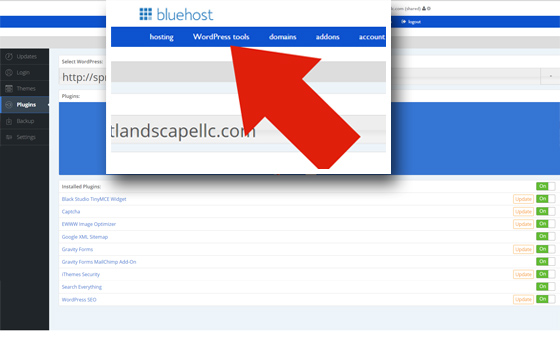 This new WordPress Tools area allows you to update WordPress, plugins and themes. As of August 2015, Bluehost has apparently turned on all automatic WordPress core updates, and from what we can tell, they have also turned on the plug-in and theme updates.
The new WordPress Tools is a very simple interface to perform updates, which we appreciate. One really good thing about the the new WordPress Tools Bluehost is offering is the ability to make a backup easily. We normally recommend using a WordPress plug-in such as Backup to Dropbox or Backup Buddy to back up your site files and database. We haven't had the chance to test the new tools, but it appears that this new tool easily let's you make a backup with just one click. However, please note that these backups are likely being stored on your same cPanel / hosting account, which means it is not a good backup protocol in the event your website were to get hacked. In that case, the backup files could also be infected. But it does allow you to back things up in case you need to restore to a previous version if your site breaks when you do the updates. So we still recommend having a backup of your site files and database stored externally (DropBox, a cloud server, your computer, etc.)
The Bad & The Ugly: Automatic Updates:
Automatic updates means that any time WordPress or a plug-in or theme developer updates their code, your website will automatically be updated. This sounds like a great idea in theory, however, the problem with this is that sometimes the plug-ins aren't updated at the same time to accommodate the changes in the core files, and your website could break.
Updating your website software is one of the most important things you can to prevent websites getting hacked. But having it happen automatically could be problematic. Your website could go down entirely just leaving the dreaded "white screen of death." Or even worse is that the site could look like it is up and running normally, but your contact form or lead generation form could be broken without you even realizing it. Yikes!! That could mean lost business! For this reason, we recommend calling Bluehost at (888) 401-4678 to turn OFF the automatic updates and manually doing the updates so that you can properly back up and test the site to make sure it is functioning properly after the upgrades. The more often you update, the more secure your site will be. You should do the updates as often as your time and budget allow, but at the very least, update twice a year.
This is something you can do yourself or you can hire us or someone else to do it. You can read more information regarding updates and security here:
https://bizzybizzycreative.com/wordpress-security-important-things-to-know
https://bizzybizzycreative.com/should-you-update-your-own-wordpress-website
https://bizzybizzycreative.com/backing-up-your-wordpress-website
If you choose to have automatic updates on your website, you need to make sure to visit your website frequently and test the functionality (contact form, email newsletter sign-ups, shopping carts, etc.) This is the only way to know if the updates worked properly!
To learn more about Bluehost's new WordPress Tools, visit their website or call their customer support: https://my.bluehost.com/hosting/wordpress_tools or (888) 401-4678
Do you have questions about or experience with the new Bluehost WordPress Tools? Write us a note!
Note, we are a Bluehost affiliate partner.