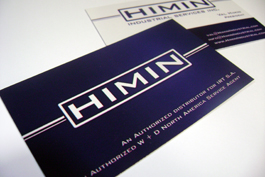 Now that you have the perfect logo for your company, it is important to keep the same imagery, type faces and slogans on all your materials for consistent branding.
A custom business card will reinforce your company branding and stand out in the stacks of cards that your customers and colleagues collect!
We can create customized business cards, letterheads, envelopes, address labels, folders and more to continue your branding efforts across all media.
Every time you mail something or write a letter, you will reinforce your company values and present a polished overall image.