Check out these free SEO resources!
If you missed our free SEO (search engine optimization) webinar, you can check out this video to hear what was discussed. Learn the basics of SEO within the framework of the garden metaphor and find out how to optimize a WordPress blog article for Google and other search engines using the Yoast SEO plug-in.
Download the SEO infographic for "Grow Your SEO: Search Engine Optimization Concepts Even Your Grandma Could Understand" to post by your computer to remind you about the best practices for search engine optimization!

Creating a plan and keeping track of your content is a valuable exercise. Save some time by starting with our content marketing template.
Make a copy of the Google Sheet
Writing the blog may be the hard part, but there are a lot of little things that must be done to maximize the SEO value of your content. Download our checklist so you don't miss an important step!
Click here to make a copy of the Google Sheet
Assuming you followed all the advice from the book, you may be ready for some slightly more advanced SEO. Before you start, you will need to gather your login credentials for the following: your web host, WordPress (if applicable), and Google Analytics (if applicable). You will also need a list of all the domain names you use or login credentials for your registrar. You may want to have a list of 3 competitors' websites for comparison.
Our nifty SEO keyword phrase map shows you where the keywords you are targeting for each page should go.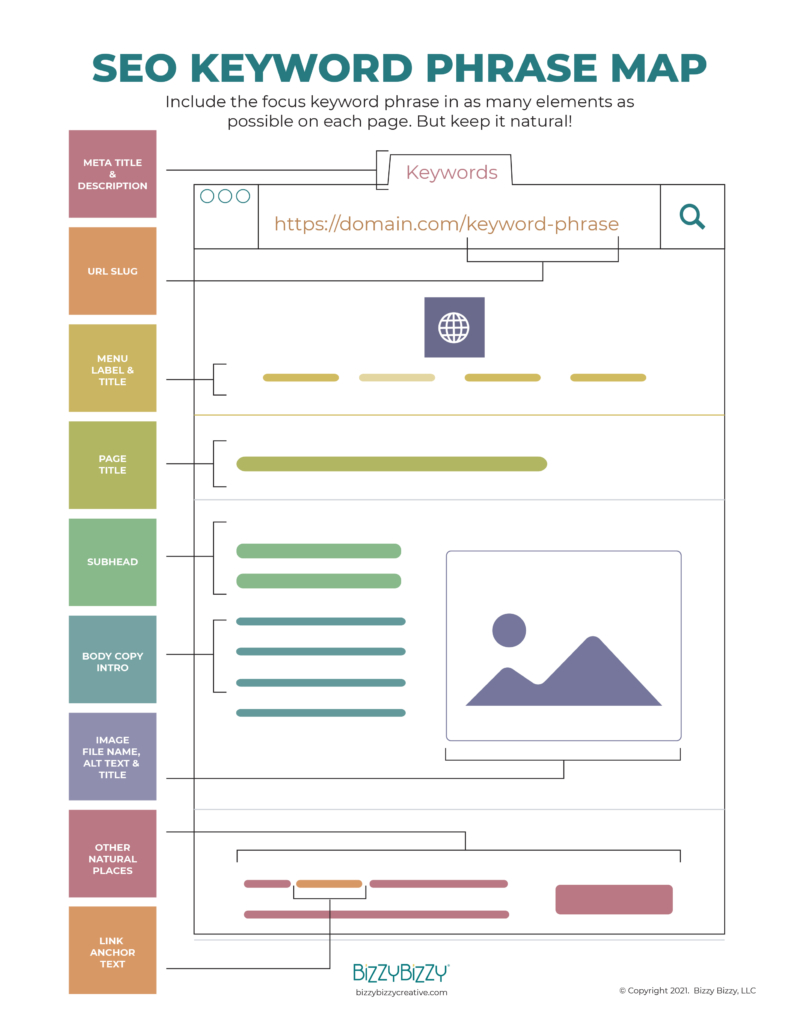 Keyword research tool. Actually free with no account at the time of this writing.
https://neilpatel.com/ubersuggest
Find out what long-tail SEO key phrases in the form of questions people are typing into search engines.
Plagiarism checker especially helpful if you're hiring someone to write content for your blog.
Woorank
Get an SEO audit of your site with suggestions of what to fix.
See Where Your Users are Clicking on Your Pages
Crazy Egg shows you where users are clicking and where they aren't. You can also see reports on how many people scroll down your pages. It also provides insight on where those users came from.
Find Out How Many Websites Link to Yours
Majestic boasts the planet's largest link index database. Enter your domain to find out how many websites link to yours.
Check Your Site for Malware
Sucuri SiteCheck scanner will check your website for known malware, blacklisting status, website errors, and out-of-date software.
Get a list of every page URL on your website that has been indexed. Especially useful if you're trying to reorganize content or do a website redesign.
Even More Analytics…
Try a 30-day trial of Moz Analytics to track and improve your SEO, social, branding, link building, and content marketing efforts.
Advanced analytics and competitor research especially helpful for PPC ads.
https://www.semrush.com/