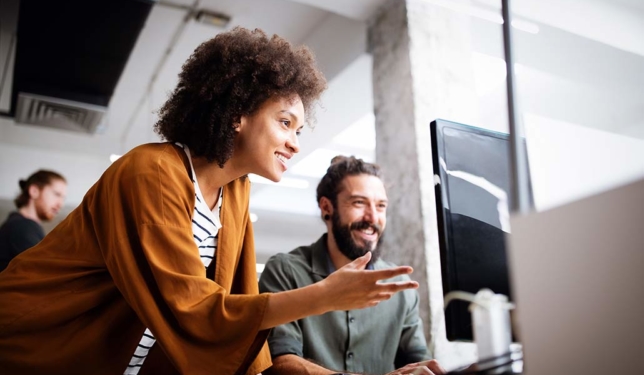 A Startup's Guide to Hiring a Web Design Company
A Must-Read Article to Save You Time and Money on Your Website Project
Embarking on a website project is a big deal for your startup, and hiring a web design company can be daunting. Yet finding the right website partner for the job is really important! If you choose the wrong freelancer or web agency, it could cost you a lot of time, money and heartache. Trust us, we've heard all the horror stories of website projects gone wrong! Freelancers dropping off the face of the planet mid-project, agencies overbilling, website projects taking longer than a year…
One of the things that makes hiring a web design company so difficult is all that technical jargon. It can be hard to know exactly what you are paying for, and it's hard to vet someone when you don't actually know a lot about the skills and experience needed to do the job right.
If you get multiple website quotes (which you definitely should), you may find that the proposals are all over the place in terms of both service, technology and pricing. We recommend getting quotes from at least 3 web development companies. Even if you already have a company that you plan to use, get 2 other quotes. The benefits of this are many. First, and most obviously, you can see how each company compares in price. But beware! You are most likely not comparing apples to apples, so don't assume that the cheapest site is the best choice. And also don't assume that the most expensive means it is higher quality.
The second benefit to getting multiple quotes is that you can make sure you are including all the features and functionality you need. Often website companies will ask you different questions, which may spur ideas or lead to you having a better understanding of your needs.
This guide is intended to help you understand the important factors in choosing a website developer so you can ask the right questions and find the perfect fit. Our Web Designer Hiring Scoresheet will help you ensure you are comparing apples to apples.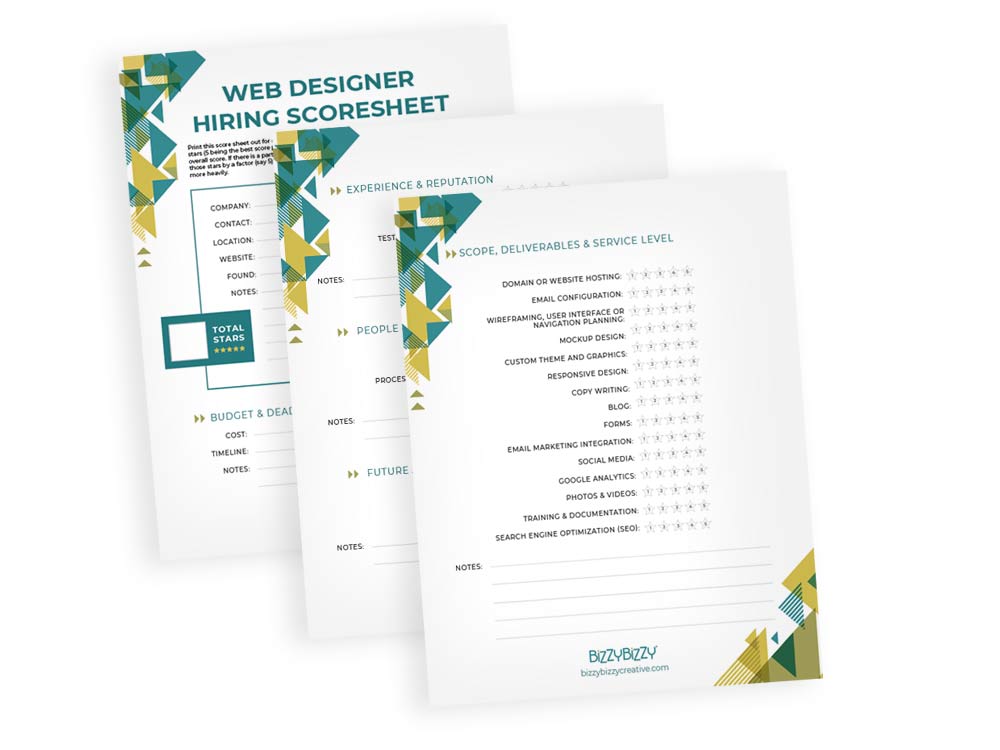 5 Elements of Hiring a Great Web Design Company
1. Budget & Deadline
Budget and timeline aren't necessarily the most important factors in a website design project, but often these are the "deal-breaker" areas, so it's important to talk about these up front. If you have a very limited budget, no matter how much you may like a specific company, if you can't afford to hire them, then it doesn't make sense to spend a lot of time vetting their credentials and portfolio. Similarly, if you have a specific deadline for your project (for example, a big trade show or the end of the year) and the company you want to hire is booked solid or can't commit to that deadline, you may have to look elsewhere. So let's talk about website budget and timelines.
How Much Does a Website Cost?
Asking "how much does a website cost?" is sort of like asking "how much does a boat cost?" To answer the question with a question: "Which boat?"
Are we talking about Huckleberry Finn's DIY raft or are we talking about Beyonce's 350-foot yacht?
Websites are not a one-size-fits all product, so the question you should ask yourself actually isn't "how much does a website cost," but rather "how much is my annual marketing budget, and what percentage of that should be spent on my website?"
Often in meetings with potential web partners, you will get asked what your budget is. Many customers are hesitant to tell vendors what their budget is, which is understandable. You want to know the price before you tell them how much you're willing to pay for it. If you're uncomfortable telling them your budget, then ask for that company's price range, average price or starting price. Keep in mind if a web design agency says "Our projects start at $3,000, that doesn't mean YOUR project will come in at $3,000. That's just the minimum project price.
In addition, every web design company will have a different business model. Some of them make their money on the website's development and charge for those hours worked. Others may charge less of an upfront fee, but then require you to purchase website hosting from them or have an annual maintenance contract. Other companies might be advertising or marketing agencies who are just selling websites as a way to get people in the door for their more lucrative digital marketing retainers or ad buying services.
Don't be surprised if you get very different prices if you get proposals from a full service web design agency versus a solo freelancer. There's a reason for that!
Just like with most things, in the website design industry you get what you pay for — with a few exceptions. Freelancers will almost always be less expensive than an agency, and you will almost always be getting less done for you. Look closely at the proposals to see what exactly is included in each as well as what you are responsible for as the client.
If someone has a suspiciously low rate, especially if the service level and scope looks similar in the proposal, proceed with caution. A great deal might turn into a great headache that will cost your business precious time and money in the long run.
Always get more than one quote, and make sure you're comparing apples to apples when it comes to scope, deliverables and service level (see section in our guide below).
Hot Tip!
The better idea you have of what you want ahead of time, and the fewer revisions you have, the less your site will cost. The more you change your mind mid-stream or change the project scope, the more your website will cost. Spend time researching the Scope section below to help guide your planning process. If you have a new idea or addition during the process (hey, it happens no matter how much planning you do!) ask how much the new idea will cost ahead of time to avoid a hefty bill you didn't expect.
Questions to Ask the Web Design Company
What is the average price of your website projects?
How do you charge (hourly, a fixed rate, or a range)?
How do you handle scope changes or revisions?
What happens if we go over the amount quoted?
What costs besides your company's charges will I have for the website? Which ones are ongoing and which ones are one-time costs?
Is there a discount available, a less busy time of year or any other factors that would allow me to get it for less?
How Long Does it Take To Build a Website?
Believe it or not, how long it takes to build your website is actually less about who you hire to build the site and more about how well prepared and responsive as a client you are.
Say what?
It's a tough pill to swallow, I know.
Most web design companies will tell you it takes a certain range of time (say, 6-8 weeks from kickoff to launch) to build a website. But usually, there is no guarantee on that timeline. It's not unusual for website projects to take closer to 6 months or even a year.
Web designers typically won't guarantee a launch date because there is no way for them to know when you — the client — are going to respond with needed information, approval and access. Because certain aspects of the project are out of their control, and entrepreneurs are super busy, they can only say how long on average it takes or a best-case scenario.
To give you an idea on how long it takes Bizzy Bizzy to develop a website, just like with budget, it depends on the scope and deliverables of the website. So let's talk about building a high quality 10-page marketing website with professional copywriting, custom graphics, email newsletter and social media integration and search engine optimization (SEO). This site doesn't have ecommerce or an online course or anything. This is how the marketing website described would break down:
Creative Director / Project Manager = 9 hours
Writer = 9 hours
Designer = 9 hours
Developer = 9 hours
Installation, quality assurance, mobile testing, training and SEO = 15
Total = 51 hours
So if you asked us, "How long does it take to build a typical marketing website?" we could say about 50 hours. If you asked us how long it would take to actually launch the website? Well, that's a different question altogether. What our formula above didn't account for was how much time it takes you the client to build the website?
Wait a second. If you're hiring a web design company to build your site, you shouldn't have to do anything, right?
Wrong.
You may be surprised that during that same average website, you might exchange anywhere between 100 and 300 messages with your web designer. They will need passwords from you, lots of information about your business, brand assets, examples of things you like, photos, text and files… Not to mention, once they have created the website assets (copy, graphics, functionality, etc.), you will be reviewing it, providing feedback on it and learning how it all works. Your list of things to do is actually quite lengthy, and that's the part a lot of startups don't plan for.
Before we developed our innovative 1 Day Website process, it took us an average of 3 months to get a site live because of all the back and forth emailing with the client. There were hours, days and weeks of dead time bogging down every project.
When you don't know when your client is going to get back to you, you have to take on multiple projects at a time. This is how most freelancers and web agencies work, and juggling many projects is how there can be delays on their end, even when you are being an A+ client and responding to emails within minutes.
There are a few questions you can ask ahead of time to ensure you won't be ignored during the web design process and that your project is a priority.
Hot Tip!
Being well prepared up front with your important passwords, brand assets, photos or ideas can speed up the timeline of your website. In addition, the quicker you are to respond to your web designer's emails or phone calls, the faster your site will get done! If you have a vacation or big work project coming up, let your web designer know that you will be missing in action for a while so they can plan around your schedule.
Questions to Ask the Web Design Company
When could you start my project?
How long does it typically take from the kickoff to launch?
What is the longest it has ever taken for you to launch a website?
What is your work schedule like?
Do you have any scheduled time off coming up that will impact my project?
What are the typical delays in the process and how can we avoid them?
If you have a specific deadline: My deadline for getting the site launched is XXX. Can you guarantee that the site will be live by that date?
2. Experience & Reputation
Web design is a relatively easy field to get into. There is literally nothing stopping anyone from printing themselves a business card that says they can build websites. It turns out, practically everyone has a nephew who builds websites!
There simply isn't any industry-accepted "WordPress school" or web design certification that would ensure that someone selling web design services actually knows what they are doing. That, plus the fact that it may be hard for a layperson to tell a good website from a bad website is what makes hiring a web designer risky business. That's also why it's so important to vet your options carefully by using this startup's guide to hiring a web designer.
Do You Like their Web Design Portfolio?
Most web design companies will have a section on their website to show examples of their work. Look at their portfolio to determine if you like what you see. Don't just look at the screenshots of the websites in their portfolio. Actually click on the links or Google the past clients' names to find the websites and check out how they function and look on the live site.
Some web designers have a distinctive style or template they use, and a lot of their sites look similar. Other designers are very versatile based on the startup's branding and tastes. Don't be overly worried if you see a website design that doesn't match your tastes, but do be worried if you see a bunch of designs you don't like. If you don't see anything you like, move on.
Beware if they don't have any past projects to show. That likely means they are brand new in the field, and you're less likely to have a good experience.
Are There Any Relevant Past Projects?
Besides the design and overall look and feel of the websites in the portfolio, consider whether there are relevant projects that are similar in functionality to the site you are looking to build.
For example, if you need a shopping cart on your website, you'll definitely want to see some other examples of ecommerce websites in the web design portfolio. It doesn't have to be in the same industry or in the same design style, but rather the same type of things a user would need to do.
If you find someone with the right experience or specialty that closely aligns with your project, you'll definitely get a better price and likely have a much better experience than hiring a company that has never built a site like the one you are trying to build. On the other hand, if your web designer is learning on the job during your project, you are much more likely to have problems, delays or surprises….the bad kind of surprises.
Do They Have Solid Testimonials or References?
A lot of companies will have testimonials from past customers on their website. Read through them to see what is being said, and also what is not being said. For example, if all the testimonials are about search engine optimization, but none of them mention good customer service, that may tell you something.
If you really want to be thorough in your vetting process — and especially if you plan to spend $10,000 or more on your startup's website — it will be worth your time to actually get references from the companies and talk to a couple of past clients. Besides just getting a little two-sentence blurb about the positive stuff, you will have a chance to ask questions about the process, communication, service and results.
If you can get a referral from a trusted friend or colleague, that's even better.
Do They Have Positive Online Reviews?
One of the easiest things you can do when vetting a website company is to look at their online reputation. Type the company name into Google to see what you can find. Besides their own website and portfolio, which you should look at carefully, you should also check out their social media profiles and any online profiles they have that might have reviews such as Google My Business (this is the pin on the map), Yelp or the Better Business Bureau.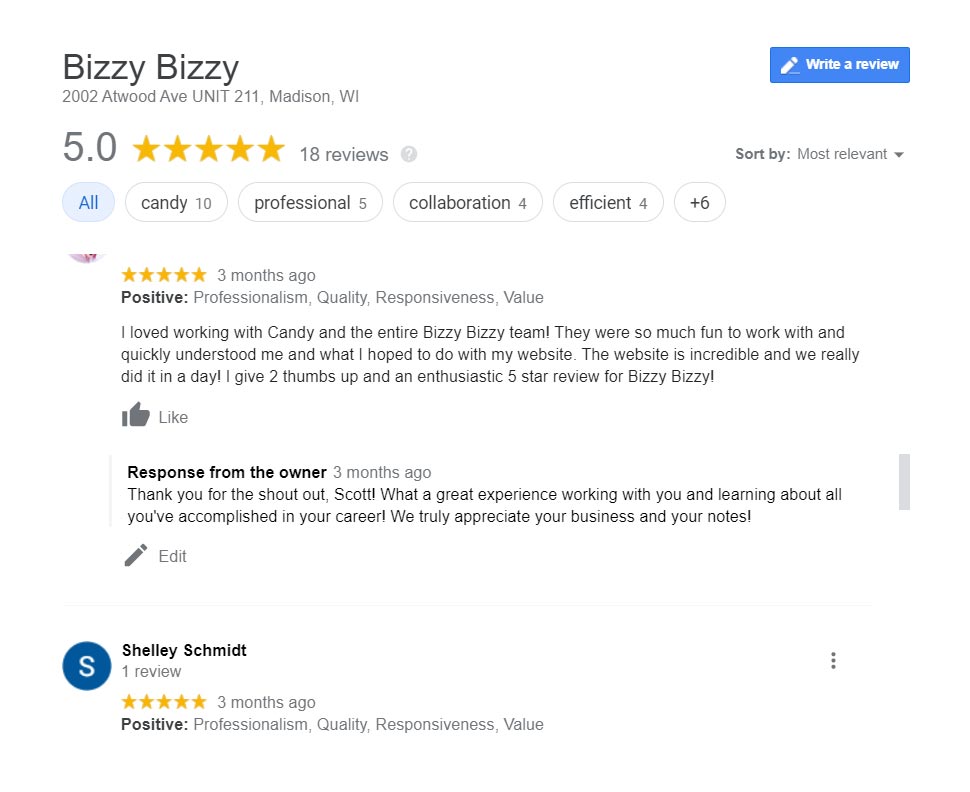 The more positive reviews a company has, typically this is an indication of both being in a business a long time (a good thing!) and also that they produce high quality websites. It goes without saying that if a company has a bunch of bad reviews, you should avoid hiring them, even if they are your nephew!
Hot Tip!
If you see a website you love or that is similar to what you are looking for, look at the very bottom of the site to see if there is a "Website Built By" link to the web designer's site. This is great way to find a developer with a relevant portfolio and design that you like.
Questions to Ask the Web Design Company
How long have you been in business building websites?
How many websites have you built?
Do you have any past projects that are similar to the site I am trying to build?
How do you measure project success?
Can you build a site like this?  (show them an example of a site you like)
3. Scope, Deliverables & Service Level
"I want a super complicated website." This was said by no website client ever.
Practically every client says they want a simple website. This is partly because they are describing the user experience they hope to have on the site, not necessarily the process of building the website or the functionality behind it. And partly they are hoping what they want is easy and inexpensive to build.
As a general rule with both technology and design, the easier something is for the user to use, the more difficult and costly it was to build. For example, as a user of Amazon.com, you think the experience of shopping is simple. You type in what you want, you see all the options in the world, you click "Buy Now" and the package arrives at your door two days later. It couldn't be simpler!
As a general rule with both technology and design, the easier something is for the user to use, the more difficult and costly it was to build.
In actuality, Amazon.com is one of the largest and most complex websites ever built. But it's all-too-common for clients to get so used to using extremely complex websites like Amazon or Facebook that they take for granted the magic of their design.
The complexity of your website project will depend on the size, design, features and functionality. If you're trying to build a marketplace like Amazon, that's probably going to cost you. But with that said, what is difficult for one web design firm may be easy for another. Maybe there is a company that specializes in building inexpensive Amazon-like websites. Maybe there is a brand new app or technology that makes what once was time consuming and tedious a matter of a few clicks.
Technology is always changing, and each website design company will have its specific experience, tools and skills to bring to the project.
What Features and Functionality Need to Be on the Website?
It is important to understand the scope and deliverables of what each quote is proposing before you make a decision on which web design company to hire. Rarely are two companies offering the exact same thing, so you shouldn't just base the decision on price.
You may not be able to put together an accurate project scope until you start getting asked more detailed questions about what you need. But even then, the questions you get asked may not be the same at each company. For example, one company might ask you if you want your logo redesigned as part of the project while another assumes that if you didn't bring it up during the conversation that the logo you have will be used as is. If one company is including a logo redesign in their quote, naturally it's going to be a more expensive project.
Some of the questions you may get asked by the web design company to determine the scope are the following:
Which pages do you want on your website?
Do you need ecommerce to sell anything on your website in a shopping cart? If so, what exactly are you selling (how many products) and how are they priced, shipped, etc.?
Do you have any existing content (for example, text, videos, photos, old blogs) that need to be migrated to the new website?
Do you need copy writing or will you provide the text?
Do you have an existing logo and/or branding assets?
Do you need photography or videography services?
How important is search engine optimization to you?
What do you need the users of your website to be able to do? For example, do you need appointment booking, private membership area, an online course or any other type of special functionality?
If you're not sure how to answer some of these questions, that's OK. A good place to start is by looking at a bunch of other websites, especially websites of your competitors or other industry peers. You'll get a good idea of how people are organizing their content (i.e. what pages they have), as well as any special functionality or fancy bells and whistles you might want to include.
If you have an existing website (especially a big one), use the tool XML Sitemaps to get a thorough understanding of how many pages, blogs and other types of content  you have on your website. Then go through each page on the site and determine what you need to keep as is, what needs changing and what can be scrapped altogether.
Keep in mind that big functionality such as ecommerce could drastically add to the cost of a project, so make it be known whether something is a "nice-to-have" feature or essential to the project.
What Technology is Being Used?
Beyond the features and functionality you need on the website, other factors that will affect the scope are the technology used, how custom the site is and other deliverables.
The platform or language that a company uses to create your website can dramatically affect the scope and cost of the project, as can their overall approach and business model.
On one extreme of the custom website design, a company might develop a completely custom website from scratch for a client, not using any kind of content management system but rather just hard coding everything. This is ideal for someone when the website or app is their entire business. For example, that person who wanted a custom Amazon-like marketplace might want to start from scratch if they had the budget to invest in design and development to have everything exactly how they envisioned it. When the website isn't a marketing tool, but rather the business itself, you may want to start from scratch.
Keep in mind that besides the higher upfront cost, the downside of coding everything from scratch is that it is very expensive to maintain into the future.
On the other extreme, you have someone who might install a website template, add your text and a couple photos and call it a day. These types of sites are good for the ultra low budget or when you just need a placeholder until you have the budget for something more substantial.
For most startups, we typically recommend something in between a generic template and a fully custom coded website.
If you do a bit of research on website platforms, WordPress is by far the most popular website platform on the planet. Two of the big benefits of WordPress are it's customizability and scalability. Read more about why WordPress is our preferred platform. The downside of it is that it is more difficult and time consuming to build a WordPress website than it is to build a website on another drag-and-drop platform such as Wix. Take a look at our Wix vs. WordPress article to learn more about the differences between the two.
Make sure to ask a lot of questions about what platform the web design company uses and why. It may not seem like a big deal now, but it will impact both the price and the flexibility of the website moving forward.
Besides the actual platform your website is built on, there are other pieces of technology that will impact the scope and cost. For example, let's say you have a software startup and you want to add online appointment booking to your website so potential customers can sign up for a live demo. Will you use an existing third party app such as Calendly, or do you need something built from scratch?
Especially for tech startups, they might tend to want to build their own websites or write their own plugins because that is relatively easy for a developer on their staff to do. But keep in mind that as you grow, your developers will be busy building your product, and you will want to be able to hire vendors and employees to manage your marketing website. If the site or a specific feature is custom coded, it will be harder (and more expensive) to find someone to work on it.
The more you can leverage things like plugins, apps or extensions that already exist, the less your website will cost and the less time it will take to build. Again, if the appointment booking is a just a feature on the site that you want, no need to code it from scratch. But if the whole business revolves around appointment booking, then you probably want the flexibility of a custom application.
Ask yourself what you need someone on the site to be able to do. Think through each piece of functionality and try to be specific. Do you need people to be able to simply book appointments, or do you also need to collect payment? Do you need to have different calendars for each employee? Do you need different types or lengths of appointments? Again, look at other websites to get an idea of what you might need the site to do. Write it all down and give the same list to every web designer you speak to.
Do a little research on the various technologies each web design company is proposing. Ask if you can get a sneak peak at the "back end" of one of their websites to test drive it before you commit.
Keep in mind that the technology used on your site will have a big impact on both the cost and the ease of scaling or redesigning your website at a later date. Make sure to think not just about the website you need now, but also where your business is going in the future.
What Services and Deliverables Are Included in Your Website Quote?
The primary reason a web design agency will almost always cost more than a solo freelancer is because there are usually more people involved in building your website. The bigger the agency, the more input your project will have from a variety of people that might include writers, designers, developers, project managers or creative directors.
Individual freelancers can run very lean businesses when it is just one person, which keeps costs down. But, when you hire a single person to build your website, you are limiting yourself to that individual's knowledge, skills and experience. This can be a problem because it's very common for a web developer to be an excellent coder but a bad designer. Or a beautiful designer but with no knowledge about search engine optimization.
Make sure you understand who will be involved in the project, what their skills are and what portion of the project you are expected to either do yourself or get outside help with.
Besides any special functionality like we talked about above, some of the things that may or may not be included in your website quote are:
Domain or Website Hosting:
We generally recommend that startups purchase their own domains and hosting so they can have more control of their website. At the very least, buy your own domain name so you can't be held hostage by a web designer if your relationship sours in the future.
Email configuration:
Your web designer may help you set up email accounts at your domain. We typically recommend using Google Workspace (formerly GSuite) or Microsoft 365 / Outlook with domain emails.
Wireframing, user interface or navigation planning:
The larger and more complex the site, the more important this is. For a small marketing website, we recommend wireframing the home page.
Mockup design:
Some designers design on the fly and will show you a live home page. Others will use Photoshop or Illustrator to design what the home page or other internal pages will look like before actually coding anything. It's more time consuming (and expensive) to do the mockups but much easier for you to have design input before anything is coded.
Custom theme and graphics:
It goes without saying that your website should be branded with your logo, colors, graphics, fonts (when possible) and overall brand style. If you are hire a WordPress web design company as the platform, we generally recommend a custom child theme rather than a custom theme.
Responsive design:
Responsive design means your website should function well and look good on phones, tablets and mobile devices.
Copywriting:
Some agencies will write some or all of the website text for you, using marketing and SEO best practices. If they don't, you'll be on the hook to write the text. Warning! This causes one of the most common delays in website projects because startups often have a hard time writing about themselves and their products and services.
Blog:
This might also be called a recent news section. Make sure any blogging you are doing is built in to the website and not on some external domain or subdomain to fully reap the search engine benefits of it.
Forms:
A feature like a contact form is pretty standard on most websites. You may need other types forms on the website for job applicants or customer surveys.
Email marketing integration:
Our favorite email marketing software is Mailchimp. Most email or CRM platforms will have some code you can embed on your website for people to sign up to receive your emails.
Social media:
You'll definitely want links to your social channels like LinkedIn, Twitter and Instagram. If you plan on doing digital advertising, you'll want to install the Facebook Pixel for tracking. You may even want a live Instagram feed, share buttons on your blog or other social media integration.
Google Analytics:
This is the industry standard for website analytics and traffic tracking. It's free, so make sure you have it installed on your site. Also make sure you have admin access to that account! Sign up for Google Analytics for free.
Photos & videos:
Big agencies will often have an in-house photographer or videographer. Otherwise you'll be supplying your own photos or videos. If they don't have in-house photography, they can often recommend local photographers and videographers. Also check if you have a certain number of stock photos included in the quote as well.
Training or documentation:
We believe it's important that startups have control of their websites and can do basic changes to text and photos themselves. Some companies will include training or documentation about how your website is built. Depending on the platform, there are also lots of tutorials online you may be able to find. Check out some of our got some helpful WordPress video tutorials.
Search engine optimization (SEO):
SEO is a vast field that spans highly technical aspects of the website to copywriting to content marketing. Ask for specifics on what SEO will be done on the site. Note that the best SEO takes ongoing investment of time and resources, but there are many things that need to be done one time to make sure your startup's website is optimized for Google.

Understanding Your Website Proposal
There will be plenty of industry jargon in your website proposals, but don't let that prevent you from reading it and understanding it. Your website proposal (which also may be called a contract, scope of work or engagement letter) is the opportunity for everyone to get on the same page and make sure you are agreeing to the same terms of service and scope.
If you don't understand something in the proposal, just ask your web designer for clarification! It's so much better to find that clarity before you start working together rather than mid-project.
And don't forget about your good friend Google. If you can't remember what a term such as "SEO" means, just do a quick search on Google.
Website proposals can be intimidating, but understanding it is important. This is a big project that will take a lot of your time and resources. Getting clear on the deliverables will help you compare apples to apples before you make a decision on which web designer to hire.
Hot Tip!
Beware of anyone who doesn't have an official proposal or scope of work. That usually indicates a fly-by-night business or a web designer lacking good processes. Neither of those situations will bode well for your project. And remember, you're not the only one committing to the proposal! That proposal can be referenced by either party if things start to go off the rails.
Questions to Ask the Web Design Company
What technology do you use on your websites and why?
How customizable are the sites you build?
What features on my wish list are the most difficult or expensive, and are there any ways to cut down on the cost?
Are there any other features or functionality that I haven't mentioned that you would recommend?
How scaleable are the sites you build? For example if I wanted to add a shopping cart in the future, would I have to start from scratch?
Would another web designer be able to edit the code you have created for the site?
How easily will I be able to edit things like text, photos and blogs?
Will I be trained on how to make edits on the site?
What kinds of SEO do you do to optimize the site for search engines?
Who will be involved in the project and what are their skills?
What parts of the website am I responsible for, such as text, photos or videos, and when do you need them by?
Can we have a meeting to discuss the proposal once it is ready?
4. People and Process
When you consider who to hire for your website project, it's easy to get caught up in technology and bells and whistles and overlook the people building the website. You'll be working very closely with your website designer over the course of days, weeks or months, so it's important that they are reliable, responsive to your needs and that you like working with them. Here are a few things to consider:
What is Communication Like?
Pay attention to the communication skills of your contact person, and ask yourself these questions:
Can they explain complex topics in an easy-to-understand way, or do they use a lot of jargon that you can't follow?
Are they approachable, or are they intimidating, condescending or pushy?
Do they present options and help you make educated choices, or do they seem rigid in their approach and thinking?
Do they genuinely seem interested in your project and confident they can do it?
How knowledgeable are they about both your project needs and your industry?
Is this person a project manager or the person building the website (there are pros and cons to each)?
How Responsive Are They?
The level of responsiveness during the sales process may or may not be indicative of how the company will be to work with. Keep in mind that dedicated sales people and project managers tend to be more available and responsive than when your contact is someone who is actually responsible for building the website.
If you hire a solo freelancer, that person is not only doing all aspects of the website, but they are also doing their own accounting, marketing and wearing many other business hats. So as a general rule, larger companies with more staff will usually be more responsive. But on the other hand, if a freelancer isn't especially busy, you might be getting responses within an hour of your email. Either way, if it takes someone a week to get back to you about your initial query, don't take it personally. It probably means they are overbooked, understaffed or uninterested, in which case you probably don't want to hire them.
Above all, if you have a bad feeling about someone during the sales process (they seem untrustworthy, unresponsive, unreliable or just plain mean), use your instincts and move on. In my experience, gut instincts are highly accurate.
What is the Process Like?
While most web development companies will have a similar sounding process ("we discover, we develop, we launch!"), don't skip this important line of questioning on the details about their process and your client experience.
Asking specific questions about milestones, checkpoints and project management will give you a look into the organization to make sure they have their "poop in a group," so to speak. It's all-too common for freelance web designers to have no process, no checklists and no quality assurance whatsoever. Without a tight process, important things will slip through the cracks. We've seen some real sloppy websites launched with broken contact forms and typos on the biggest text on the home page. Cringe.
Make sure you will have opportunities during the project to provide feedback on any assets they are creating for you, including design / graphics, layout, text, photography and the overall functionality.
What are their values?
Some companies will list their core values right on their website for you to see. You might even be able to read their mission and vision, which may or may not impact your decision making on whether to hire them. Others will hint at their values in social media posts.
But even if you don't get a handy list of values to review, pay attention to the way your conversations go to identify what things seem to be the most important to your web design company.
For example, some companies might value being economical, so the conversation will be framed around saving you money. Other companies may value user experience, so they will spend more time on the UX / UI of the site than another company.
Being a conscientious buyer means paying attention to the values of the company, and thinking about how that may impact your project. After all, values really do frame the way a company does business.
Hot Tip!
Ask your web designer to give you an idea of their quality assurance process. Since you don't know website best practices, you're looking for some indication that your web designer does. As long as they have some kind of process in place, that's a good sign. If they respond with "quality assure-what?" then it's likely you would be getting a low quality website.
Questions to Ask the Web Design Company
Who will be my point of contact during the project?
Will I be communicating directly with any other team members?
How is communication done: email, in-person meetings, phone calls, teleconferences or project management software? If they are using project management software, will I be trained on how to use it?
What are my responsibilities for communication (i.e. response time, using a specific software or process, etc.)?
How much input will I have on the design of the website?
What are the checkpoints or milestones during the process to ensure satisfaction?
How are revisions handled?
5. Future Access & Support
Once the website is "live" (available on your domain for anyone to see), that does not actually mean it is "done."
We like to say that a website isn't finished when it is launched, rather it is birthed. Once your website is out there in the world, now you need to take care of it and continually improve it to get the real return on your investment. Read our 10 Things to Do After Your Website is Launched and updating your WordPress software to learn more about what that may involve.
This is why it's so important that you as the client have access and control of the website. It's your baby after all! Here are some things to consider after the site is launched.
What is the Maintenance and Support Model?
"Quick question, how can I get my website on the first page of Google."
This is the type of "quick questions" web design agencies get from their clients every day. And unfortunately for startups, website companies typically have to charge consulting or support fees for answering these types of questions. As service providers — just like lawyers and accountants — most web development companies are essentially selling their time. So offering free support for every website they build or project they take on typically isn't a sustainable business model.
But that doesn't mean you'll be on your own after your website launches. Most web design companies offer some kind of website maintenance and support, either by a monthly retainer or hourly fee. Have a discussion about this with each of the web designers to understand the pricing, requirements and offerings after the site is live.
How Much Access and Control Will I Have?
It may seem like great service if the web designer says they will sign up for all those different accounts (domain, hosting, social media, analytics, etc.) for you and then just send you one monthly bill. Wow, less for you to keep track of, right?
Well we hate to be the skeptics, but we've heard countless horror stories from clients who were being held hostage by their web designer. This happens when the web company decides to dramatically increase their rates or their service isn't as good as it used to be. You'd like to leave, but it would be more expensive to have to rebuild than to just stick around and pay the higher rates. Or maybe the web designer drops off the face of the planet, becoming unresponsive, and you're just plain stuck and forced to start from scratch with various accounts.
We think the best-case scenario is that your startup has 100% control and admin access to the website, your domain, your emails, your analytics, your social media and your website hosting account. It's OK if your web designer has access as well (and it is probably necessary), but you should be able to log in to all the accounts, change any passwords and delete or add users.
This allows you the most autonomy. You can hire a really expensive and experienced company to build your website, and then you can either manage it yourself going forward or hire a less expensive freelancer or vendor to help. You can remove the web designer from any accounts as needed or change the passwords.
Even if you are in love with your web design company, doing a little more of the leg work up front will be beneficial in the long run.
How Scaleable and Flexible is the Website?
One thing that almost no one thinks about going into a web design project is about redesigning that same website in a few years. It would be nice if the money you are investing now were a one-time business expense when your startup first takes the plunge. But with changes in technology, your industry and other factors, you could be looking at a website refresh in as few as 2 and a half years! This article has some good info on the factors that determine your website's lifespan.
If you are a fast-growing startup, you'll want to think about the future of your business and website needs now and into the future. For example, if you just want a basic marketing website now but then you plan to add ecommerce later, make sure to bring that up in your discussions for the original project. You definitely want to be able to add various features and functionalities without having to start over. And ideally, you would be able to use either the company that built the original website or a different company to add on to the site. Again, this gives you flexibility to switch vendors if the initial project doesn't go well.
The technology itself will be a big indicator of how scaleable the site will be. One of the reasons we love WordPress is because it is an open source database-based platform. This means that no individual company owns your website code, which gives you flexibility to choose other designers, developers or hosts. Plus you could more easily switch to another database-based platform in the future if needed without having to copy and paste every piece of content you've ever created.
When you use a custom coded site or a proprietary platform, you are at the whim of the company that built the site or that owns the code. This isn't a big deal if your website is only 5 pages, but if you have an ecommerce site with hundreds of products, you really can't afford to be starting from scratch every few years if you're not happy.
Hot Tip!
One way to save money on the initial website build is to have professionals do the initial design and build of the website and then add many of the extra pages or content later based on templates they design for you. Most companies will offer to train you — or an intern! — to make content changes and minor maintenance on the site. Even if you have to pay extra for the training on WordPress or another software, it's worth it to have that autonomy and skill to continue to manage your website into the future.
Questions to Ask the Web Design Company
When is the project considered finished?
What happens after the site is live?
Do you offer ongoing website maintenance, and is it required?
What about support if I have questions about how to do something?
Do you offer additional training if I or an employee want to learn more about managing the website?
If I want to add functionality to the website later, could I hire you or anyone else?
Are there other resources (documentation, online tutorials, etc.) where I can learn more?
What do you expect the lifespan of this website to be before I need to redo it?
Do you offer any other search engine optimization or digital marketing services to help me drive traffic to the website?
Conclusion
If you've made it this far, congratulations! You are going into your website project more well informed than most. You'll be able to avoid the most common pitfalls of website projects, save money, save time and choose the best web design company for the job. Don't forget to download our free Web Designer Hiring Scoresheet to help you compare apples to apples on your website quotes. Let us know if you have any questions!