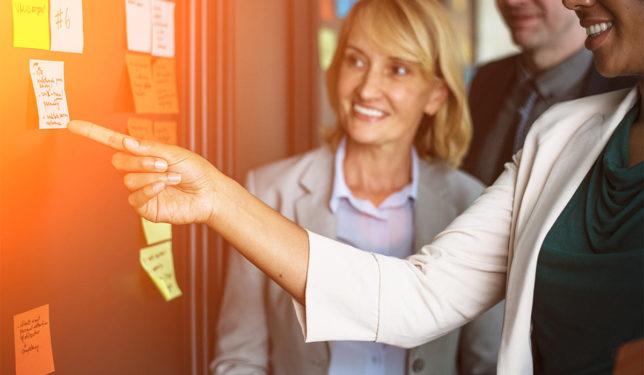 Naming your business is a big deal. We've all heard the stories of the "a-ha moments" when a startup founder had a clever idea for their tech company name while walking their dog or taking a shower. "It just popped in my head!"
But great company names don't always come that easily.
A lot of people get stuck at this part. They don't know how to come up with a catchy name for their startup or brand. So they just keep thinking about it, losing sleep over it, waiting for that creative spark to hit randomly.
Maybe you've considered one of those "startup name generator" tools and are hoping some artificial intelligence will help you have a business-naming breakthrough. That could work. In some cases, a startup name generator can help spark ideas you would never have thought of.
But the problem with using a startup name generator is that you can get stuck in thinking you have to choose something from a list — albeit a gigantic list. This can hinder your intentional decision making and actually limit your thinking. Without using your actual human intelligence, a creative process and some real discernment, you could wind up one of those worst company names lists.
True story. I tried using a startup name generator to come up with quick business name examples for this guide. I typed in "telehealth software services" into Namelix and got the suggested name "Ethnoreligious School Bus." No joke! So I gave up and just used my brain.
Ideally, your name should be the same for the life of the business to maximize your branding efforts. While there is a time and a place for rebranding, it is incredibly costly and time consuming. So before you run out and buy 1,000 custom laptop cases with the first idea you see on a startup name generator app, try out our Startup Brandstorming process!
Bizzy Bizzy has reverse-engineered the creative process that professional brand naming agencies use. So even if you don't consider yourself "creative," our Startup Brandstorming process will help you get unstuck. After going through our guide to naming your company or product, you'll:
be able to generate dozens of potential name ideas;
know the discerning questions to ask to make sure it is a good name;
get tips from scientists and professional brand namers on how to name a company or product.
So let's get started!

Understand the Bigger Picture of the Brand
Whether you are a tech startup, a product manufacturer or a mom-and-pop pizza parlor, you should think of your company as a brand. This is an important mindset in the process because it is all-too common to think small when it comes to naming your business. Many people fall into the trap of just naming their business after their last name (i.e. Johnson Landscaping) or the most obvious description of the product or (i.e. The Shuffleboard App).
Your brand name should differentiate you and help you sell your products and services. In addition, by the time you're ready to exit the business, the name itself should be worth something if you've done your job. The more intrinsic value your brand name has, the more money you can make by selling your business or licensing your brand name in the future.
The brand name is just one part of the overall brand strategy, but it is one of the first things you need to do. Whether you are naming a startup, a family business or a product, you need to settle on a name before you can move forward with other branding and marketing tasks. You can't very well have a logo designed or get a website developed without a name!
A good company name should match the essence of your brand, help you attract the right customers, convey information (either directly or indirectly) about your products or services, and be a primary ingredient in becoming a well-loved, unforgettable brand.
When naming your business, keep in mind that one of the primary goals of branding is to build value around your brand over time through brand awareness and brand preference. The most basic thing you need a consumer to do when making a choice to buy is simply to remember your company name.
Leverage the Power of Linguistics
Linguistics is the science of language. And because all brand names are based in language, it is also the science of brand naming.
Often when choosing a brand name, you will like some names and not others. Some just sound better. Some names just sound silly or more trustworthy. This is where linguistics usually comes in, whether you realize it or not.
Did you smile at the thought of naming a company Pocket Pickle? That's because certain phonetic sounds and words in the English language are inherently funny.
In Neil Simon's 1972 play The Sunshine Boys, a comedian gives the following linguistics lesson to his nephew:
"57 years in this business, you learn a few things. You know what words are funny and which words are not funny. Alka Seltzer is funny. You say 'Alka Seltzer' you get a laugh … Words with 'k' in them are funny. Casey Stengel, that's a funny name. Robert Taylor is not funny. Cupcake is funny. Tomato is not funny. Cookie is funny. Cucumber is funny. Car keys. Cleveland … Cleveland is funny. Maryland is not funny. Then, there's chicken. Chicken is funny. Pickle is funny. Cab is funny. Cockroach is funny – not if you get 'em, only if you say 'em."
The study of linguistics has proven this with science! One researcher dubbed it The Snunkoople Effect, using the mathematical principle of entropy to predict whether people would think a made-up word is funnier than another made-up word.
In another linguistics study, researchers found that the way different phonetic structures are used in brand names can affect their luxurious appeal. When identifiable phonetic patterns associated with luxury and basic brands were used to create new fake brand names, survey respondents were able to successfully classify them as luxury or basic brands just based on their name.
So how do you use this information if you're not a professional linguist or able to afford a brand-naming agency? The answer is: use your human instincts.
Is the name easy to pronounce and spell?
We all know it is difficult these days to come up with a remarkable, original brand name that no one has thought of yet. When it comes to domain names, well it's just short of impossible to get a good .com without having to pay a fortune.
Because of this brand name drought, a popular option is to name your startup a made-up word (think Verizon or Travelocity) or a misspelled variation of real words or phrases (think Reddit or Lyft).
This is a great strategy and one we'll explore further. However, make sure you don't get too far from reality and create something impossible for customers to pronounce out loud or spell.
There was a rash of technologies company names circa 2005-2015 with obnoxious spellings (i.e. Fiverr) and a trend where companies simply added "ly" to the end of any word to create a brand name. Calendly comes to mind as one of my least favorite startup names.
Lyft if good. Fiverr is bad. The reason? Plenty of English words use the "y" instead of "i", so once you have seen the word "Lyft" you can remember the spelling more easily. On the other hand, is it Fivver or Fiverr? Not many words in English have a double rr at the end of the word, so it could just as easily have been spelled "Fivver". They are both mathematically similar in improbability and thus more difficult to remember how to spell.
Sometimes it's hard to tell that fine line between clever and awful!
You might be thinking that some of this brand naming stuff is really subjective, which it is. However, there is plenty of research that proves how a brand name can affect a company's brand recall and even their actual stock performance.
According to a study from Princeton University, the ease of pronouncing the name of a company—and subsequently stock ticker symbol—influences how well that stock performs.
It's not surprising that a company name you can't even pronounce isn't going to automatically conjure positive feelings or build trust among strangers.
Is the name too long?
With any brand name, the shorter the better. 'nuff said.
Be Intentional About Brand Recall
The longer your name has been around, and the more you invest in brand awareness, the less you have to worry about people finding you. However, especially in the beginning, a tricky name to spell can cause real problems when people are typing an email address or trying to find your website with a Google search.
Brand recall is a component of brand awareness that measures the spontaneous recall of the brand from memory when the customer is prompted by the product category. So for example, Apple's iPhone dominates in brand recall when people are asked about a brand name for the category of smartphones.
Consider this: a company with an unremarkable brand name could spend thousands of dollars on advertising, pay for billboards on the highway and buy display ads on every website on the internet. But when it comes time for a potential customer to take action on a purchase, if they can't even remember what to type into Google to find that company, they aren't able to make a purchase.
Think of the wasted money and missed opportunities.
The less memorable the name, the more money you have to spend to drill it into people's brains (and that's not even to speak of the money it takes to convince them your products or services are worthwhile in the first place).
Is the name memorable?
In general, avoid acronyms altogether. Acronyms like MSNBC are not easy to remember, most short ones are already being used at other organizations, and they don't make for a loveable brand name.
A few exceptions to this would be if you are starting a nonprofit or professional association where the most clear and obvious name is a long phrase of descriptive words such as the Wisconsin Association of Certified Public Notaries (WACPN).
You may also break the "no acronyms" rule if you are clever enough to come up with an acronym that actually helps explain or hint at what the organization or product is about such as HELP (Helicopter Emergency Landing Pads).
Creating a memorable name is not always clear cut, but there are a few good tricks you can use to delight your audience with your brand name. For one, consider whether the name is fun to say. This can be achieved by having alliteration, rhyming or repetitive phonetic sounds.
Your basic alliteration can be found in many big names such as Best Buy, American Airlines and Land O'Lakes.
According to the American Marketing Association, names with repetitive syllables or sounds like TikTok, Coca-Cola, Kit Kat, Comcast or Tostitos naturally create positive brand perceptions, which favorably affect consumers' brand evaluations and reactions to products.
Using rhyming in your brand name can be a powerful tool to make your name stand out. Big brands with rhyming names include Fitbit, Jelly Belly and StubHub.
With all of these techniques, make sure not to go overboard to the point that your brand name sounds silly. StubHub Club might be one too many rhymes. Precise Professional Pacific Painters is bordering on obnoxious.
Having a memorable brand name certainly won't guarantee any level of success, but having a bad name can actually stifle it.
Having a memorable brand name certainly won't guarantee any level of success, but having a bad name can actually stifle it.
Consider the Brand-Naming Construct
Brand naming experts have identified common brand-naming styles, or constructs, that can be used to classify brand names based on their linguistic and phonetic similarities. This list of Brand Name Constructs shows the construct as well as a few examples of each.
| | |
| --- | --- |
| BRAND-NAMING CONSTRUCT | EXAMPLES |
| Descriptive | InfoSeek, Burger King, Healthy Choice |
| Traditional | National Semi, United Airlines, Alamo, Oracle |
| Family Name | Nordstroms, Dell, Kellogs, Cadillac, Disney, Siebel |
| Abstract | Rolex, Avis, Inktomi, Akamai |
| Classical | Alta Vista, Lycos, Cadence, Prius |
| Coined- abstract | Pepsi, Sony, Verizon, Acura, Nyquil, Camry |
| Coined – descript. | Cingular, Motorola, Compaq, e*Trade, Accenture |
| Coined – classical | Pentium, Centrino, Prius |
| Tonal | Google, Nvidia, Volvo, Tivo, Snapple, Oreo |
| Abbreviation | AOL, SoBe, AT&T, AMD, SAP |
| Truncation | Cisco, Intel, QualComm, FedEx |
| Amalgam | Microsoft, FileNet, Dreamworks, Laserjet, Safeway |
| Foreign | Lancome, Guidant, HaagenDas, Nintendo, Fritos |
| Geographic | Texas Instruments, Amazon, eBay |
| Object | Cyprus, Adobe, Jaguar, Visa, Lotus, Mustang |
| Color | Redback, BlueFish, Green Giant |
| Playful | Yahoo, Pringles, Kinkos |
| Verb/Adjective | Sprint, Always, Go, About, Suburban |
| Numeric | 3Com, 7Eleven, 4Runner, Bank One |
| Futuristic | Quark, Quasar, Panasonic, Infiniti |
| Character | Dr. Pepper, Warby Parker, Orville Redenbacher |
| Misspelled | Flickr, Lyft, Tumblr |
| Rhyming | StubHub, Jelly Belly, FitBit |
| Alliterative | Best Buy, American Apparel, Dunkin' Donuts |
Source: Adapted from https://www.brighternaming.com/namebase/linguistics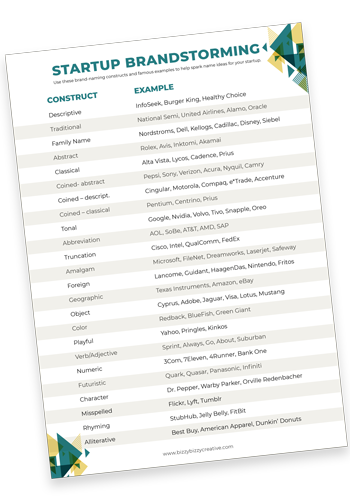 Are you building a personal brand or a company?
In the beginning of the process of naming your company, we recommend you stay open to most of these constructs. With that said, one of the options you may want to consider right up front is whether to rule out Family Name in your brand.
Depending on the nature of your business, it may be standard practice to use your first and last name as the brand. For example, if you are trying to become a social media influencer, using your personal brand is standard practice (i.e. Kim Kardashian or Gary Vaynerchuk). This is often the case when the services you are offering are provided in a one-on-one setting or when your personality or talent is a major factor in whether someone wants to work with you or follow you.
Certain industries lend themselves to using a last name (or multiple last names of business partners) such as law practices, accounting firms, landscape companies and construction industry businesses.
Frankly, we're not a big fan of calling a landscape company "Johnson Landscaping" mainly because it's not memorable or creative. However, there is something to be said for leveraging whatever reputation and recognition your name already has in your community to build trust. Especially if you have some online clout already with tons of followers on Twitter or if you live in a small community, your name may hold some credibility already.
Like with any good business name, you still need to factor in whether your name is easily spelled and pronounced and whether it is available. If your last name is a common one, there may already be a Johnson Landscaping in town. Also, if your last name is a real word like "White" that could cause problems when people are searching for you online because outranking a dictionary word on Google is tough.
So before defaulting to this common strategy in naming your company, do some research to see how common your name is and consider how easy it will be for people to remember and spell your name.
If you're one of those people who has a frustrating time spelling your name over the phone to customer service reps every single time, move on to other business name constructs.
If you have a tech or manufacturing company, you might think it is silly to name the company after one of the founders. That's because the Family Name construct is rarely used in startup world.
However, with more and more startups joining the scene every day (and practically all the good short domains being taken or costing a fortune), don't be surprised if there is a new brand-naming trend of founders moving from Amalgam, Tonal and Misspelled brand-naming constructs to more traditional constructs like Family Name, Traditional, Character or Descriptive.
Ensure Lucidity
Lucidity means clarity of expression or intelligibility. It also means brightness or luminosity. We like to use this term in brand naming to talk about both meaning and also the "radiance" of a brand name. What is the meaning behind the name, and does it stand out?
Etymology is the study of the origin of words and the way in which their meanings have changed throughout history. When you come up with a brand name, it's important to consider the meaning of words and roots, and their evolution over time. This can be an important exercise when building a global brand to make sure you don't have a brand that offends someone in a foreign language or makes your brand look silly.
The famous example is Chevy's Nova, which in Spanish means "doesn't go." Not a great brand name for the millions of global consumers who speak Spanish!
When we were naming our own company Bizzy Bizzy, we looked up the etymology of the word "busy" and found in one description "in constant energetic action," which we loved! Because "busy" has some other definitions that have more negative connotations, such as being anxious or stressed, we decided to change the spelling to "bizzy." This has the effect of both evoking a new definition of being busy — in energetic action with maximum efficiency and productivity —  while also allowing us to use a double "z" which gives a sense of innovation and excitement. By doubling up the "bizzy," we double the fun and the brand recall factor!
Does the name make sense for the business?
This may seem obvious, but the name you choose needs to make sense for the products and services you are selling as well as the value proposition you offer.
You see, your brand name is much more than a word written in a special font and color in your logo. The brand name helps set expectations for your services or products. And for the brand to work in the minds of consumers, the products and services must deliver on those expectations.
For example, don't name your startup's new line of products "AnyFit" if you don't actually sell sizes that would fit every person. Plus-size customers would feel duped if they went to your website and found that they couldn't actually buy anything. And that's the opposite of building trust and brand loyalty.
Should you include descriptive words in the name?
You may or may not want to include descriptors of your products and services in the business name itself. There are pros and cons to this.
One benefit of using descriptive language is that it's very clear what you do when your startup name is "Cypher Telehealth Software Services." Think about handing your business card to someone with very little information on it.
In addition, it's beneficial for your search engine optimization (SEO) and will help your business rank on Google. for example, if someone just searches for "telehealth software" or "telehealth services." You'll be using your business name over and over again on your website, so this helps you use that keyword phrase more times in a natural way.
On the other hand, using products and services right in the name may cause confusion later if you expand your offerings or change your focus.
If you decide to go without descriptors, you can always include a tagline as a separate branding element to include more details.
For example, your company name could be "Cypher," and your tagline could be "The Most Secure Telehealth Software & Services on the Planet."
A tagline is much easier to change later, and it's appropriate to have multiple taglines for different sub-brands or products.
Does the name limit your scalability?
Maybe you'll be the only entrepreneur in history to start a business that never changes, but more than likely if you're in businesses for a while, your products and services will evolve over time.
It's important when you are in the very early stages of your business to plan for brand evolution so you don't limit yourself in in the future.
A few ways we have seen this go wrong are to name your business after your address (Lincoln Street Diner). If you open additional locations or move addresses, it's confusing to people when you are no longer on Lincoln Street.
Similarly, if you name your company "Just Tires," and then you start selling other auto parts, you're going to have to do a lot of work to make people understand they can get other auto parts at your store. When your business name is a bit of a misnomer, it's more work for you. But with that said, there are plenty of examples of successful companies that have overcome this limitation.
If you're planning a business or startup and you're not exactly sure where you're headed, err on the side of flexible and non-descript.
Evaluate Customer Alignment
Is the name appropriate for your audience?
The name of your business has a direct impact on the type of customers you will attract. For example, if you are manufacturing a new kind of skateboard, ask yourself whether you are selling to an angsty teenager in the city, or are you actually selling to a nervous mom in the suburbs?
Or maybe your ideal customer persona is a professional skater who would pay a lot of money for your alternative skateboard and influence her many fans to try something new.
Depending on the demographics, lifestyles, aesthetic tastes and deepest desires of your ideal customer, your branding and messaging could be vastly different.
Here are three examples of how you might name your skateboarding brand, depending on your audience:
Example Name #1: Bad Boards
Audience: Angsty teen in the city
Brand naming strategy: Even though the word "bad" has plenty of negative connotations in the dictionary, when you look at the etymology and popularization of its slang use in jazz culture in the 1920s, it can also mean good! Teens have a high tolerance for slang, and especially ones who are buying skateboards. Its use particularly when targeted at teenagers gives it a sense of rebellion. This name is empowering to them, which is important for young adults. You could gain some serious brand loyalty with your target audience by using this "bad" brand naming strategy!
Example Name #2: Earth Boards
Audience: Nervous mother in the suburbs
Brand naming strategy: If your ideal customer is someone who doesn't love the idea of their child skateboarding around town, causing mayhem, potentially getting injured, a name like "Earth Boards" can really put a damper on those skater stereotypes. Using the word "earth" gives the feeling of sustainability. That's where the name needs to align with your actual manufacturing processes and materials to be authentic. It's also a welcoming sounding name so parents won't be intimidated to visit your store or website, even knowing very little about skateboarding.
Example Name #3: Feeble Grind
Audience: Professional skater who likes to try new things
Brand naming strategy: If you are targeting industry insiders or professionals, it may be appropriate to make an inside joke or use jargon in the name. "Feeble grind" is a skateboarding term. This name might be a turn-off for the general public because the word "feeble" has some negative connotations. The use of the word "grind" could make some people think you're selling coffee. But for seasoned skateboarders, they recognize this term right away, and it gives them a feeling of exclusivity. This name says your products aren't for amateurs.
Evaluate the Competition
Do you want to stand out or fit in?
You may have a different naming and brand strategy depending on whether you are trying to fit into an existing space or differentiate yourself from competitors.
If you are concerned about building trust right away, choosing a name that uses the same brand naming construct as your competitors could help you sound more established or professional.
For example, practically every law firm in the country is someone's last name or a group of last names (i.e. Suffolk & Peterson Attorneys at Law). If you are just starting a legal practice and want to fit in, you most likely want to stick with tradition and use your last name plus "legal" or "law firm". You may even benefit from customers who incorrectly think, "Yeah, I think I've heard of them," just because all the business names sort of sound the same!
On the other hand, thinking a little outside the box is a good way to differentiate yourself and really hone in on the type of people you want as your clients. For example, let's say you are starting a law firm that serves people who were wrongly accused and incarcerated. In that case, calling your law firm "Justice For All Legal Services" could really set you apart from all those boring names. Bucking the industry naming convention suggests you are a different kind of law firm with different values.
But when it comes to thinking outside of the box, be careful to not overdo this. You might be able to get away with naming a business "Bad Boards," but "Bad Day Care" probably won't work, no matter how edgy the parents are you are trying to attract!
Obviously, even if you're trying to fit in, avoid names that are too similar to a competitors' name or any large or well-known company. If you're starting a shoe brand to compete with Tom's, you really shouldn't name it Ton's. You don't want to confuse people, and you definitely don't want to get a Cease and Desist letter in the mail from their lawyers and find out you have to rebrand because you're infringing on someone else's brand name.
Research the Availability
Is the name available?
As we mentioned, it can be difficult to come up with something original and unique. Most of the common words in use on any particular subject matter have often already been used for company names or they have been legally deemed as generic and therefore not available for trademark registration.
That's why once you have a list of good ideas — and especially if you plan to grow into a national or global company and trademark your brand — make sure that legally you're in the clear to use it.
If you are planning on trademarking the name, you will be held to much higher standards of originality than if you are starting a local sushi restaurant. If you're serious about growing into a national or international brand, hire a trademark lawyer to do some research and confirm availability before settling on a name.
If you can't afford a lawyer off the bat to research the name for you, at the very least, do some solid Googling to see what else is out there. Check to see if the social media channels are available (or at least the same handle on each channel is available).
Even if the name is technically available, a name that is too similar to another business might be a bad choice.
For example, if you name your business Acuity Financial, but there is already an Acuity IT Services and Acuity Tutors in your city, you might be allowed to do that, but your customers might have a hard time finding you. Not everyone will type in the full business name.
Similarly, if you choose Halo Nursing, you may find out that "Halo" is an incredibly popular video game as well as a Beyoncé song. It could be difficult to ever outrank these on a search engine if someone only types "Halo" into Google.
Especially when it comes to internet searches for your business, consider what potential search engine optimization opportunities or challenges there could be.
If you have a plumbing business in San Francisco, for example, you may think it makes sense to name your company San Francisco Plumbers. Some search engine optimization experts would tell you this is a great idea! Think of how many people search that exact keyword phrase every month on Google!
But if you plan to trademark your business name, your name cannot primarily describe a geographic location or primarily be a description of your services. Even if you were somehow able to trademark "San Francisco Plumber," you would have a harder time defending it if someone tries to steal it. Disclaimer: We're not trademark lawyers!
Leverage Focus Groups
After you've narrowed down your search based on availability, before committing to a business name (especially one with a tricky spelling or made-up word), run a couple of informal focus groups. At the very least, make sure you're not setting yourself up for a huge pain down the road with a spelling or pronunciation that is too difficult for people. The focus group results should show you if there will be problems.
Use Our Startup Brandstorming Process
Have a discovery session to start off the brand-naming process. Answering these questions up front ensures you are not overlooking opportunities or potential problems.
This process is best done with paper and pen and with more than one person. You'll find your creativity flows better when you aren't sitting at a computer staring at a blank word document.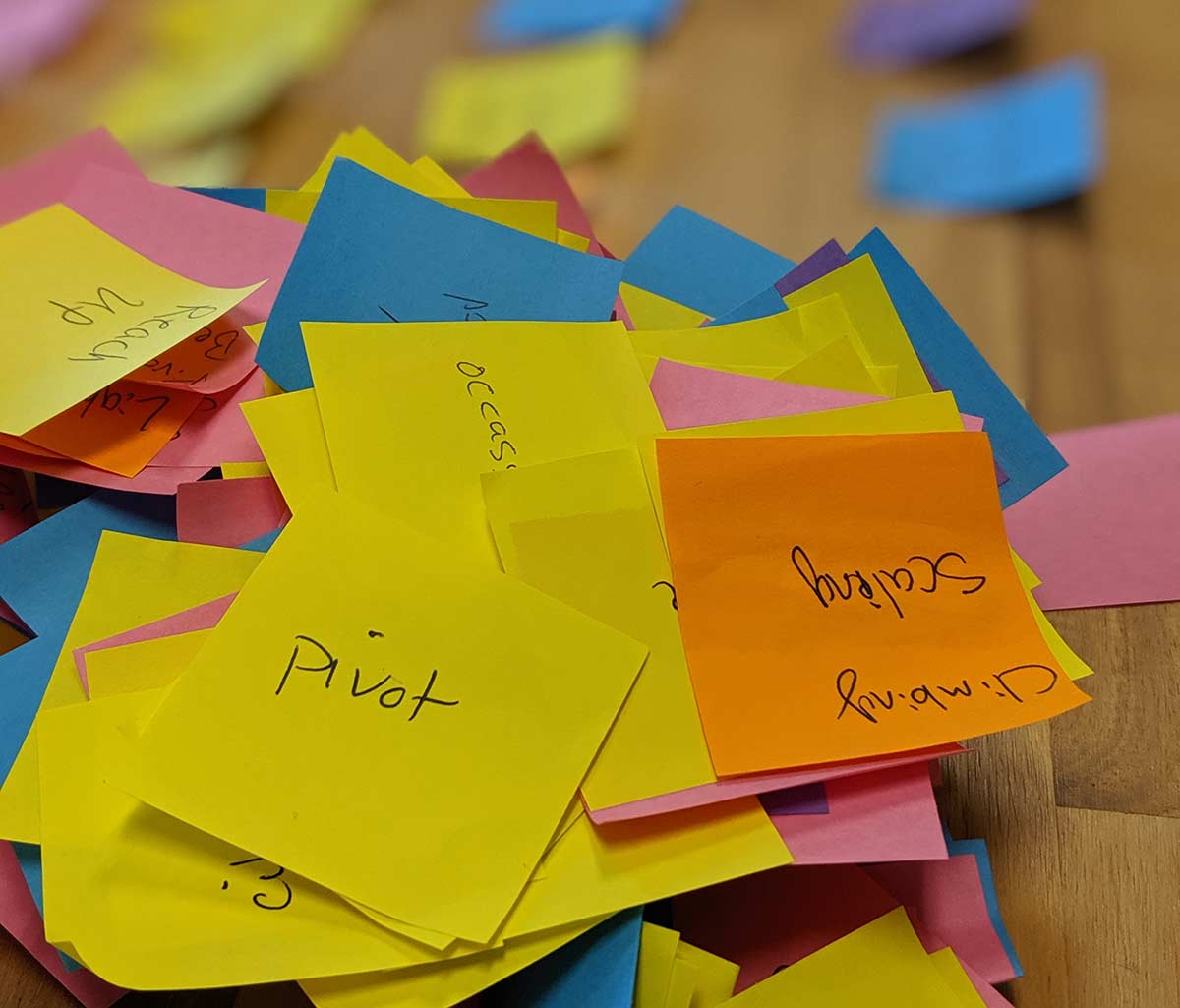 For the purposes of this exercise, I'll use our earlier example of the alternative skateboard manufacturer.
Our Startup Brandstorming service is actually an all-day affair, usually with a couple of brand naming professionals and the company founders.
You don't need to block off an entire day for this, but make sure you have at least a couple of hours to go through this creative process in order to give yourself some time to ideate and get some momentum going before you have to stop.
Get your Tools Ready
You'll need:
a bunch of notecards or post-its
a few markers
a large table, floor space or whiteboard
a computer with an Internet connection
Throughout the entire process, you will be using the notecards to write individual words or ideas down as they come up in your discussion or thoughts. These words are called "seed words." They are not necessarily options for brand names, but rather parts of a name or ideas that could spark other ideas. Capture them whenever a word seems relevant to your brand throughout the Brandstorming process. If you can have someone else writing them down for you, even better!
Step 1: Discovery
Go through a brand discovery exercise to get the bigger picture of the brand. You'll be writing down "seed words" that are related to your brand as you go. You don't need to use any discernment or have any discussion about each word at this point. The more ideas the better.
You may want to type longer thoughts or descriptions on a computer or scribble them on a notepad, but remember, this is a creative process aimed at sparking ideas for seed words. Don't get stuck searching for the perfect word. Let the words just flow. Your goal is to come up with as many ideas as possible, and then you'll sift through them later in the process to determine which ones are keepers and which ones are not.  There are no bad ideas or wrong answers at this point.
While going through these questions, don't kill yourself trying to polish or wordsmith your answers or write sentences with perfect grammar. The point of this exercise is not to write the final copy you'll have on your website. You can do after you've come up with a brand name!
What is the short description of what you sell and who you sell it to?
What year did you start your company?
Why did you start your business?
Where is your business located?
What do you hope to be known for?
How do you want your clients to describe you?
How do you want the world to perceive you?
How would one of your competitor's describe you?
What are the features and benefits of your products / services?
From economical to luxurious, where on the scale do you want your brand to be.
What is the customer's pain point?
How do you solve that problem?
Why is what you do needed or important for your customers?
Who is your ideal client?
Personification: Describe your ideal client as if they are a real person (name, physical appearance, gender, age, financial status, family, attitude, profession, cultural background, style, desires, fears.)
Who is the end user of your product or service?
What factors do customers use to compare the benefits of competing products / services?
If you have a physical product:

What does the product look like?
What are the materials used to produce it?
What is the process to manufacture or make it?

If you have a service:

What is the process you use with your clients?
What are the outcome or results of the service?
Write down any seed words that came up during this step.
Step 2: Research
Spend some time browsing through competitor's websites to better understand both what kind of naming constructs are being used in your industry as well as how others are positioning themselves. Answer the following questions:
What are the most popular Brand Naming Constructs for your industry?
Do you want to stand out or fit in?
What makes you different than your competitors?
How do you want people to feel after using your product or service?
Why might some people buy from competitors?
What do you do better or different than anyone else (unique value proposition)?
Look in the Amazon reviews, on Yelp, Trip Advisor or other review sites to answer the following question:
What are some of the top complaints about your competitors, their products or your industry?
What are the most common negative and positive words that come up in the reviews?
Write down any seed words that came up during this step.
Step 3: Creativity Exercises
OK now that you've gone through the concrete details of the who, what, when and where of your brand, let's use some abstract thinking and free association.
The point of this exercise is to start working that creative frontal lobe and get you thinking outside the box. You may or may not get any ideas or "seed words" from this activity, but again, it's about warming up the brain rather than having concrete takeaways.
If your brand were an animal, what would it be?
If your brand were a number, what would it be?
If your brand were a plant, what would it be?
If your brand were a famous person, who would it be?
What does your brand smell like?
What does your brand physically feel like?
How is your brand like a window?
How is your brand like a newspaper?
How is your brand like a whip?
How is your brand like a piece of chocolate?
How is your brand like a blanket?
How is your brand like a pen?
Write down any seed words that came up during this step.
Step 4: Ideation
Generate Your Your Seed Words List
Look for descriptive and meaningful words
Come up with as many more seed words as you can from your Discovery, Research and get Creative steps that may be relevant. These could be descriptive words, verbs or nouns.
In our example of the skateboard company, our seed words from our process so far might include:
adjectives: fast, fun, flexible, tricky, innovative, easy, metallic silver, futuristic
verbs: skate, ride, jump, lift, pivot, flex, turn, strap
nouns: board, deck, sport, transportation, snowboard, bindings, comfort, 1994
There is no need to actually categorize your ideas into nouns or verbs yet. Write each seed word on a notecard. It's important that they are on individual cards rather than typed on a big list or all on a whiteboard.
Exponentially Expand Your Your Seed Words List
Now take your seed words and put each one into the tools listed below to get even more seed word ideas. From our example above, you would put all 21 seed words through each one of the following tools. The more words you look up, the more ideas you will have. Lean in to curiosity and wonder! Again, no discussion is necessary. Just crank out words on more seed words on your notecards.
Look up definitions in an online dictionary and pull any other words that may be used.
For example: the definition of skateboard is:
a device for riding upon, usually while standing, consisting of a short, oblong piece of wood, plastic, fiberglass, or aluminum mounted on large roller-skate wheels, used on smooth surfaces and requiring better balance on the part of the rider than ordinary
From this example definition, I might add to my list: balance, stand, standing, fiberglass, wheel and smooth.
Look up all the words you want to explore further on your list and any significant new words that come up.
Look up synonyms and antonyms for each of your seed words.
I looked up "ride" and came up with these additional seed words: joyride, tour, jaunt, air, commute, hitch, spin, turn and whirl. I wasn't exactly sure what jaunt meant, so I clicked on that to look it up and found these additional words: journey, junket, cruise, adventure. You can see how you could just keep going!
Scroll down on the page far enough to see the antonym section. Antonyms can be powerful and overlooked terms in brand naming, especially if you add "no" in front of the word. Think about things like "no-stick" or "no-fuss."
This is actually better in some ways than a thesaurus because it gives you words that are related and not just synonyms.
I looked up "skateboard" and found these additional words: plate, plank, sidewalk, hover and ollies.
You should have a substantial pile of notecards at this point (maybe dozens). If you are working with another person, get rid of any duplicates so you don't double your work.
Look up the etymology of the most important words to get the history of the word's use and ideas for more seed words.
Check for foriegn translations of your words
If you like the Foreign Brand-Naming Construct, or especially if you will have a large customer base in another country, look up foreign language translations or Latin versions of your seed words.
You may be able to use some of the words outright or parts of the foreign words.
Come up with tonal sounds
If you like the Tonal Brand-Naming Construct, ask yourself "What does your brand sound like?" An onomatopoeia is a word that phonetically imitates, resembles, or suggests the sound that it describes. When we think of the sounds a skateboard makes, maybe it's "woosh" or "shink!" or "clack!"
Write down any compelling ideas on a notecard. If you're not sure how to spell something, just capture it and you can debate the spelling later.
The Descriptive Words website has a ton of helpful lists of descriptive words. You can search by color, letter of the alphabet and more. If you're not coming up with many exciting words in your seed list, check out this site for more ideas.
Now you could identify the most compelling of these new words and put each of them through the tools as well. How much time do you have? There is no specific number of words you're trying to reach, but so far, you're going for quantity over quality!
Step 5: Weed & Sort
Now that you have what could be a gigantic list of seed words, it's time to start thinking about using some of them in an actual brand name!
Weed Your Seed Words
Spread out your list of seed words and get a good look at each one of them. Weed out any of them that just feel totally off. Use your judgement and instincts to sort through all the ideas so far and start narrowing in on the good ones.
So for example, if the word "relentless" is in your pile and you can't imagine using that word in your brand, toss it. If you're working with a group, you may need to have some discussion before dumping any of the ideas.
After the sorting, you should still have plenty of words to work with.
Narrow the Naming Construct
Use the list above to discuss the Brand Naming Construct to determine if there are certain constructs you do or do not want to leverage. Remember to consider what your competitors are using and whether you want to stand out or fit in. You don't necessarily need to choose one construct to work with, but you could if you are feeling strongly.
If you've ruled some of them out, you may not need to go through all the exercises below.
Sort Your Seed Words
Now sort the remaining words into two piles, words that have a lot of personality or "flavor" and words that we call "Tofu Words." Like tofu, these are words that don't have a lot of flavor themselves, but they can take on the flavor of the other words near them.
For example, a word like "project" isn't all that interesting by itself. But it is a handy word that can be used for brand naming. "Project Destiny." This project sounds inspiring and epic. "The Daily Project" sounds like it's from everyday life that anyone might be interested in. Either of these could be a great brand name, depending on the "flavor" you are trying to achieve.

In our example with the skateboards, the words "board" and "ride" could be used as tofu words. By themselves, they are not that interesting and don't have a lot of personality. But when added before or after many of the other flavorful words, they can be used to create a cool brand name. "Easy Ride." "Flex Board."
On the other hand, a word like "plank," which is a synonym of "board" already has a lot of flavor, so it doesn't sound as good when you add it to another descriptive word to make "Easy Plank." It doesn't work because we have competing flavors that don't go together! Similarly, "Easy Smooth" also doesn't quite work. Those are too much of the same flavor.
If you're not sure if a word is a "tofu" word or a "flavor" word, it doesn't really matter. You'll know as you start coming up with brand name ideas which words work well together.
If you don't have enough of these "tofu" words, look through our list to come up with some more that might be a good fit.
At this point, you're probably itching to actually start coming up with some names, so let's do that now!
Step 6 : Generate Brand Name Ideas
As we go through the next step, capture any name ideas you have on separate individual notecards as you go through the rest of the process. The brand name could be one, two or three words. Remember the shorter the better! You'll need a compelling argument to make your brand name 4 or 5 words.
Make Word Combinations
This is the fun part! Start combining your seed words to make new brand name ideas.
If you want to be methodical about it, you can take each word from your "tofu" side and combine it with each word on your "flavor side."
Also, you can just start moving the notecards around on the table in order to spur new ideas when words are near each other.
Or, you can use a tool like Toptal's Merge Words to help with this process. It may be helpful to put descriptive words, adjectives and verbs in the first column and the nouns and/or tofu words in the second column with this tool. For more options, you can also put all your words in both columns.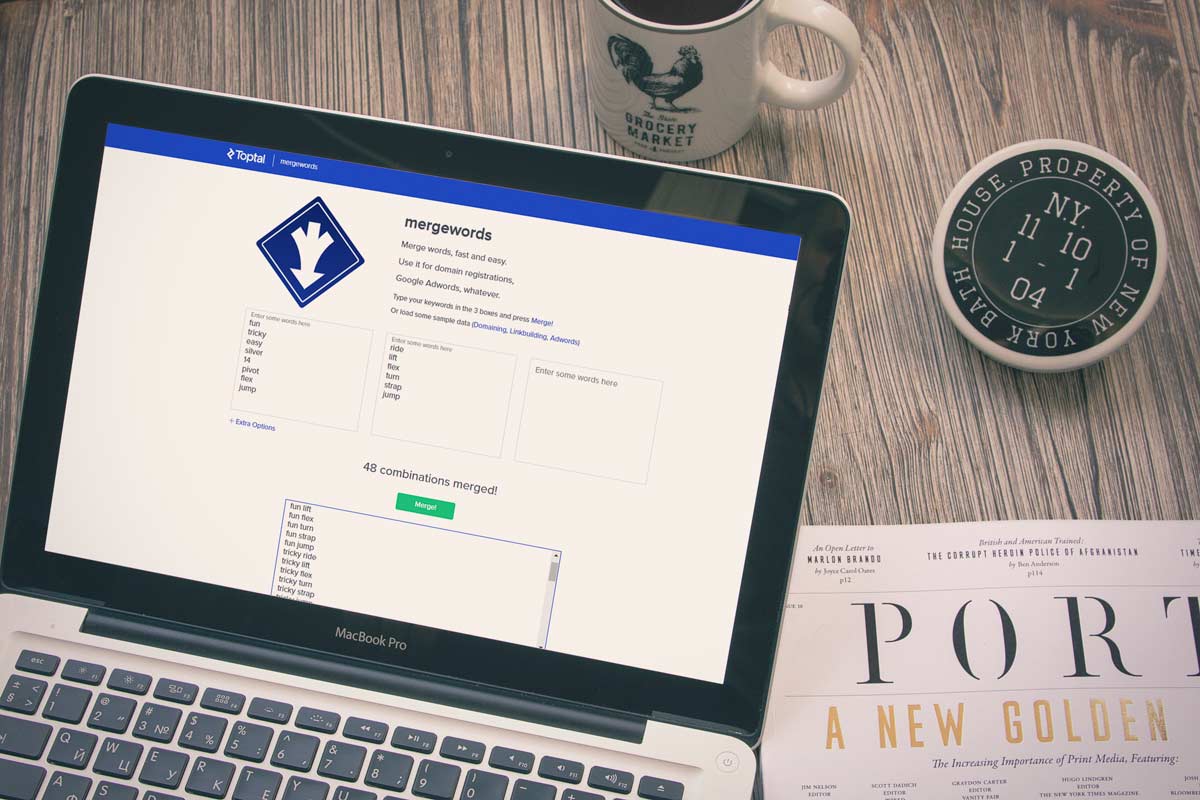 Coin Your Own Words
Many of the best company names are going to be words that you make up and couldn't find in the dictionary. To coin your own name, add prefixes and suffixes to the seed words to make up new words or word combinations. You can use our Word Mashup Cards or use a brand-naming tool like Naming.net to help with this.
If you do this manually, it might be helpful to write down some popular prefixes or suffixes on individual notecards so you can move them around to get ideas while you make up some words for your brand name. If you use tool, you'll have more option,s but you'll have to wade through a bunch of terrible combinations in order to find the workable ones.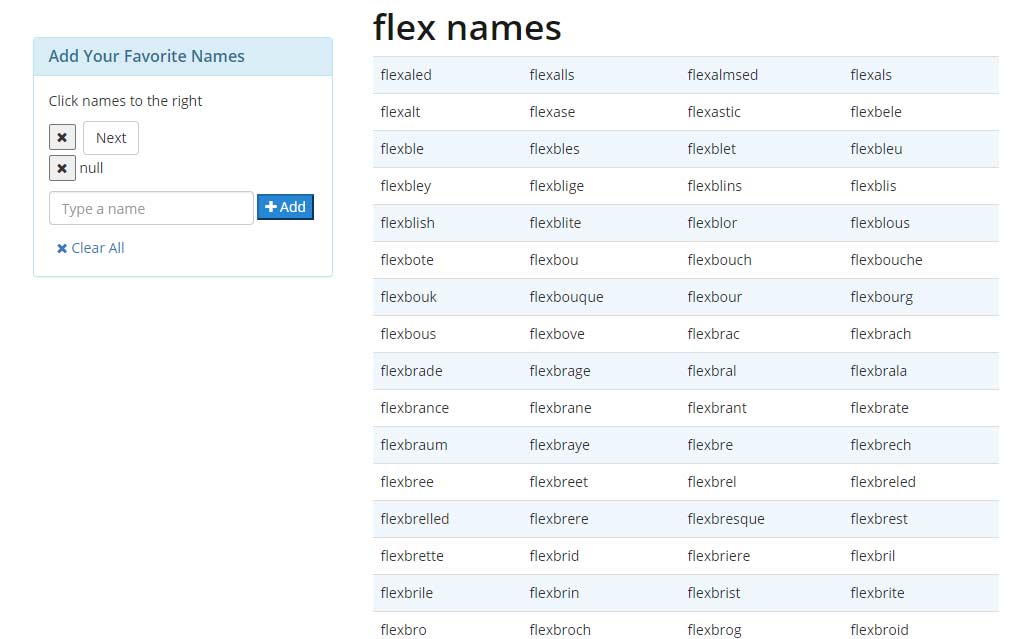 So for example, you have "flex" as a seed word. Add "y" to make "Flexy" or "hyper" to create "HyperFlex" or "ist" to create "Flexist." Ha!
You get the idea.
Then you also have other options like "Flexy Board" or "InFlex Deck" when you add second seed word.
Truncate and Join Words Together
If you are considering the Truncation or Joined Brand-Naming Construct, shorten or slice up the syllables of long words to create partial words. Then join them with other seed words to create brand name ideas.
In our example, we could shorten "innovation"  to "inno" or "innova." Then we can create "InnoBoard" and Innovaride."
Word Play
Some of the most memorable brand names are ones that are clever or have those fun linguistic characteristics we talked about earlier.
If you like the Rhyming, Alliterative or Playful Brand-Naming Constructs, the following exercises may help you generate clever brand name ideas by using rhyming, alliteration, puns or word play.
An online rhyming dictionary is a great tool to spur ideas that could help you come up with a name like "Stub Hub" or "Jelly Belly." You don't need to find rhymes for every single seed word, but you certainly could.
In our example, we put "ride" into the rhyming dictionary and came up with these brand name ideas:
Glide Ride (or Rider)
Wide Ride
Tide Ride
Worldwide Ride
Side Ride
From there, you can also look for words with similar sounds or near rhymes.
Wild Ride
Kind Ride
Right Ride
Look for idioms or phrases that use your keywords. For example, when searching for idioms with "ride" in them, we came up with "ride high," which could be used as High Ride or High Rider. When we typed in "flexible" there were no idioms with that word, but "go with the flow" came up. That spurred the idea "Flow Rider" and "Flow Board."
In addition to using a brand name with a rhyme, you might think of idioms where you could swap out the real word in the idiom with one of your words to come up with a pun or play on words.
For example, "side" rhymes with "ride." When we did an idiom search for "side," we found the idiom "look on the bright side." We can swap out "side" for "ride" and come up with Bright Ride. The pun or play on words may or may not even come through, but now you have a cool brand name that you might not have thought of otherwise.
Alliterations help with brand recall. If there is a word or a couple of words from your seed list that you think are in the running as "must haves" in the brand name, start with those. In our example, we would start with "ride," "board" and "deck." Those are our favorites to describe what the product actually is.
Then use the thesaurus, a dictionary or a website like Descriptive Words to find descriptive words that start with a specific letter of the alphabet. From our example, we might come up with the following alliterations:
Real Ride
Raw Ride
Rebel Ride
Step 7: Narrow the List
By now, you should have a significant list of brand name ideas. If you don't, just keep repeating some of the steps to get new seed words, digging deeper into synonyms, definitions and descriptive words.
During our brand-naming process, we typically will generate 50 to 100 solid brand name ideas and then start winnowing from there.
This narrowing step will mainly be a process of discussion and possibly voting if you have a large group of stakeholders. Your goal in the narrowing phase is to get it down to 15 or 20 that you will then do research on.
Sort through your list and put aside the ones you don't think are the favorites. But don't throw them out just yet because it's possible all the best 20 names you came up with are unavailable.
Step 8 : Research Availability
If you can rank your favorite brand names, start researching the best ones first. Then go through the research process below until you have 3-5 names that you believe are actually available to use.
Google the name and close misspellings or mispronunciations to see what comes up.
For example, if you came up with "Flexiboard," you will Google that plus "Flex Board," "Flexy Board," "Flex" and possibly even "Fleks" or "Flecks."
You're looking to see who else might be using your name, a part of your name or a similar name. Just because someone is using something similar doesn't mean you can't use it. It depends on their industry, search engine authority, location and other factors.
Obviously, if someone in your industry is using the same name or a similar name, don't use it. If someone in your same city is using something similar, even if you could technically use it, you might not want to.
Don't limit yourself to looking on the first page of the search results. Go a couple pages deep for a more thorough search.
Disclaimer: we are not trademark lawyers and this article does not constitute legal advice. With that said, there are a few things you can do before talking to a trademark lawyer. Do a "knockout" trademark search on the U.S. government's Trademark Electronic Search System (TESS). This link looks like an old sketchy website, but I assure you that this is the real government site!
If you see a very similar name on the list in a similar category, knock that off your list of possibilities. Note, the name doesn't have to be the exact same spelling, but rather if it could cause a likelihood of confusion with a consumer, you may not be able to use it.
Choose the Best Domain Name
In addition to choosing a great business name, every good brand name has a solid domain name for their website that is easy to spell, doesn't have any weird characters and isn't too long. Domains can be even more difficult to find than the business name itself. In general, we still recommend trying to get a .com rather than .net, .biz or any of those fancy domains like .guru or .ai.
Many consumers aren't savvy enough to understand those and will still type in yourdomain.ai.com. Or they will just by a force of habit be emailing you and type name@yourdomain.com instead of .ai. This can be a major business problem if people who are trying to get a hold of you can't find your website or send you an email.
There are times when using a .net is better than a .com if the only available options are too long or have a hyphen. For example, it's probably easier for consumers to type in philosity.net than it is to type visit-philosity-philidelphia.com. You'll find yourself having to remind people on the phone what a hyphen is.
There are a few things you could do if you have a word you love that someone else is already using. You can add more specificity or descriptor words to make your actual business name idea more original and be more likely to nab a good .com. For example, the word "summit" is likely used in hundreds of business names already, but by adding some descriptors to the word, you could have Purple Summit or 17 Summits all to yourself.
You could add a location such as Minneapolis Summit or you could add those product and service descriptors to make it more unique such as Summit Fitness Programs.
Or you can keep your business name as is and add words only to the domain name. For example, you could do something like trysummit.com or getyoursummit.com.
Step 9 : Get Feedback
Once you have a short list of 3-5 brand name ideas that are available for you to use with tolerable domain names, before you settle on "The One," get some feedback in the form of an informal focus group or online survey. The more people you survey, the more scientific it will be. But feedback from even a few people is better than nothing!
Getting fresh eyes and ears on the concepts will help remove any bias that naturally occurs during the creative process. If your brand name ideas are easy-to-read and easy-to-pronounce words (you can skip these first few focus groups).
Focus Group 1: Ease of Pronunciation
Show the written versions of the brand name choices to the group and have them read them aloud to see how many people pronounce each correctly.
Focus Group 2: Ease of Spelling on the Fly
With a second group, see how many people spell them correctly when you say them aloud.
Focus Group 3: Ease of Understanding the Spelling
With a third group, spell the names for them (as if you were on the phone) and have them write it down. Certain letters such as "m" and "n" are hard to differentiate on a phone call or in a podcast call to action. This may be a problem if your name sounds similar to another word.
Focus Group 4: Target Audience Alignment
If you have the time and resources to run a focus group or online survey with people who represent your target audience or ideal client, that's even better. For the first part of the survey, don't tell them what the product or company does. Just show them your short list of potential names, and ask them these questions:
Which of these names do you like more and why?
Which of these names do you like least and why?
Which of these companies are you most likely to do business with (or which of these products are you more likely to buy)?
For each name, guess what kind of company or product it is for?
Which of these sounds the most expensive, and which sounds the cheapest?
Then explain a bit about the company or product and ask these questions:
Which of these names sounds most like the business or product we've described?
Is there anything problematic about any of the names we've suggested?
Craft other questions based on your core values, service or product offerings to see which name seems to fit best.
Step 10: Choose A Great Brand Name!
Naming your business is an important decision. And you want to love your new business name. After all, you'll be saying it out loud, typing it over and over, and plastering your logo on any piece of plastic or fabric you can find for the next number of years.
Now that you've gone through this extensive creative process, analyzed your options, gotten feedback and researched availability, you are ready to pick a name!
Maybe there is a clear winner based on the focus group, or maybe you're still trying to decide between 3 different names. If you've done your homework, you should be left with nothing but good company names (or product names). So at this point, it comes down to gut instincts.
Pick a name!
Then go out and buy the domain, get the social media handles right away and get your business paperwork squared away.
Save any of the information you came up with from your discovery interview to be repurposed for the logo design and branding process!
Send us a Tweet @getbizzybizzy if you used our Brandstorming process to name your company or product. We'd love to hear what you came up with!