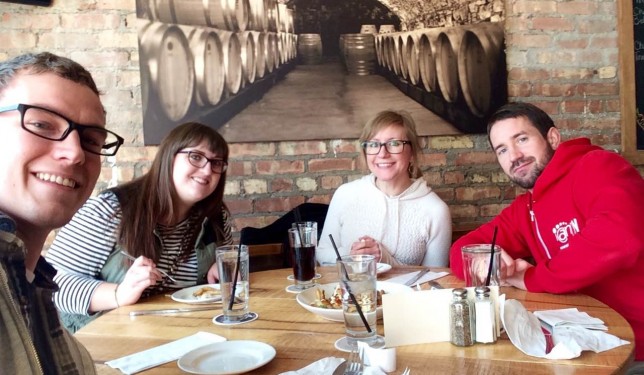 2016 Is Off to a Great Start!
We're kicking off the New Year at iCandy Graphics & Web Design with a lot of exciting news! This year is all about collaboration and education!
First, we are pleased to welcome and introduce three new team members.
Chris
Chris is a graphic designer and video production artist from the small arts community of Spring Green, WI. After pursuing a BFA from Viterbo University, he studied graphic design and video production at Madison College. A professional actor for nearly 10 years, he has appeared on stage at American Players Theatre and in several commercials and television shows. Chris is also a co-founder and the lead designer for Capital City Theatre, Madison's professional musical theatre company and owns an apparel screen printing and design business. In his free time he enjoys letterpress printing and riding vintage Honda motorcycles. Random celebrity fact: Chris played Jenna Elfman's (Dharma and Greg) grown up son in an episode of "Accidentally on Purpose," on CBS.
Chris is our new Project Support Specialist. What does this fancy title mean? Well, he'll be doing a little of everything to help support you and your projects! He'll be answering calls and emails to help your project go smoothly. He'll be helping with WordPress how-to's and training. With Chris' mad tech skills and positive attitude, you can be sure that working with iCandy just got a lot better.
Carly
Carly is a freelance designer with a BFA from UW-Stevens Point who is an enthusiastic, yet down-to-earth designer with a passion for the creative process and the inspiring world around her. While design is a huge part of Carly's life, she also loves animals, sunshine, and buffalo wings! She truly enjoys traveling and spending time with her friends, family and pets. In her free-time, you may catch Carly volunteering with AIGA, baking, and uncovering great DIY projects. Random celebrity fact: Carly shares a birthday with Aaron Rodgers, and ironically, her father shares his with Brett Favre.
Mariah
A world traveler, Mariah Liisa settled in Madison 2 years ago and has since fallen in love with this wonderful city. Her fascination with all things creative led her to the Milwaukee Institute of Art and Design, where she received a BFA in illustration and minored in graphic design. With a never ending hunger to make things pretty, she is constantly decorating, designing and organizing all aspects of her life. A creative rebel who is discovering her inner hippie, Mariah Liisa brings bold and fresh ideas to each project she is a part of. When she is not designing, Mariah Liisa can be found doing yoga, biking around the city, cooking up healthy meals, cuddling her cat Cricket, or spending time with her family. Random celebrity fact: Mariah has hugged more rock stars and rappers than she can count on her fingers and toes!
Carly and Mariah will both be using their creative magic to come up with awesome designs and graphics for your print and website projects.
We're so excited to add these three talented folks to our team, and we think you're going to love working with them!
We're currently on the hunt for a new office in Madison. We're hoping to have enough space to be able to offer in-person training sessions, workshops and some new one-on-one services.
Stay tuned for more info about some new services we'll be introducing this year, including the 1-Day Website and redesigned SEO services and social media offerings. We'll be adding a calendar of events to our website to announce upcoming FREE Webinars and in-person workshops. And look out for more online video tutorials and blogs for WordPress, SEO and Google Analytics. At iCandy, it's all about collaboration and education!
FYI: Candy will be out of the office from February 12-19th. Feel free to email info@bizzybizzycreative.com and someone will get back to you.
Here's to a prosperous and happy 2016! Let us know how we can help your business this year!
Cheers,
Candy
Founder – iCandy Graphics & Web Design