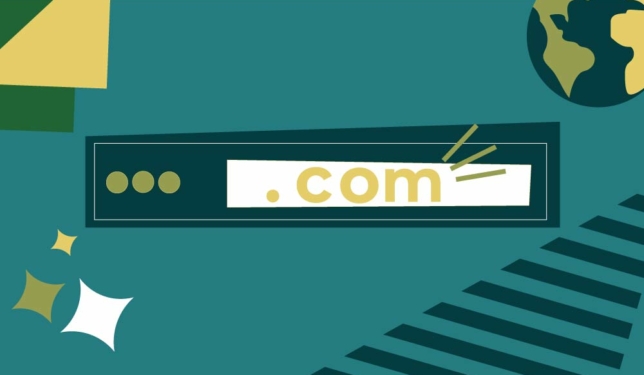 What Is a Domain Name and Everything Else You Need to Know
Maybe you saw one of GoDaddy's controversial Super Bowl ads and you're wondering, "That is upsetting, but, um, what is a domain name and why would I even need one?" Or maybe you're about to launch your startup and you're about to buy a domain name and find out that there are a lot of choices and it's a bit overwhelming.
While the process of buying a domain is relatively simple, not doing your homework ahead of time can cause big headaches for your startup down the road.
Here's everything you need to know so you can buy your domain name with confidence. And the good news is that you don't have to buy one from GoDaddy!
What is a domain name?
A domain name is the address of your business online.
Technically speaking, a domain name (aka website domain) is a string of characters (usually text in whole words) that points to an IP address in order to display a website. An IP address is a series of numbers that identifies any device on a network. It looks like this:
75.128.228.236
Yuck.
Instead of having to remember a number like that, a domain allows a user to type real words into a website browser (such as Chrome, Safari or Edge) to access a particular IP address and website.
Examples of domains include "amazon.com" and "target.com." Some domains have different endings, such as "twitch.tv," "about.me" and "otter.ai."
To use a house metaphor, the IP address is like the latitude and longitude coordinates on a map where your house is located. A domain is like the street address of the same house. You don't need to know or tell anyone those latitude and longitude coordinates. It's much easier to tell them your street address!
Why is your domain name important?
The easier your domain name is to type and remember, the better it is for your brand awareness. People will type the name over and over!
They should be able to hear it on a radio ad, for example, and easily find you online.
What makes a domain name good or bad?
Good domains
Get a .Com When Possible
For starters, a .com domain is usually best. It's what most people are familiar with. But with 1.88 billion websites, acquiring a good .com is getting harder. Well-known companies are even misspelling words for brand names (Fiverr, Lyft) to secure a .com domain. Many consumers aren't savvy enough to understand those and will still type in yourdomain.ai.com. Or they will just by a force of habit be emailing you and type name@yourdomain.com instead of .ai. This can be a major business problem if people who are trying to get a hold of you can't find your website or send you an email.
The Shorter the Better
Another good rule of thumb is that the shorter domain the better. It's easier to type and remember (and it will more easily fit on your business cards!)
Easy to spell and easy to remember.
Consider you'll be telling people your web address over the phone and in person and people have to type it. A mistake could cost you business! In general, if you can get a good, short .net, you're better off than having a .com that is 32 characters or has a hyphen. For example, it's probably easier for consumers to type in philosity.net than it is to type visit-philosity-philidelphia.com. You'll find yourself having to remind people on the phone what a hyphen is.
Bad domains
Generally, avoid these in your domain name:
Addresses and city names — you might move or add another location!
Hyphens — they result in a lot of mistyping and mistakes
Acronyms — most acronyms are already taken and not memorable
Numbers — people may type out the word instead of using a numeral
A name too similar to your competitor's — people might order their product instead
When all is said and done, you may need to compromise on some of your ideas to keep things practical and not pay a fortune for a domain.
For example if your business name is a single word such as "Summit," it is highly unlikely you will be able to get summit.com. You could add a location such as minneapolissummit.com or you could add those product and service descriptors to make it more unique such as summitfitnessprograms.com.
Or you could do something like trysummit.com or getyoursummit.com.
What's the deal with ".xyz" , ".io" , ".biz" domains?
As we've discussed, a good .com is rather hard to come buy. When you are trying to register a new domain, you have seen domains that end in ".xyz" , ".io" , ".biz".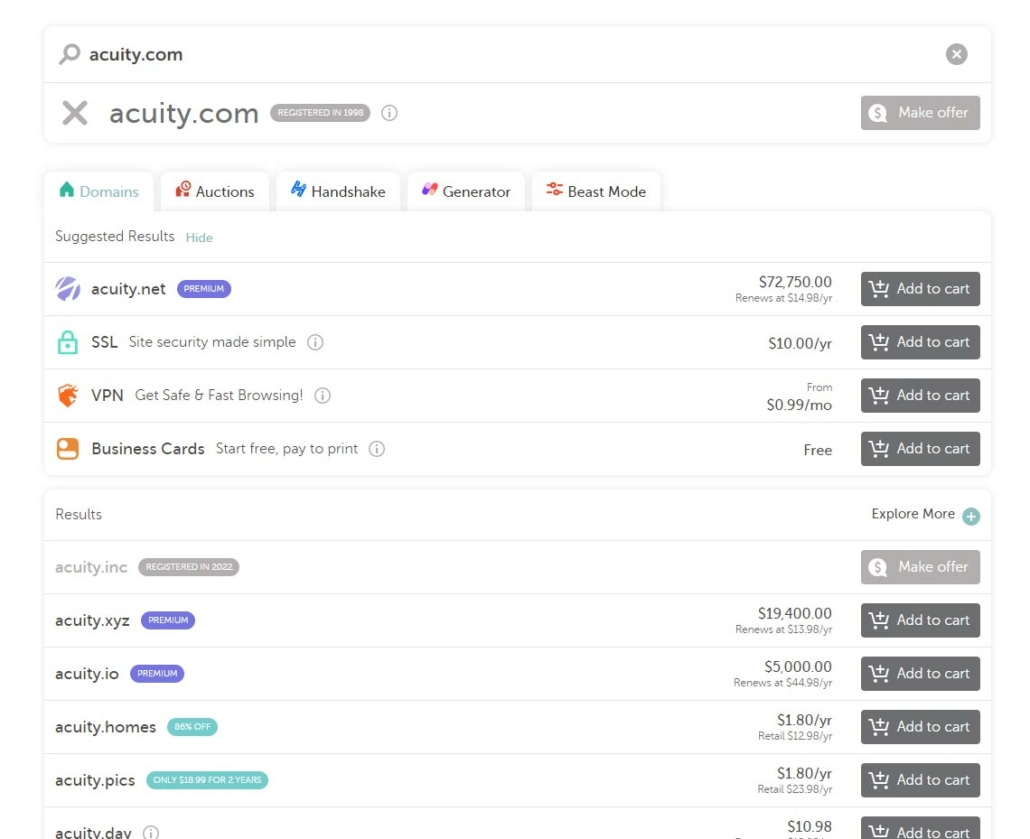 Like .com and .org, these are top-level domains. Alternative top-level domains are growing in popularity as .coms become relatively scarce.
The most common domains can give you a clue about what may be on the website and who is running it:
.org is typically used by nonprofits
.edu is for the education sector
.gov is for government sites (this must be issued to you, you can't buy it)
.fr is for websites in France (each country has its own abbreviation)
.io and .ai are generally used by tech companies
.biz is generally used for a business
For a short time, .co was considered a good alternative to .com. However, we recommend avoiding using .co because peoples' fingers naturally want to type out .com and will send them in the wrong direction! Instead, you could consider some of these creative options:
.guru
.ninja
.health
.net
.ai
And many more!
Where and how to buy a domain name
A domain registrar, or domain registry, is an accredited company that's authorized to sell domains.
Buy your domain from a registrar that gives you access to advanced DNS records like namecheap.com, domain.com, or godaddy.com. Then, you can point your domain anywhere on the internet.
Don't buy a domain from web-building platforms like Squarespace, Wix, Weebly, or Shopify. They make it hard to unlink your domain from their platforms later if you decide to switch.
At the end of the day, make sure you own your own domain. Use your own credit card info and mailing address — not your developer or web designer's.
How much does it cost to buy a domain name?
One happy fact to know about domain names is they generally cost only $10-15/year. And you can buy yours for up to 5 years at a time if you want.
But since there's a domain shortage, — a premium domain can cost more, even if it's available.
What is a premium domain?
There are two types of premium domains:
A short, memorable domain with a high market value that was registered by someone else who is looking to sell it. These are also called aftermarket premium domains. Often these will be sold though a highest bidder type auction.
The second type of premium domains is priced higher directly by the registry organizations that manage the top-level extensions. These domains have not yet been registered by any individual or company.
Both types of premium domains have competitive qualities that allow them to command top dollar. Some profit-seekers even buy them specifically to resell later.
Voice.com, for example, was registered in 2001 and was sold for $30 million in 2019. The domain is short, easy to remember and has a high value, thus it is considered to be a premium name.
Is buying a premium domain worth it?
Some premium domains may be $500, some might be $50,000 or more. It's up to each startup founder to decide how much they are willing to pay for their ideal domain name.
A good question to ask yourself before you buy a premium domain name is "If I put this same amount of money toward some kind of advertising, would I be in better shape in a year from now than if I drop that money on the domain?" "What about in 5 years?"
Generally speaking, we would never recommend spending more on your domain than you plan to budget for the actual building of your website (unless you happen to be a web designer and are building the site yourself!)
If you plan to buy a domain that costs more than $10,000, we recommend you consult an intellectual property attorney first to make sure your domain won't be infringing on someone else's trademark, which can be snatched from you later.
Do free domain names exist?
Not really. You can get a free website and address at "mybusiness.wix.com." But this solution only gives you a subdomain under Wix's domain, complete with Wix advertising and logo. While your domain might be "free," the tradeoff is rarely worth it. You risk appearing less legit, and your extra-long domain can be hard to remember and type.
Domains & Intellectual Property
Most brands will focus on trademarking their business name, not their domain name. Trademarking or not trademarking your domain name is an important decision that depends on a variety of factors. It only makes sense to trademark if your domain describes the source of goods and services sold on your site. In the U.S., the name must also be used in interstate commerce.
What's the difference between a domain and a URL?
A URL (aka uniform resource locator) may also be called a website address. The URL of a site contains the domain name of a site as well as pieces of information that come before the domain (i.e. 'https://). It may also contain information that comes after the domain (e.g. "/about-us").
In short, the domain name is always a part of any full URL / web address.
What is a domain email and why would you want one?
A domain email address may also be called:
a professional email address
a business email address
a branded email address.
No matter what you call it, this is when you use your domain name after the @ symbol. (Example: info@mybusiness.com)
A branded email:
Creates trust and credibility
Lets people know you're a serious professional
Enhances email deliverability (you won't get marked as spam as often as with a .gmail or .aol address!)
Reminds people of your business
Points people to your website
Can sync with Gmail or Outlook and other email clients.
It's a good idea to set up all your professional email accounts with your domain right at the beginning and use it throughout the life of your business.
How do you know where your domain is registered?
Use the online tool iCann Lookup. Just put in the domain and hit "Lookup."
Why do you need to know where your domain is registered?
Knowing where your domain is registered allows you to:
Maintain accurate login information and provide it to a website design company.
Keep up-to-date with payment details and renewals (Don't miss those! They're important to keep your domain alive and working.)
Point the domain to wherever your site "lives." (Wix, Squarespace, WordPress, etc.)
You'll also need to know where a domain is registered if you want to purchase it from someone else.
When is it a good idea to switch domains?
While it's super easy to buy a new domain name, switching domains is actually a huge deal for your startup. It may be a good idea to switch domains when you're:
Adding/changing locations (For example, if your domain includes "Chicago," but now you're opening another location in Milwaukee.)
Rebranding (your business name is changing)
Losing website visitors because of a domain name that's hard to type and remember (domains with hyphens are notorious here)
Changing domains is a big decision. It can be a lot of work that requires technical proficiency and attention to detail. Even inexperienced developers may not realize the hassle or the stakes involved.
What to Know Before Switching Domains
Before you switch domains, consider these implications:
Your Email Will Change
If you have domain email set up, then your email will also have to switch, which can be a huge operational pain. You'll either have to maintain two email accounts or hire someone to merge them and migrate past emails.
Switching Domains Affects SEO
Consider the potential hit to your search engine authority. Google recognizes the age and authority of your domain. Consistent, topical content is a strong sign of brand authority, which is then prioritized in search engine result pages. So, changing your domain can affect your status with Google.
Knowing these facts about domain names can help you make an informed decision.
If you decide to switch domains, here are some key to-dos:
Make a plan for your new and old email accounts.
Have a website developer help you set up a "301 redirect" or domain forwarding.  This is like asking the post office to automatically forward your mail to a new address. This carries authority and any traffic from the old site.
Change the links on all the external websites such as social media, citation or directory sites like Yelp, Google Business Profile and any other site you can.
And remember, when you switch domains, you'll want to keep paying for the old domain so it will continue to redirect visitors to your site at your new domain!
Can you have more than one domain?
Vanity Domains or URLs
Yes, you can have more than one domain for your site. Many startups use "vanity domains" in marketing for clarity or tracking. For example, in a radio ad campaign, you might say " visit babyrattles.com" but have that domain redirect to the specific page on your primary domain like "babyproducts.com/baby-rattles."
Typically a vanity URL points to the primary website but through an easier-to-remember domain name. These "vanity" domains make it easier to navigate to a specific page and can also be tracked separately in Google Analytics so you know how many people heard your radio ad.
Just know that your primary domain will get the most "search engine juice."
Extra Domains
When you buy your primary domain, you may want to consider buying a few other versions of it (for example, a .net or .co or a common misspelling). One reason for this is so your competitors (or mortal enemies from high school) can't buy them! It's a good idea to get the most common domain extensions, but don't get carried away and feel like you should buy all 40 domain options for your single website. That cost adds up over the years!
If you do buy extra domains, definitely forward them to your primary domain. Then at least you're using them!
What is domain privacy? Do I need it?
When you buy a domain, your personal information is automatically listed publicly on the domain registrar and the ICANN whois lookup. Because of this, you'll get a lot of spam and unsolicited marketing emails.
Domain privacy is a service that hides your physical location and contact information.
So go ahead and pay for domain privacy. Or use the registrar Namecheap – it automatically hides your info for free.
If you're not sure whether you already have domain privacy or not, check with your host or look up your URL at http://who.godaddy.com to see what comes up.
What's a Domain Name System (DNS)?
As we mentioned, your real website address is actually a string of numbers called an IP address. That IP address gets converted into a domain name by a Domain Name System (DNS). A Domain Name System points to your domain's DNS provider. Many people think "DNS" stands for "Domain Name Server," it really stands for "Domain Name System."
Once you register your domain, you'll get access to the DNS records. This is what your web design company will need to configure. You may never need to get in there, but if you do, just look for "DNS" once you're logged in to you domain registrar.
What's a subdomain?
A subdomain is a section of a website address before a period before the main domain.
Some examples are:
docs.google.com
shop.yoursite.com
blog.yoursite.com
forum.yoursite.com
A subdomain helps a company organize its different website content. But because it could negatively impact SEO efforts, subdomains are often best for use with private content, such as creating a testing version of your website or a private forum that wouldn't be indexed.
It's also good to use subdomains if your site serves multiple regions or languages.
Should my blog be on a subdomain or my main domain?
Your blog is the place you'll get the most SEO juice from. It's one of the most important parts of your website. So, it needs to live on your main domain as: www.domain.com/blog (NOT blog.domain.com).
How do you point your domain to your website after you buy it?
You may be wondering if you can use your own domain name with a platform like Wix, Squarespace or Shopify. And the short answer is yes. Yes, you can.
You may want the help of a website developer for this, but if you are feeling brave, watch our video about managing advanced DNS records.
Note: Your website hosting doesn't need to be at the same place you registered your domain, but it can be.
Can domain names be transferred?
If you are wondering if you can transfer your domain from Squarespace to Godaddy (or any registrar to another) yes you can. But generally speaking, avoid transferring when pointing will do.
Transferring means changing where a domain is registered. You might do this because you want all your domains managed in one place. Or, because you stopped using Wix, or another website builder platform. Though you won't save any money by transferring, you could get free domain privacy.
But transferring is usually a huge pain. Generally, it takes several days between steps.
Pointing is a lot simpler and faster. You can point a domain anywhere on the internet as long as you have access to advanced DNS records from your registrar.
If you choose to switch website platforms but keep your domain where it is, just don't forget to cancel any services that you're not using any more!
How do you make sure you don't lose your domain?
Here's how to hang on to your domain over the coming years:
Put it on auto-pay on your credit card
Make sure the credit card doesn't expire
Pay attention to all emails from your registrar
Unsubscribe from your registrar's marketing emails (this way you don't miss the important stuff or find it in your spam box)
As long as you keep paying, no one can take your domain from you. If you do miss a payment, some registrars give you a grace period. Usually, you can recover your domain if you catch the mistake quickly enough.
But once it's gone, it's gone (unless you want to buy it back from someone else, which could become very expensive).
That's Everything You Need to Know About Domain Names
Now that you know all about domain names, go out and buy yours with confidence!
And if you decide you'd like to talk with a web expert along the way we're here for you.