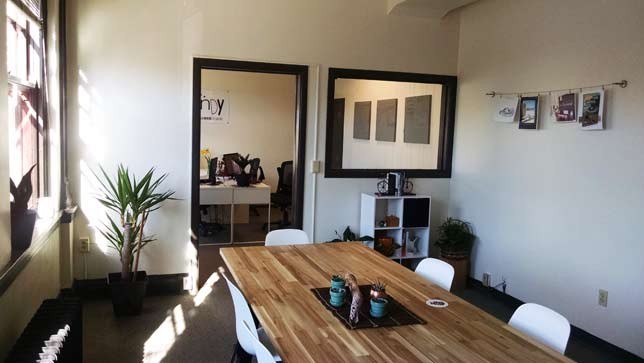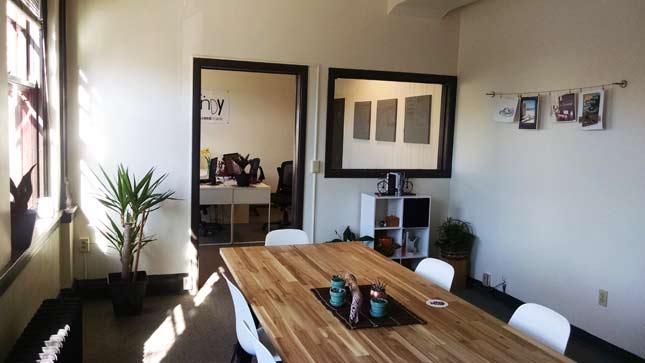 The Evolution of the iCandy Office
When Do You Know You Need an Office?
Like most freelancers, I started my business working from the kitchen table. It was 2009 and I was living with my husband Tim in our teeny one-bedroom condo in Illinois.
When I first started working from home, it was life changing because I had spent years schlepping around the Chicago area on buses, trains and bogged down in traffic. The last job I had I spent 30 minutes every day driving a few miles in gridlock traffic to the train station. Then I rode the train for 25 minutes. Then I walked about 10 minutes to get to the office where I worked. It was brutal. Every day my heart hurt thinking about all the time I was losing and all those fumes going into the atmosphere.
So after much planning and saving, I decided to quit my job and start iCandy Graphics with nothing but an old Dell laptop and a lot of ideas. Working from home has so many advantages, but saving all that time and money by not having to commute was by far the most exciting to me. When I finally quit my job and started my business, I figured I could work an additional 2 hours a day in lieu of commuting and it would still be the same amount of time "at work."
The other many benefits of working from home include being able to take out some chicken for dinner when you think about it or throw in a load of laundry between projects. You can let your dog out in the yard in the middle of the day or pick your kids up from school. All of these little things make your quality of life just a little bit better. Getting an extra hour or two a day with your partner, kids or your pets makes for a happy life.
I moved from the kitchen table to a desk in our bedroom. And even though my first "home office" consisted of a desk and a printer in a storage area that at one time was the vaulted ceiling of our living room, I thought working from home was the best!
When we moved to Madison in 2011, the iCandy Graphics & Web Design office got a serious upgrade. We bought a home with an extra bedroom, so I had an entire room to myself. I had all the space I needed, which was extremely luxurious, and I promptly filled that space with stuff (papers, folders, boxes, a lifetime supply of address labels, etc.)
In the meantime, business was going pretty well. I started getting more work than I could do on my own, so I hired my sister Tara.
I can't really remember any specific point at which my business "took off."  It just seemed like things were slowly always getting busier and busier. Over the next couple of years, I hired Sally and added other freelancers and subcontractors as needed, and started slowly growing the business.
While some people have trouble working from home because they can't not do the dishes or clean the bathroom, I had the opposite problem. Because my computer was always sitting there staring at me with 27 unread emails (at least one of which had "URGENT" in the subject line), I felt like I should constantly be working. There was always more work that could be done, and until I got to the point where I felt like I was making "enough" money, I felt compelled to ignore my household responsibilities and just keep working.
The office, while always organized, became a bit of a disaster area. I had stacks and stacks of papers that I probably didn't need but was keeping around just in case. I had a herd of dust bunnies living in the corner.  Eventually my hoarding tendencies were gently called out by my husband, Tim, who at the time was preparing to quit his job and start his own business.
Because he was going to be working from home with me, we knew we had to get the office in shape. This is when I had the good sense to hire a professional. My dear friend Nancy Higgs at Pure + Simple Designs created a 3-D rendering of our office space to show how we could comfortably get two desks in there. She created a shopping guide with all the pieces so all we had to do was get the furniture (mainly from IKEA) and put it together. The design she came up with completely transformed our space.
Investing in this seemed like a crazy luxury at first. If she weren't a friend of mine, it would have never occurred for me to hire an interior designer. I thought that was something only rich people in soap operas did. But after having worked in a messy office with crumby second-hand furniture for the better part of 5 years, I finally realized that the physical space around me does have an effect on my work and happiness. Not to mention her services were very affordable. Plus, at this point, I figured I had saved thousands and thousands of dollars by working from home in the first place, so a splurge was warranted.
My husband and I happily worked from home for another year and a half after our redesign. At this point, I had been remote managing a small team of people and was spending the majority of my day emailing and talking on the phone with the team and customers. Most of my client meetings were held at random coffee shops or a co-working space I joined. At only $75/month, 100state was a great option for me to meet clients. The space is lovely and impressive, and there are always fellow entrepreneurs there who want to talk shop. I loved it! But having to drive downtown and pay for parking made it a bit less appealing for me to actually go to work though. I had made it a personally policy of never driving more than 10 minutes to commute again. Biking and busing were both options, but when the other option was just working from home (so easy!), I rarely went there to work.
In 2016, we hired three new people so we figured it was finally time to take the plunge and get an office. After looking a number of spaces on the East Side and downtown, we moved into 2002 Atwood Ave. above the Chocolaterian (how perfect!). We now have three small rooms—one for our desks, one for a conference table, and one room for storage, printing equipment and break room stuff.
We again, hired the talented Nancy at Pure+Simple to design the space. And once again, she rocked it, and we trucked in some furniture from IKEA and assembled it over the course of a couple of weeks.
We love our new office and our new neighborhood! We are fortunate to be in a really cool part of town where there are lots of fun restaurants and shops, still just 10 minutes from the Capital.
We named the office The Collaboratory because it is so amazing to be able to have real human interactions that foster real-time collaboration and communication (in lieu of just typing at each other all day long). It is so exciting to have so much room and to be able to invite our clients to the office. We look forward to hosting small workshops and events as well. And having an office allows us the chance to offer our new service the 8-Hour Website, where our team and our clients build a website together in one day. In-person collaboration is essential for this to work, and we are excited to be able to offer it in our new space.
It's hard to know when moving into an office makes sense financially for a business. For us, the decision came after years of remote managing people became a bit too cumbersome. At least for the folks in the office (we still have some team members in other states), we spend a lot less time writing emails back and forth about projects. Something that would previously take 2 minutes to type and send takes 2 seconds to say. We can share ideas, collaborate on projects and ask questions in real time. We can create an office culture. We get to have lunch together and make jokes and listen to music. We save a lot of time by not always having to drive to meet our clients across town.
It's difficult to put a monetary value on seeming "legitimate" and "trustworthy" to potential clients. The stigma of working from home is a lot less harsh than it was 10 or 15 years ago, but still there is a lot to be said for having a place where clients know they can always find you. How much is that worth? I wish I knew. Even my own friends and family seem to take my business more seriously now that we have a brick and mortar.
And after working from home for 6 years, getting an office has been a lot bigger of a change than I realized it would be. But I think it was a necessary and positive change. We still plan to have Pajama Day at the office occasionally to make sure we stay in touch with our work-from-home roots.
Do you work from home or have an office? Let us know what went into your decision making process.