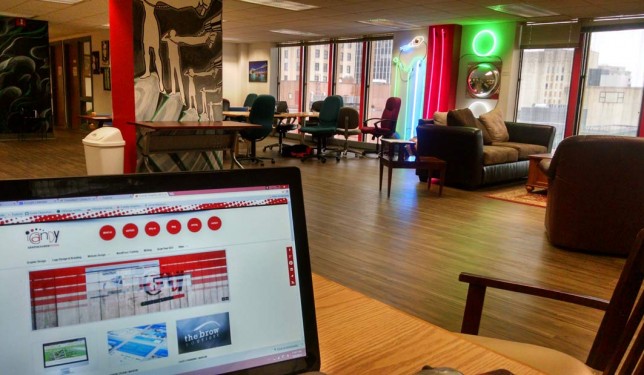 This Thanksgiving, I'm incredibly grateful to be working in a career I love, helping customers who are passionate about their businesses! We're grateful for the resources and technology available to small businesses that allow us to grow, learn and evolve. Just a few shoutouts this Thanksgiving to organizations and programs for which we are grateful!
This fantastic UW organization provides free and affordable resources for small business owners. I have attended classes, workshops and have been fortunate enough to have a business coach there for 2 years. iCandy Graphics & Web Design would not be the business it is today without these generous resources and the help of Rena, my awesome business coach. And I'm excited to be teaching a class there next spring! The UW-SBDC provides a free hotline (Call 1-800-940-7232) for folks with business questions and free business coaching. They also host tons of helpful classes and workshops. Make sure to take advantage of all these fantastic resources!
I am participating in the Step Up: Equity Matters quarterly workshops this year. Step Up: Equity Matters is a safe place for our community to learn, discover and mastermind together to raise awareness and inspire action around equity and diversity in the workplace. Step Up has been an eye opening experience for me. Important topics of race, diversity and equity are discussed in a comfortable setting where personal and professsional growth can take place. As I grow my business, I want to make sure I am creating an inclusive, welcoming and thriving work environment for all, and Step Up provides a great program to learn and reflect on just that.
100state is a co-working community in downtown Madison where folks share office space, collaborate on projects, create change in the community and forge important business connections and friendships. Just hanging around for one day, you will see innovation and collaboration in progress. You might meet a student who needs help with a school project or a start-up CEO who just got a few million bucks in funding. I have been a member here for the past year, and it is has been an awesome experience. The memberships are $75/month for access to the office and all the excellent resources they provide. This is a great place for freelancers, entrepreneurs and professionals, and a good stepping stone for anyone who is not quite ready to get an office space for themselves.
In 2015, one of my resolutions was to overcome my crippling fear of public speaking. Well, I haven't exactly mastered that fear, but you'll see below that I am now offering webinars, co-teaching and solo teaching different classes this year! So that is serious progress, right?! I owe much of this success to Monkey Business Institute. I took an improv class there this year in an effort to get out of my comfort zone. And man was it uncomfortable. Improv might even be worse than a speech because at least with public speaking you know what you are supposed to say. But the thing that you must know about this improv class was it was the most intensely fun thing I have done as an adult. We spent 3 hours every Saturday for a few months just laughing. My teacher, Casem AbuLughod, made us all feel comfortable by making us laugh constantly. He taught us to celebrate when we make mistakes. He made us play games. He gave us tools and strategies to make us better. And by the end, I was sad it was over, and I was able to make it through a live improv performance in front of a small audience of friends and family without crying. Huzzah! If you're not interested in taking a class, consider hiring these folks to come to your office and teach your employees how to be "Yes and" culture!
The Wisconsin Women's Entrepreneurs is a group I have been a part of since I moved to Madison 4 years ago. This group of amazing women has been a terrific resource for me for business and personally. I have forged relationships with vendors, customers and even some of my best friends in Madison. WWE is the sponsor of Girls Biz, which is a Girl-Scout-like group where they teach junior high aged girls how to start a real business. It is so cool, and I love that they are empowering young girls to be confident and savvy business owners. The membership is $125/year, which is a great value for all the different programs and events they offer.
Madison has so many amazing resources for small businesses, there isn't room to list them all here. But don't forget to make time to take advantage of some of them and be grateful for the volunteers, leaders, funders and organizations that make them possible!
Grow Madison is an organization founded by my good friend and collaborator Matt Nelson. Grow Madison offers technology and business classes to business owners and nonprofits led by local experts. I have had the opportunity to co-teach a WordPress Bootcamp there as well as a class on Search Engine Optimization (SEO). All of the classes are held at 100state in downtown Madison. This organization is all about empowering people, which is something I'm especially passionate about. Local experts are serving up their knowledge and skills to help folks be able to do things themselves that the might have had to hire a professional to do, saving them money and teaching them new skills. Keep your eyes peeled for even more classes coming next year (including some for teens)!