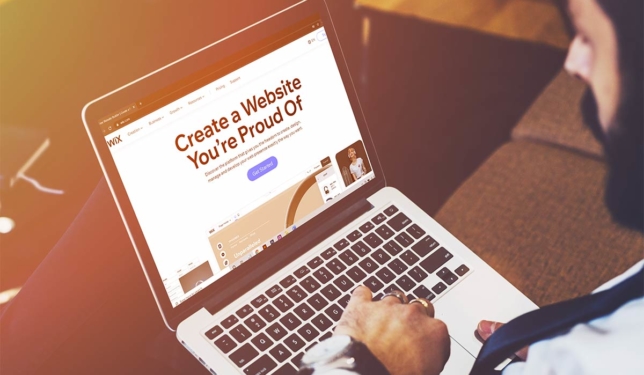 Wix vs WordPress: Which is the Best Website Platform?
In our article Wix vs WordPress: Which is the Best Website Platform, we go through the pros and cons of using Wix as your website builder.
Before we get into the details of Wix and how it compares to WordPress, you might want to check out our extensive article What is WordPress and specifically the section about the Top 5 Benefits of WordPress. We've written about why we think WordPress is the best website platform for fast-growing companies, but we've also written about the downsides of WordPress. There are many cases when using Wix is a better option.
The quick takeaway:
When Wix is Better Than WordPress

Wix is also better for people with smaller website budgets and for do-it-yourself website owners who don't have technical expertise or coding skills.

When WordPress is Better Than Wix

WordPress is best used by companies who want to hire professional web designers to build their site with the power to scale, integrate or customize infinitely.
Interestingly, most of the downsides of WordPress are the upsides of Wix! Let's dig into those now.
Top 5 Benefits of Wix
Low Cost of Entry
How much does Wix cost? With prices as low as $14/month, Wix starts out cheap! (Actually, they do have a free version if you don't mind ads on your site.) Wix pricing includes website hosting so that is one less cost you will have to pay. Look at their pricing page to see what all is included with each monthly plan.
But more important than the monthly costs, which could be similar to a WordPress site, is the lower cost of hiring someone to build your Wix site. Even if you hire a professional website designer to build your site, it's much faster (and thus cheaper) to get up and running than WordPress.
Easy to Learn
Wix was created as a DIY platform for lay people. In other words, they didn't want you to have to know HTML, CSS, PHP or other web language to be able to build a website. From the time you start an account, Wix has step-by-step instructions to walk you through everything from pointing your domain name to setting up your theme. The instructions are quite good!
With WordPress comes power, customizability and complexity. That means it takes longer to get everything working and looking the way you want.
Wix has around 500 pre-designed templates, which is less than 11,000 available WordPress themes. But the big difference is that all the Wix templates are pre-populated with content and just work out of the box — there's no need to tweak code. This is huge for making quicker progress!
With WordPress, every theme has its own learning curve, many come empty with no sample content or page templates, and many need to be modified using code.
More Design Control without Coding
Wix has an easy front-end drag-and-drop builder, which clients find intuitive to use. It's still not exactly like building a PowerPoint deck, but it's leagues easier than designing a WordPress website. You'll see in real time how each photo or column of text will look on your live site.
With Wix, each element has its own properties, which means it's easy to change a color of a single box or change the size of a font. People with good design sense really like this level of control. It is easy to play around with how things look.
Caution: Customizing each element in the Wix interface uses "inline styles." The downside of using inline styles instead of a global CSS stylesheet is that it makes it impossible to implement a site-wide style change.
For example, if you change your brand colors in the future, with appropriate CSS stylesheets in place in WordPress, a developer could simply change the color codes in the stylesheets and the entire site would change. With Wix, you could potentially have to update hundreds of sections on your website if you've been adding a lot of content or products.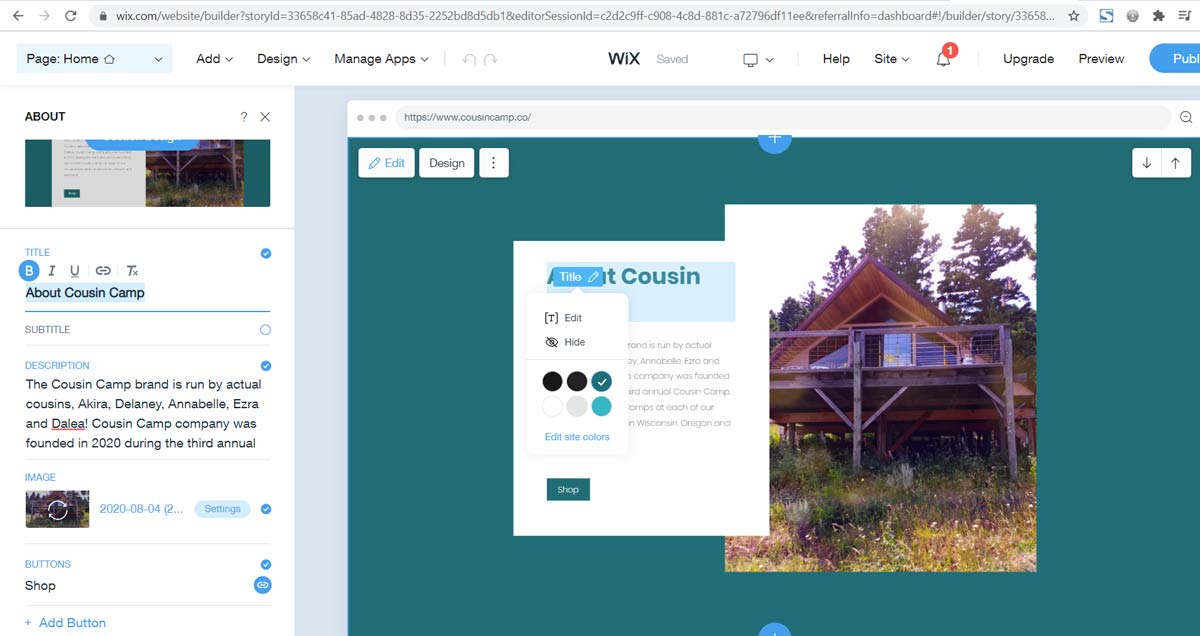 One pleasant surprise with using Wix is that it supports .svg file uploads. SVG files are a vector image type that allow for super crisp and fast-loading graphics on a website. Out of the box, WordPress doesn't let you upload .svg files, so you need a plugin for that.
Support
Wix is not an open source software like WordPress. This means Wix is a for-profit company with employees. There are both pros and cons to this model. One benefit is that Wix offers customer service, whereas WordPress does not.
Wix plans include phone, chat and email customer support. They even have more expensive plans where you can get priority support, which lets you skip the line.
Whether you are building a website yourself or managing a site someone else built for you, no doubt having customer service support is a huge advantage for website owners to be able to get help when they need it.
In addition, whenever Wix updates the platform's code, those updates are performed by an in-house technical team and automatically deployed to your site. In other words, you don't have to manage the updates at all. What's best, because of the limited nature of the apps and templates, the chance that something would break on your site after an update is slim to none. And finally, the security of the platform is handled by Wix, not the website owner. What a relief!
On the other hand, WordPress updates and security aren't that easy…
Downsides of Wix
Lack of Data Portability
Wix is a website building tool while WordPress is a CMS (or Content Management System).
One of the reasons WordPress is so much better for fast-growing companies and scalable websites is because the data from your website (e.g. blog articles, page content, products in an ecommerce store) are stored in a database. This means the content is separate from the design. You can choose another website theme / design, without having to copy and paste all that information. You can download and manipulate the database. You can import the database into another database-based CMS. This offers ultimate flexibility and scaleability. You'll never be starting from scratch if you decide to change how your website is built.
As we mentioned, Wix also includes website hosting — so you don't have to have or pay for a separate host — but that also means you can't ever move your website off of Wix and on to a new web host. What this means for the future is that Wix can raise their prices and you are in the position of having to pay those prices or start from scratch with your website.
Search Engine Optimization Isn't As Good
According to one study by aHrefs, a notable SEO tool, on average, WordPress sites get significantly more organic traffic than Wix sites. With that said, both WordPress and Wix have basic search engine optimization tools built in and both have additional apps or plugins where you can improve and control your SEO even more, including editing meta titles, meta descriptions and alt text on images. If you know what you are doing with Wix, you can perform the most essential onsite search engine optimization. The bigger problem is that most people wouldn't even know where to look!
Wix does have the option to use H1 html tags, which is one important SEO factor, however, there is no default H1 like there is in WordPress. So if you aren't intentional about using one H1 per page on Wix, you are more likely to forget or overuse the H1 tag simply for design purposes.
But one of the biggest downsides of the current Wix editor is that it doesn't have responsive design capabilities.
Out of the box, most Wix templates are "mobile friendly" but do not offer true responsive design, which affects your search engine optimization. This means you can edit a smaller version of the website that might be viewed on a phone, but Wix sites could still look broken on mid-size devices such as tablets or small computers.
Note: In February 2020, Wix introduced Editor X, which is a fully responsive website creation platform made for web designers and agencies to make more complex website designs for any device.
Fewer Integrations with Other Software
WordPress is open-source with thousands of plugins and themes. This is an awesome benefit that leads to infinite scalability and customizability. As of this writing, there are a whopping 58,085 free plugins available for WordPress! In comparison, Wix has about 300 apps, which integrate with other tools and software. 28 of these apps are free, but most require a plan upgrade.
With that said, some of the best WordPress plugins also cost money, and many can be difficult to implement, requiring a web developer. By limiting the number of apps they offer, Wix is able to have more instructions and better support.
Conclusion: Which One is Better?
In conclusion, there is no definitive answer to the Wix vs WordPress question. As with many things in life, the best solution depends on your goals, budget and business. If you would like to set up a free consultation to discuss your project and get your platform questions answered, contact Bizzy Bizzy today.