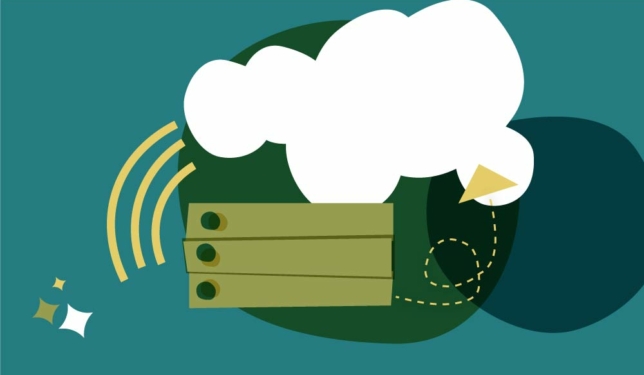 What is Web Hosting and Which is the Best for WordPress?
What is web hosting?
Website hosting is the process of storing a website on a server and making it accessible over the internet. In order for visitors to see your website, you need hosting.
Most websites are really just made up of a bunch of files and a database that are displayed in a website browser such as Chrome or Safari. This is the case if you use software such as WordPress to build your site. The hosting is the computer (aka server), or network of computers (aka cloud), where your website files and database live.
To use a metaphor, think of your domain as the street address of your house, the website is the house itself and the website hosting is the land the house sits on.
Every website has hosting, whether you're talking about your nephew's soccer club website or a massive site like Amazon.
Web hosts (or web hosting providers) are companies that provide space on a server or "the cloud" (more on that later). That space — as well as Internet connectivity — is typically rented to their customers and sold as web hosting services in various plans or packages. Website hosting is typically paid monthly and usually includes space for storing files and databases.
It's important to understand which website hosting providers you need. If you buy a plan too big, you'll end up overpaying for resources you don't need. If you choose a plan that's too small, you may have outages, downtime, or end up having to switch providers later, which can be a pain.
Website Hosting for WordPress
Let's explore various types of website hosting for WordPress websites so you know what to look for in a hosting provider and plan.
To get started, below are WordPress's hosting requirements straight from the horse's mouth!
PHP version 7.4 or greater.
MySQL version 5.7 or greater OR MariaDB version 10.3 or greater.
Nginx or Apache with mod_rewrite module
HTTPS support
Luckily, despite all the techy jargon, the vast majority of website hosting providers support WordPress's requirements because WordPress is the most popular website builder software in the world!
Just look for the WordPress logo on the hosting provider's website. If you see the logo, then you're good to go!

We'll get into more details below about the best website hosting for your WordPress website.
How much does web hosting cost?
Website hosting for WordPress costs vary. It can be as low as $5 per month or up to $1,000 per month depending on the type of hosting, what features are included with it and who the provider is.
A reliable website hosting service will offer high-speed internet connections, redundant data storage, and at least some level of security. But there are other add-ons you could pay your website hosting provider for, such as:
email,
additional security,
search engine optimization services,
and more.
And — this is important —  your website host could also offer domain name registration. That can get super confusing because your domain registrar and your website host do not necessarily have to be the same company…but they could be.
The minimum cost for website hosting for a typical startup is around $10-20/month for the hosting of a standard website. Other common costs include:
Branded Email: $6/month for each branded email address you want (e.g. you@yourdomain.com)
Domain Registration: $15/year for standard domain name (shorter, premium domains could cost a lot more).
If your website is a high-traffic site, you'll likely want to spend more on high quality hosting to deliver the best performance for your users. If your site is a low-traffic site (say fewer than 1,000 visits a month) then basic hosting is probably fine. Hint: If you're not sure how much traffic you get, check your Google Analytics.
Other factors that will determine how much you pay for website hosting include:
Expected traffic spikes
Your technical support needs
Security requirements
Performance needs
Desire for / ability to maintain a server
There are oooodles of companies (like, literally thousands) that offer web hosting services, but not all of them are reliable or trustworthy.
And there are many different types of website hosting plans and add-on products and services, so it is important to do some research and understand what you're paying for before making a decision.
How to find out who is hosting a website?
Before you get ahead of yourself and sign up for a 5-year plan with GoDaddy (our least favorite website host), make sure you don't already have hosting.
Hint: If you already have a website that is available on the Internet, then you already have website hosting in some form or another.
You may be trying to find out what hosting a website uses because you're looking into redesigning your website, trying to cut some costs by switching to another hosting provider, or maybe your site is down and you're looking for tech support.
But how do you know who is hosting your site if you simply don't remember because you set up your website like an eon ago? This is especially common if you paid a big chunk of money up front for a couple years of hosting, rather than being billed monthly. And let's face it, keeping track of passwords was never really your thing.
To find out who hosts your website (or any website!), you can quickly find out by using the free builtwith.com tool!
Watch this video to see how easy it is!
When should you buy web hosting?
If you are just starting a website for the first time, you probably don't have any website hosting set up yet (although you may already have bought a domain).
If you plan to build your own website, don't purchase a website hosting plan until you are 100% sure which website building software you are going to use.
Some popular website platforms are:
Depending on which platform you choose, you may get hosting included, or not. So don't pay for anything until you know what the plan is.
If you are hiring a web design company to build a site for you, also don't buy any hosting just yet. Some companies insist that they host the site for you (more on this later). Some have specific third party website hosts they use. Others let you use any host you want. Just wait until you know who the web designer is going to be, and then follow their instructions when the time is right!
If you plan to use WordPress for your website building platform, just know that there are two versions of WordPress, one that includes hosting (wordpress.com), and one where you go out and buy your own website hosting (self-hosted WordPress). If you build a self-hosted WordPress website, then you'll need to purchase website hosting before you can install the WordPress software.
Hint: We always recommend self-hosted WordPress for better scalability and autonomy.
Reminder: No matter what the situation, make sure you keep good records of who the host is, how much you are paying, what all is included, and of course, your login credentials!
Should you pay monthly or annually for web hosting?
As we've mentioned, the cost of website hosting can vary depending on the type of hosting plan that you choose, as well as which company you go with.
Web hosting services are typically offered on a monthly basis, but can also be purchased in blocks of time at a discount.
Generally speaking, if you're building a website yourself, you probably should stick with a monthly hosting plan.
It's not uncommon for people to start a website and then switch platforms and hosts early on, so it's definitely best not to give GoDaddy $450 for 5 years of website hosting if you're going to end up switching to something else in a few months!
On the other hand, if you're certain you'll be with the same company for a few years, it can be a real cost savings to buy in a larger block of time.
What website hosting should I get?
When signing up for website hosting, there are a lot of choices. The first decision is choosing a type of hosting and a vendor.
There are 4 common types of website hosting for WordPress websites:
Shared hosting
Managed WordPress Hosting (this is specifically for the WordPress platform)
VPS hosting
Cloud hosting
The good news is, for most startups, the most basic (i.e. cheapest and easiest) hosting plan will do the trick! But let's dig into a few of those a bit more.
Shared vs. Managed vs. VPS vs. Cloud Hosting
Shared Website Hosting
Shared hosting is the most common way to host a WordPress website for startups and small businesses. It is inexpensive and easy to set up with nearly any major website hosting provider. Shared hosting can be as cheap as $3/month.
A shared hosting service is a type of web hosting where multiple websites share the same server to save costs. Shared hosting services are more affordable than other types of hosting because they use less resources, but they also have some limitations.
Watch this video to learn how to set up a shared hosting plan with Bluehost.com to see what you need to buy and what options you can skip.
With unmanaged, shared WordPress hosting, your site lives on a server that typically features the Linux or Windows operating system, which allows you to install any number of applications beyond WordPress.
Important Note: Always choose a Linux server if given the option! (It doesn't matter if you use a computer or laptop that uses Windows). Linux will work better with software such as WordPress.
With typical shared hosting, you'll get a login to a cPanel or control panel of some kind and be able to install WordPress as well as any number of other software programs. It can be overwhelming to look at a cPanel with its many options, but most of the applications have some kind of installation wizard to help. If you get stuck, you can look for help documentation from the hosting provider, try their 1-800 number or support chat, or hire a web designer or tech person to get you started.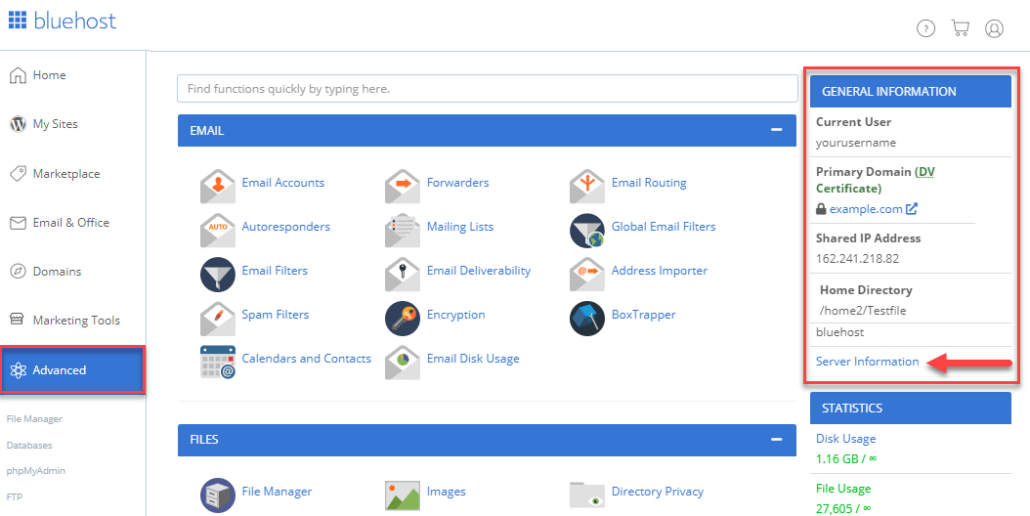 The downsides of shared hosting
Shared hosting is fine for getting started with your online presence when the budget is really tight, but the downsides are plenty:
less-than-great performance (i.e. sloooow sites),
poor reliability (i.e. more downtime),
and unchecked security (you'll be responsible for upgrading WordPress, PHP, and it's more likely that your site could get hacked.)
poor customer service (you'll talk to sales people instead of tech people)
We don't recommend it, but if you must use shared hosting, we recommend Bluehost. Why Bluehost of all the shared hosts out there? 3 simple reasons:
and they offer a free SSL certificate ($60/year savings).
Plus you can get started for $4/month. Wow, that's cheap!
Managed WordPress Hosting
Managed WordPress Hosting is a bit different — and a tad more expensive  — than shared hosting. Managed WordPress hosting typically costs $15-25/month.
With managed WordPress hosting, your site lives on a server that's configured to work with WordPress.
As a part of your plan, you will typically get automatic WordPress-specific security, automatic site backups, malware scanning, and other benefits without lifting a finger. The website host provides all of these features, as well as WordPress-specific technical support. They won't help you build your site, but if you're running into a common WordPress issue or plugin conflict, they will likely be able to troubleshoot it.
You'll also typically enjoy faster site-loading times with managed WordPress hosting than with shared hosting.
The downsides of Managed WordPress Hosting
Still a very affordable option, there are only a few downsides to managed WordPress hosting:
The host may limit certain WordPress plugins you can have for security reasons or because they duplicate functionality built into the hosting service.
Because the host does automatic WordPress updates for you without a human checking your website, it's possible your site could break during updates and no one will notice! Read more about updating your WordPress website.
VPS Website Hosting
A VPS, or Virtual Private Server, is a type of hosting that provides the customer with more control over their server. This style of hosting is one physical server, (which is sometimes divided into several smaller virtual servers). This type of hosting is ideal for those who want their websites to be faster and have fewer outages or security threats.
A VPS is more expensive than shared hosting, but it also offers more features and better security. VPS hosting services are generally priced by the resources you need (i.e. how many cores, how much RAM, bandwidth, etc.)
If you don't know what all that means, you're not alone. VPS is recommended for people who have a technical background, preferably in server management.
With a VPS, each virtual server acts as its own dedicated server environment. This benefits of VPS are:
better security for your website,
your own dedicated resources (e.g. storage, bandwidth, etc.) so your site loads faster;
a dedicated IP address and some scalability
and full control / customizability.
The downsides of VPS hosting
More expensive than shared or managed hosting.
You need a technical person familiar with server management to configure and manage the server.
Hardware vulnerability is higher than cloud hosting because redundancy isn't built in in the case of a server crash scenario.
If you need a VPS because your website is quickly growing, you might first contact your existing website hosting provider to see what kind of deals they can give you on VPS and if they will automatically migrate the site for you. This could be the simplest way to get set up.
Otherwise, ask the tech person on your team who will be responsible for managing the servier which VPS provider they want to use.
Cloud Hosting
Cloud hosting is generally thought to be the best website hosting solution available. With cloud hosting, your website gets dedicated resources on a vast network of computers called "the cloud."
Cloud hosting typically offers more reliability than a VPS because it relies on a network of computers rather than a single server. Also, the cloud service provider owns, manages and monitors the cloud infrastructure, which reduces the technical burden on the website owner.
Websites hosted "on the cloud" are accessible anytime, anywhere. This means that hosting resources for each website are replicated on every cloud server in the cluster for optimal redundancy. For example, if one cloud server already has maximum traffic, it automatically routes the query for the specific site to the idle cloud server in the cluster.
The downsides of cloud hosting include:
Cloud hosting is: more expensive option than shared or managed WordPress hosting.
Reliance on the Internet can cause service outages.
Vendor lock-in means you could get stuck with one provider. Easy switching between cloud services is a service that hasn't yet completely evolved, and you may find it difficult to migrate their services from one cloud hosting vendor to another.
Some of the most popular cloud hosting providers are:
All these providers have various pricing plans and pros and cons. In the WordPress community, Cloudways and Digital Ocean tend to be the most popular. Incidentally, Digital Ocean announced that they are acquiring Cloudways in August 2022. They must be on to something!
The Best Website Hosting Choice for Startups
For most startups and small businesses, we recommend managed WordPress hosting. It is the right balance between affordable, yet secure and fast. And it's dead simple to set up and manage. There are many popular managed WordPress providers.
We think the best website host for startups and small businesses is Flywheel. They offer:
affordable managed WordPress hosting plans starting at $15/month
the most responsive chat customer support we've seen
good help articles and documentation
a beautifully simple interface
daily automatic backups and simple restores so you can edit your site and not worry about breaking it!
extra caching for faster sites
free SSL certificate (Secure Socket Layer), which helps with both security and search engine optimization
access to the database (although not through PHPmyAdmin)
better email deliverability from your website forms with their SendGrid partnership, which is no extra cost to you! Watch the video on setting up SendGrid with Flywheel.
free site migration if you are switching website hosts, which is a huge help.
Choosing a Website Hosting Plan
Once you have chosen a type of hosting and a provider, the next step is choosing a pricing / service plan.
Ask your web design company what level of plan you need. If you're not sure, just go for the cheapest option. You can always upgrade later if you hit some kind of resource limit.
Hot tip: If you find yourself needing to upgrade your plan, you might try the 1-800 number of your hosting provider because you can often get deals on the phone (rather than doing it through the hosting account interface).
Where can you see website hosting reviews?
The internet is overflowing with website hosting reviews. You can find them on blogs, forums and social media.
The problem with Website hosting reviews is that often these are written by website hosting companies themselves, which means you can't trust them. Guess who they will recommend. Their own company!
Instead of reading random reviews on the internet, ask your website developer what their preferred hosting provider is and why. Ask other business owners where they host their site and what they like and dislike about it.
Should you let your web designer host your website?
Many WordPress web design companies offer to host your website as a part of an ongoing monthly fee. This can be bad or good.
Most of the web designers are actually reselling another website hosting providers services. It's very rare that someone actually has a server in their office (or basement as it were).
Here are some questions to ask before signing on for hosting with your web developer:
Will I have access to the files and database via FTP or a control panel?
Even if you don't know what this means, asking this question will indicate what level of control you want to have over your website.
If the answer is "no," this likely means that the company has all their websites on one server (much like shared hosting). They can't give you access because then you'd be able to access all their other websites. The problem with this setup is the same as other shared hosting (sketchy security, slow sites) but you are likely paying much more for the hosting than you would if you just signed up at Bluehost or Namecheap.
The other reason they might not give you access to the cPanel or FTP is that they plan to hold your website hostage. You'll keep having to work with them if you want  your site to be live. If you choose to leave, you could have to start all over with your website.
What is included in the monthly fee?
The monthly fee will likely be more than just the hosting itself. This is important because you need to be able to price compare with other managed WordPress hosting plans and other website design companies.
Will they be running WordPress software and plugin updates every month?
Will they be manually checking the site for errors and testing your contact form?
Do you have daily backups?
What happens if the site gets hacked? Will they fix it at no extra cost?
Does the fee include any changes to the website content or additional features?
Are you paying for search engine optimization? Hint: this will dramatically increase the price.
What kind of customer support do they offer? Chat, email, phone, appointment only? What are the business hours for support?
Once you know the answers to these questions, you'll know whether it is a good deal or a bad deal to have your web design company host your site.
Important: Don't ever let your website company buy your domain name! You should make sure you are the owner of this and have the login credentials to the registrar so no matter what happens, you always have control of your domain.
Is there such a thing as free website hosting and free website builders?
As a startup, you want to find the best web hosting company with the best features and pricing. But what if you don't have the money to pay for your website?
Well, there are some free website builders that offer free hosting as well typically as a trade for advertising on your website.
You might have seen ads for Wix or Weebly website builders that talk about getting started for free.
Free website hosting is available for free at these companies:
WordPress.com (not to be confused with the self-hosted WordPress)
With all these platforms, you'll find that the free version is quite limited. Often you won't be able to have your own custom domain, so your URL will be something like: mynewblog.wordpress.com.
This is fine for getting started, but most serious startups will want to upgrade at some point.
Read more about free website builders.
Conclusion
There are lots of website hosting options available. Some are better than others. You don't want to get stuck with the dreaded "server in some guy's basement" situation or locked into a 5-year contract at a shady company.
When in doubt, do as much research as you can. Use a provider that others have recommended.
Note: We only affiliate ourselves with the best, and we are affiliated with Flywheel, which we think is the best WordPress hosting provider out there, and Bluehost.