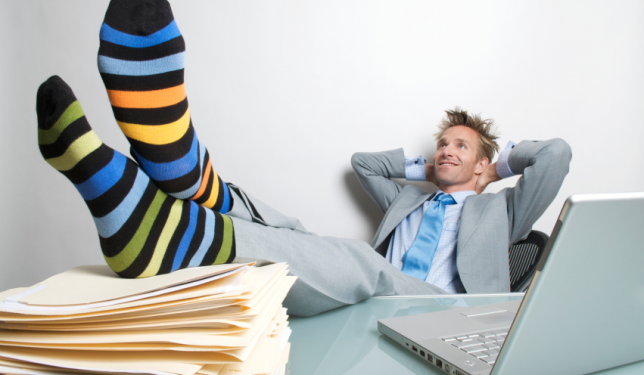 10 Things To Do After Your Website Launch
Your website has been successfully launched, and all that hard work has paid off! Cheers! You deserve a stiff drink. Now that your site is up and running, it is tempting to check that off your to-do list and promptly ignore it for the next 5 years.
I'm sorry to be the one to have to break it to you, but DON'T DO IT!
To really get a return on your investment and take advantage of your website, you need to constantly work on it. Think of your website like a garden. Once you do all the work planting seeds, you then need to care for it so it can flourish and bear fruit. There are plenty of things you could — and should — be doing now that your website is live. The more you put into it, the more you will get out of it in terms of leads, conversions and sales. Here are the Top 10 things we recommend.
1. Create New Content:
Adding fresh, high quality content is the number one thing you can do to improve your search engine optimization / Google ranking. If you have a blog or a place to post news or events, take the time to write a post at least once a month. If writing isn't your thing, post videos or photos whenever you can. Having timely and recent information on your site shows potential clients that your online presence is active and current. If you don't have time to write posts or update your site, find someone on your staff who does or outsource the work.
2. Check for Comments & Spam
If you have a blog, people can post comments on your articles. This is a fantastic way to interact with your readers and customers. Make sure to approve any comments and reply to commenters, answering questions and thanking them for taking their time to read your blog. Warning: WordPress websites attract spambots that will post fake comments on every blog they can find.  You will notice that these comments are very generic such as "I really like this article. It is very well written." You will also notice comments with links to knock-off Louis Vuitton purses. A few times a year, go in to your WordPress dashboard and mark these comments as spam and delete them.
3. Test Functionality
Periodically you should go to your website to make sure everything looks good and functions properly. It's possible that even if no human touched your website, something could go wrong. Your web host could have updated their servers, or an internet browser could have made modifications that could cause plug-ins or code on your site to break. If you have a contact form, shopping cart or other special functionality on your website, test it once a month to make sure it still works as it should. Especially if you notice that you are seeing fewer than normal website queries or sales, run a few tests and click around to different pages. If you want to be extremely thorough, take a look at our Website Quality Assurance Checklist.
4. Assess Security & Updates
Even with comprehensive security measures, as time goes on, your website could be susceptible to hackers and new security threats that didn't exist when your site was launched. This is the nature of the beast. In order to protect your website, you should update your WordPress, theme and plug-in files at least quarterly, preferably monthly. Before updating anything, read our article about doing WordPress updates yourself.
5. Drive Traffic
Promote your website as often as possible on your social media channels. For example, instead of posting a video on Facebook, post the video in your blog and then post a link to that article on Facebook. You want as much traffic on your website as possible. Make sure to have your website URL on all your print marketing materials, and encourage customers, potential clients, friends and family to check out your website.
6. Analyze Your Traffic
If you have a Gmail address, you should be able to access the Google Analytics account that was set up for your website during your training. Check your analytics at least every couple of months to see how much traffic you are driving to your site and how people are finding your content. You can see where your traffic is coming from, what your most popular content is and so much more. You'll find this data fascinating and addicting to look at. The goal of your analytics is to find actionable changes you can make to improve your site.
7. Stay in the Loop
At Bizzy Bizzy, we are committed to staying up to date on all the latest website trends, search engine optimization techniques, WordPress news and industry best practices. Read our newsletter, follow our blog and connect with us on social media to be kept up to speed with all the important information you need to know about your website.
8. Get Support
At times, you may have updates or changes that you can't do yourself. Or perhaps you just don't enjoy doing the maintenance on your WordPress website and have more important ways to be spending your time. We are committed to providing you with as much or as little support as you need after the completion of your website. We offer website maintenance, support and how-to's on an hourly basis as needed or in prepaid 6-month maintenance packages at a discounted rate.
Please contact Bizzy Bizzy to learn more.
9. Improve Your Knowledge & Skills
The best thing about your new WordPress website is that you have the power to improve your site through content marketing and driving traffic through search engine optimization. There are many online resources to help you with this. Bizzy Bizzy provides webinars and one-on-one or group training sessions. We want to empower our clients and give them the knowledge they need to get the best return on their investment. We provide training in the following areas:
Basic WordPress Refresher
Advanced WordPress Training

 

DIY Search Engine Optimization (SEO)

 

Understanding Google Analytics
10. Consider A/B Conversion Testing
A/B testing (or split testing) is when you compare two versions of the same web page to see which one performs better in terms of conversions. You compare two web pages by showing the two variants (let's call them A and B) to similar visitors at the same time. The one that gives a better conversion rate, wins. We can create, monitor and analyze split tests for your website in combination with detailed reporting. A/B testing is generally only worthwhile for websites that have at least 2,000 sessions per month.
Thanks for reading! Please let us know your questions or tips for continually improving your website.