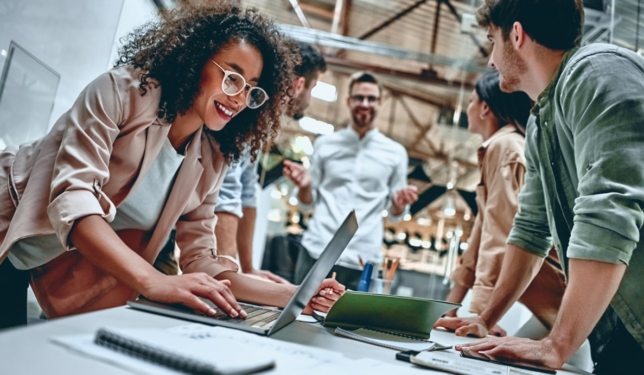 A Marketing Manager's Guide to Website Redesign
You've been handed a legacy website that makes you wanna reach for a barf bag! 
Your organization decides that it needs to be fixed and you're the pilot! Yikes!
In this article, we'll help you navigate the daunting task of a website redesign. We'll cover everything from identifying stakeholders to what to look for in proposals, from the cost of a website redesign to how to launch it!
So, sit back, relax, and enjoy the read!
Why Do a Website Redesign?
There are many reasons why your organization may want to take on a website redesign. Often it's a combination of these reasons below.
Your organization is rebranding
The platform is antiquated or no longer supported
Your visuals and design are dated
You have inconsistent branding and design
The user experience is bad
Your website is too slow
The messaging is no longer accurate
You need to add functionality
The reality is, the longer you put off your website redesign, the worse all of these issues become. For example:
If you have slow page load speed or have a bad user experience, it's only going to get worse as staff members add new content without best practices in place.
If your branding is inconsistent or outdated, the more you use it, the more you'll have to fix later.
If your messaging isn't clear, you will have a really hard time reaching your organizational goals because your visitors won't know what you are trying to provide them.
If you're coasting on an unsupported platform, your entire website could crash and burn.
Your 10 Step Website Redesign Project Plan
As you can imagine, a website redesign is more complicated than a new build. Over the years different initiatives and staff members leave a trail of content that's either outdated, wrong or just plain ugly. You're not sure what to do with any of it. At the same time you are impossibly trying to make all department heads happy as they volley for special functionalities and presence at the top of the page. Sound familiar?
Now that we've established that you have a big task to handle and there's likely going to be lots of turbulence on the trip, let's make a deceivingly simple outline of what you need to do to reach your new website destination.
Get to know your website
Determine redesign objectives

Identify Stakeholders and their needs/wants
Determine CTAs based on organizational goals
Meet with web design agencies
Review proposals
Choose an agency
Communicate upcoming changes to staff and customers
Make a plan for incoming questions after the launch
Launch!
Easy, right?! Now, let's inspect these action items with some helpful website redesign hacks so you can launch your redesign on time!

Get to Know Your Website
Before engaging with a creative agency, get a handle on your current site. First, find out how many pages your current site has. You can do that with a free tool like XML-Sitemaps.com.
You also want to make sure you know what's on the back end, where it's built, and where it's hosted. You can get key information like this as well as what theme your WordPress site is on, what plugins you are using and other useful background info by using Built With.
Both of these tools are incredibly powerful. All you have to do is copy and paste your website url in a box and you'll come to your meetings looking like the ace you are!
Determine Website Redesign Objectives
We listed some of the reasons you may be undergoing a website redesign above. You likely already know what you want to fix and why you need to fix it. Type up those key objectives. If you are presenting why a website redesign is needed to your boss or board, these points—along with your now intimate knowledge of your website—will help you make a case and get the funds needed to revamp your site!
Identify Key Stakeholders
Now that you've identified your objectives as the marketing or communications manager, you will also want to engage other stakeholders to get their point of view. If this initiative hasn't come from above then you definitely want to engage the C-Suite and ensure that you are clear on current organizational goals.
Besides the C-Suite, stakeholders could include:
Your Entire Marketing Team (this should go without saying)
Department Leads
Board of Directors
Events Managers/Coordinators
Partner organizations
Customers
Co-Workers
The Press
You might feel like your list of stakeholders is reaching to the stratosphere, but don't worry!  As the project lead, you will figure out your crew and how involved they need to be. Check out this article and video on stakeholder analysis from MindTools to make it more manageable.
After completing your stakeholder analysis, create a method for acquiring their feedback on the website and their involvement in decision making. Clearly state what their role is in the project.
This is what Cassandra Krause from Wisconsin Bankers Association says about managing website redesign internally.
"It typically works best to assign a core group of 3–5 people to be the "website redesign team." This is the group of people who will attend the 1 Day® Sprints (more on that later) and be rolling up their sleeves to complete the to-dos. An effective team will include one project leader (such as the head of the marketing/communications department) as well as a talented writer, graphic designer, digital marketer, and IT professional. The project leader is responsible for assigning tasks among the team and keeping your broader stakeholders in the loop."
Creative projects are full of subjectivity and you need to find a way to politely manage and deflect extraneous commentary. You are going to have people who love your current website and people that hate the current website. Here are some ways to get feedback:
Surveys
Surveys can easily be created using platforms like Google Forms or Survey Monkey. You can gather both quantitative and qualitative data to help make informed decisions on website needs.
Focus Groups
A focus group allows you to hear feedback from your stakeholders in their own words and have deeper conversations to get to the real issues.
1-on-1 Interviews
You can get more detailed feedback by conducting interviews with key stakeholders.
Dig Into Data
Spend some time in Google Analytics for your current site to understand how people are getting there, which pages they visit, what keywords they search for, and where they drop off.
You can conduct all these methods yourself, just make sure you can remain unbiased and try your hardest to refrain from asking leading questions. Here's an article by Question Pro on leading questions and how to avoid them.
Pinpoint Your Main Calls to Action (CTAs)
After you've received feedback you should have a decent idea of what people need from your website and if they can easily access it. You will also have a better understanding of organizational goals.
Many organizations have people visit their website for multiple reasons or have different audiences. Take our client Wisconsin Bankers Association for example. They are a membership organization that provides education, news, advocacy, networking and more. Each department within the organization has goals to support the larger mission. We worked with their marketing team to find a way to include multiple calls to action (CTAs) and get their visitors where they wanted to go quickly.
Take into consideration needs from both the staff and the customers to decide what CTAs should be on the home page and throughout the site. For more info on how many CTAs to use, check out this article from essential.  If you want some tips on writing sexy CTAS, check out this article from our archive!
Ideally, you'll come to a web design agency with a clear understanding of what your organizational goals are and how you think the website can support them.
Meet with Website Design Agencies
Now that you know what you have and what you want, you are ready to go out and start speed dating with design agencies. The benefits of meeting with agencies are many. Let's name some:
Typically, they are fun, creative people.
They'll ask you questions that make you think even more about what you need.
You'll get a feel for their methodology and if it fits with your organization's work flow.
You'll gain insight on website redesign cost. And that brings us to another important point….
Website Redesign Cost
The cost of redesigning your website will not be straightforward. There's not a magic number out there that we can give you. Sorry! Your boss may have a hard time grasping this. Know that we've been there and are very acquainted with your struggle. Here are some things you can let your boss know.
The price depends on:
The number of pages/size of the site (you already know how big it is because you created a site map.)
If you need the agency to help with overall navigation, page changes like combining or eliminating them and other user experience issues, that will be more time consuming and expensive than just visual updates.
Functionality needs – things like ecommerce, membership, or other plugins and integrations take time, including coding and design, that increase the price.
Creative needs like copywriting, photo editing, stock photography, graphics or icon design. (If you don't yet have a brand guide, we suggest you include brand identity into your marketing budget too. Some agencies, like ours, do both branding and WordPress website design.)
Deadline – If you have a rush need, an agency may charge you more.
The agency – every agency has its own price point and business model. You need to find the one that works for your budget.
For more information about choosing the web design agency for you, and for a FREE and a Web Designer Scoresheet check out this article here!
Receive and Review Website Redesign Proposals
As you meet with agencies, determine if you like their style, both in their portfolio and in their personality! You'll be working with them a lot in the next few months or even years (depending on their methodology, responsiveness, and yours!) If you think it could be a match, ask them for a proposal. They may have follow up questions or want to set up another time to chat. It's worth it to take any opportunity you can to get to know your potential design agency. You'll have challenges managing the project internally and you want to know that your external partners have your back! For more information on what to look for in your website proposals, again, check out our guide to hiring a web design company.
Choose Your Website Redesign Agency and Get to Work!
The agency you select should provide you with a timeline. If they operate like us, they'll give you a list of tasks to complete internally and set up meetings with you and your staff. At Bizzy Bizzy®, we work in 1 Day® Sprints, meaning we work with you and your staff for full days in real time to accomplish goals. Then we have action items for both teams to work on until our next 1 Day Sprint.
Krause says, "This is where the fun begins! Here's a recipe for success for your project leader:
Start assigning action items to the core website redesign team
Schedule out bi-weekly internal check-ins for the website redesign team
Communicate with leadership and stakeholders about the plan, priorities, and timeline
Schedule monthly meetings with each department to brief them on progress and get feedback on functionality and design, even if it's an informal check-in to show off a new screenshot of your plan
Put a launch date on the calendar (pro tip: give yourself more time than you think you'll need)"
Communicate Upcoming Changes to Staff and Customers
Hopefully throughout this process your colleagues are aware of the upcoming changes. However, as you move towards launching your new website, you will want to send out more consistent communications on launch dates and FAQs.
Key information to provide staff includes:
Why the website is being updated
Launch date
Dates and times that the website might be down
The new site map
Who they should contact if they or a customer cannot find something
How fast they can expect a response
Who to contact if they see an error on the website
Krause says,  "The more you update and solicit input from your colleagues and stakeholders along the way, the likelier you are to have happy campers come launch time. Even if you aren't able to accommodate everyone's full wish list, listening to their perspectives and explaining the decision-making rationale goes a long way. So regularly schedule a five-minute update in leadership, department, and all-staff meetings as you are able — trust me, it will save you time in the long run."
You will also want to inform your customers of the upcoming changes. Updating a website is like taking a Pan Am flight in the 1960s! Make your communications exciting and drive people to your new site to check it out! You can share information like the launch date, updated features and functionality, and other highlights specific to their needs. You can share this through social media, your email newsletter, and even promote it on your current website!
When you launch you can also create a temporary pop up that welcomes them to the new site and directs them to a phone number, chat, or email address if they have trouble finding anything.
Make a Plan for Incoming Questions After Launch
Even if your current website is hard to navigate, when you change the location of information, some people may lose their way since they were used to the old site. Be prepared to take phone calls and answer emails from disgruntled, frustrated customers and even staff members. To assist, you could:
Have a point person who knows the new structure inside and out to answer emails and phone calls.
Create a visual sitemap that people can download and reference as they get used to the new website.
Website Redesign Last Step! Celebrate!
This may be the most important step of the website redesign. CELEBRATE! The best way to make sure you feel like celebrating is to move the project along efficiently. Nothing kills the feeling of accomplishment like a project that never ends. We literally hear horror stories of website redesigns that take YEARS. By the time it's launched it's already outdated and no one feels like popping a bottle of champagne.

Website Redesign Services
Here at Bizzy Bizzy, we move our website redesign projects at lightning speed. We work in real time with you to get the work done. Instead of thousands of emails that crowd your inbox, we strive for clear inboxes and sunny dispositions. We keep our clients and ourselves smiling because we get to celebrate a lot of website completions!
If you'd like to learn more about how we work at Bizzy Bizzy, make an appointment with us. We'd love to hear about your project!
For regular updates from Cassandra Krause and industry news from Wisconsin Bankers Association, click the links to follow them on Twitter!