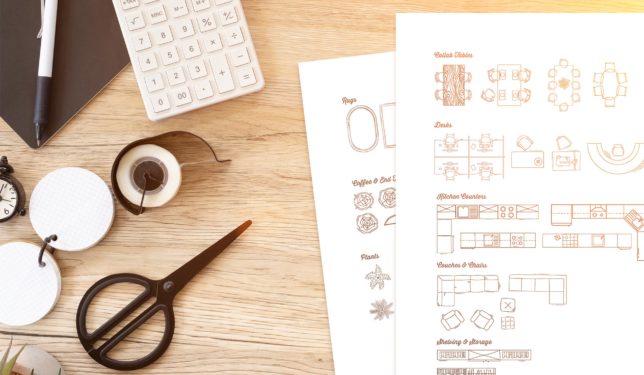 Considerations for Commercial Office Space
Are you considering renting a commercial office space for your service business? Getting your very own "brick and mortar" office is a big deal and an exciting time in your business! If you're like us, you will relish the idea of having a space of your own to design and enjoy with your clients. Leasing commercial office space can be an intimidating process. That's why we wanted to share our experience to show you it doesn't have to be as scary as it sounds.
Make Sure You Can Afford It
When leasing a commercial space, the first step is figuring out how much you can afford to pay in rent.
Note: we're only talking about leasing space here because if you're in a position to be buying commercial buildings, you likely don't need any tips from us.
Every business's particular situation is different, but a good rule of thumb is to not spend more than 5% of your revenue on office space. So if you're revenue is $100,000 per year, look for an office that will cost you no more than $400/month.
But even then, keep in mind if your income fluctuates wildly or you can't afford the first and last month's rent, you'll want to find a cheaper space or wait until you have some money in the bank before taking the plunge.
Renting office space is considered an overhead expense. This means you have to pay the rent no matter how much work you get that month – and even if you have no work at all! So you don't want to get in over your head, so to speak.
Heads up! Commercial real estate prices may be listed by price per square foot (not by the month like apartment rent). You'll see ads that say the space is 900 square feet and is $16-18. You calculate the estimated monthly cost by multiplying the square footage by the average price and dividing by 12.
So for example, 900 x $17 = $15,300 / 12 = $1275/month.
Prices will vary a lot based on location and the size of your city. Obviously, the more desirable and popular the location, the more pricey it will be per square foot. You might be paying $5 per square foot in a small Midwest town or $100 per square foot in Manhattan.
Don't forget to factor in furniture, insurance, utilities and — if applicable — other costs like Common Area Maintenance (CAM) into your budget.
For a service-base business, having an office space isn't likely to directly generate a ton of business for you like a retail business would because the services you are selling aren't an impulse-based purchase, a convenience or a location-based purchase.
For example, if you are selling a business-to-business (B2B) service like consulting or accounting services, hardly anyone is going to walk by your storefront and just up and decide to hire you. There has to be a need first.
That's why getting a retail space in a prime location for your first office isn't really necessary. Retail space is usually on the ground level near a sidewalk or street where people can see the sign in your window and the goods you are selling. They can walk right in and buy something.
Sure, a storefront couldn't hurt, and brand exposure is always a good thing. But retail space is waaaay more expensive than office space and is best for businesses that depend on foot traffic or car traffic to drive business (think gift shops and restaurants).
There are a couple of indirect benefits of having a commercial office space that could impact your sales. One, you will be leveling up your professionalism. Customers (and even family and friends) will take your business more seriously. There is some inherent trust built into having an office where someone knows they can always find you. You might find that it's easier to convert customers when you have an office.
Two, having an address on the Google My Business map will help your search engine optimization. It's easy to register, and it's free. When people are looking for a service provider, Google naturally shows the closest ones as a part of their ranking algorithm.
Consider a Short Lease for your First Office
When you do a Google search about leasing commercial real estate, it sounds very complicated and intimidating. It can seem scary enough to make you not want to even bother. And that is the case when you are talking about those spendy retails spaces. But in our experience, there are much simpler options for renting office space. Generally, office space is usually above the retail space or on the outskirts of town and is a lot more affordable. In addition, office space doesn't usually require a 5- or 10-year commitment or a super-complex lease like many retail spaces do.
Consider a short lease for your first office. It turns out, you don't have to sign a 5-year lease for a lot of office space. This will give you more flexibility if your business shrinks or grows.
Bizzy Bizzy's first office's lease was 3 pages long and we only had to sign on for a one-year lease. Since then, we've renewed that one-year lease three times!
Get Help Negotiating
If you do find yourself negotiating a complex 30-page commercial lease, by all means get a lawyer and/or commercial real estate agent involved.
A lot of things were negotiable in the lease, and if we had signed on for five years, we probably could have gotten some "Tenant Improvements" like new flooring or having a kitchenette put in. The longer you commit to, the more you can negotiate and get from your landlords. If you're signing a 1-year "gross lease," you're likely going to get the space as is for a set monthly price. A gross lease is much easier to budget for, so that's a good option when you're new to commercial real estate leasing.
Find the Right Location
You'll want to look around at several spaces (at least 7-8) in a variety of neighborhoods to get a feeling for the average cost of office space.
You don't need a realtor if you want to do some serious research yourself. For us, the spaces we liked the most were ones we found just by driving around in our preferred neighborhoods and seeing signs on buildings that said "For Lease." But you may want to get a realtor to help find listings and do some of the negotiation.
Commercial real estate is a bit of an insider's game. As far as we can tell, there doesn't seem to be a "Zillow" of office space where you can see what all is available or what something went for previously. That's where a realtor comes in handy.
If you're in the market for commercial real estate, it couldn't hurt exploring your options and talking to some landlords and realtors. And if you're not quite ready for your own office space, consider a co-working space or office sharing with another business owner!
Make the Space Yours!
Using your creativity to design your dream office is a powerful tool for visualizing and making your dreams a reality! Download our printable worksheet to design your perfect commercial office space! Cut, draw and create a floorplan that includes furniture, storage, decor, plants or anything else that would make your work space perfect. You'll need some scissors and glue.
Even if you can't afford the office of your dreams right now (you know the one with champagne on tap and an in-house massage station), make the space yours! Let your brand shine. Showcase your style with curated art, furniture, books and more.
Don't forget to get some branded signage with your business name on it for the window or door. Show off your work if applicable, post your social media handles on the wall, and have marketing materials and business cards on the ready.