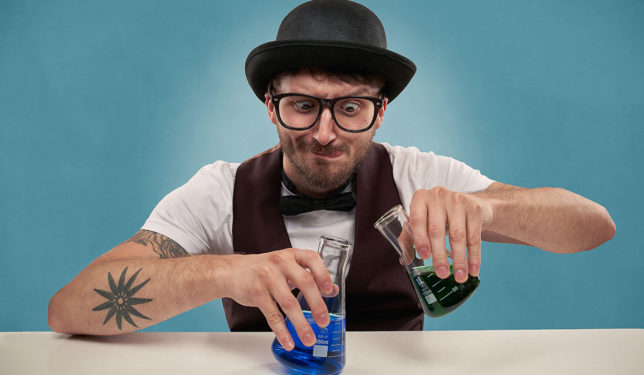 Tips for a Successful Brand Photoshoot
Hiring a professional photographer, videographer or branding agency to do a photoshoot for your business is a big financial investment. You want to make sure you're going to be happy with the end results and that the photos or videos you get will be valuable to you.
The goal is that you'll be proud to use them in all types of marketing, including your website, social media, email marketing, print and your book (you know, the one you've been meaning to write).
Here are several tips for a brand photoshoot (or personal brand photoshoot) to keep in mind. We'll mainly be referencing photos in this article, but almost all the same tips apply for a video shoot.
Photoshoot Logistics
Make a Plan and Shot List
Think through the big picture objectives and specifics of each shot to make sure you're achieving your goals. Take a look at Instagram, stock photo websites and Pinterest to find inspiration for your shoot. The clearer vision you have, the easier it will be to communicate with your photographer. Save photos of your favorite poses, makeup / hair styles, clothes, scenes and colors palettes. Try to narrow in on a specific look rather than finding tons of different styles you like. The more narrow and focused you can be in terms of inspiration, the happier you will be with the end result. Make an image collection or mood board and send them along to your photographer and/or models.
Do some scouting ahead of time for possible locations. Make a plan and detailed schedule for the photoshoot. Who is getting photographed where in what outfits with what props at what time. If you don't know how long things will take, do the most important shots first and save some "nice-to-haves" for later in the day. Reserve rooms and the exact spaces needed for each shoot location.
Create a shot list to establish expectations for deliverables so that they are clear to all you, the models and the photographer's team. Get detailed about not only the content and styling of each shot, but also what each shot will be used for. Keep in mind for websites, most of the time horizontal images work better than vertical portraits. Make sure you have at least a few photos that are not cropped in too tight on your head/face so you have more options on how to use them.
For example, do you want a shot of a model looking up, which will be cut out and used on a solid colored background for a Facebook ad like the one below? Tell the photographer so they know to not crop your head and to keep the background simple for easy cutting out later.
Have a plan, but don't be afraid to scrap an idea during the photoshoot. If in the moment things just aren't working out due to lighting, weather, or something else unplanned, move on to the next shot.
If a shot is going really well and you're feeling extra confident or the photographer is responding very positively to a specific scene, feel free to experiment. Sometimes that spontaneous shot is exactly what you were going for.
Keep contact information handy for facility managers, photographers, models or anyone else you might need to get a hold of for last-minute change of plans.
Beautify the Area
If the photoshoot is inside, have the area professionally cleaned for the shoot if possible. Dust, cobwebs and dust bunnies are especially noticeable when shot with a really a nice camera!
Remove the clutter— less is always more with photo staging. Get rid of papers, cords, wall hangings and anything that isn't intentionally in the composition. If you are taking photos outside, make sure to look for things like litter, puddles, power lines, garbage cans, sad-looking plants, etc. that would distract from the photo. Remove them if possible or reframe to avoid distractions or anything that will clutter up the shot.
Weather and Lighting
If you're doing an outdoor shoot, check what time the sun rises and sets the day of the photoshoot to get your shots in the "golden hours." The golden hours include the first hour after sunrise and the last hour of light before sunset. Try to stage outside shots at either of those times when possible.
If you're doing an indoor shoot, check with photographer about additional lighting they may have. If they don't have lights, you'll want to make sure to do the photoshoot near large windows with plenty of natural light.
Getting Permission
If photos will include models, it's always smart to get their permission, in writing, to use the photos for your business marketing. You can download basic "Photo Release Forms" on Google to bring to the shoot for people to sign.
If you are using a public place, make sure you have the right to be there. Don't just assume because a pedestrian could walk in that you can also have a business marketing shoot there. For example, our local botanical gardens is free for someone to visit, but they actually charge people to have photoshoots in the gardens.
Branding Your Photoshoot
Bring your branding guidelines, mission and vision statement or anything else you can think of so the photographers can get a sense of the business' brand. Make sure the photographer knows the background of the business, who your audience is and how / where you plan to use the shots.
The better everyone understands your brand, the better the photos will turn out.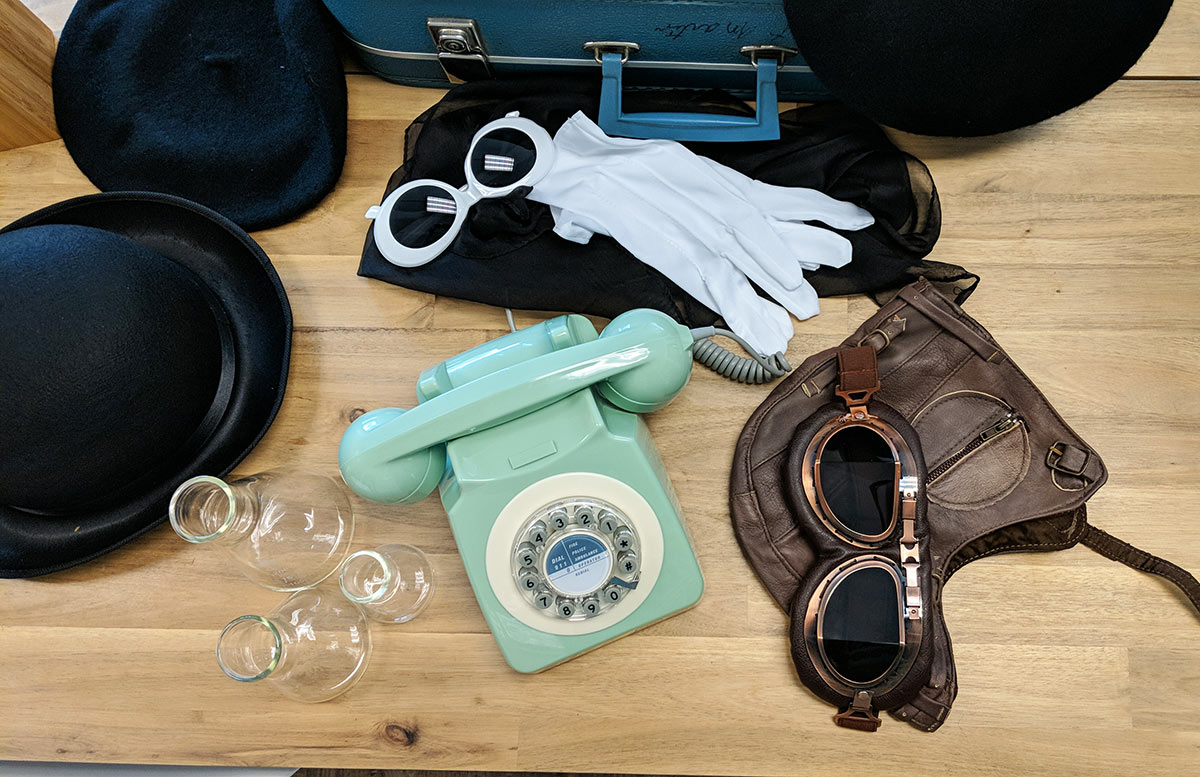 Assemble Some Signature Props
If you have things that could be used as signature props with your logo on it or just the same colors as your branding, consider using them in the scene. Think about tools you might use in your business (i.e. laptop, phone, stethoscope). Think about things you or your company are known for. Does your office have a funny poster that people always comment on? Do you have some sparkly heels or a wild tie that you wear to every networking event?
Some other examples of signature props might be:
a journal or notebook
books
bookends
pen
chair, stool or sofa
mug
water bottle
plant pot
phone case
stapler or other office supplies
containers
texture like fabric or wood
trinkets or figurines.
If the signature props don't closely match your brand color(s), you're better off using neutral-colored props. The props don't necessarily have to have your logo on them, but the more you include them in your photography, the more a part of your brand and recognizable they will become! For example, we are known for having bicycle decor all over our office (we love biking!), so we found a tandem bicycle for our photoshoot that represents collaboration.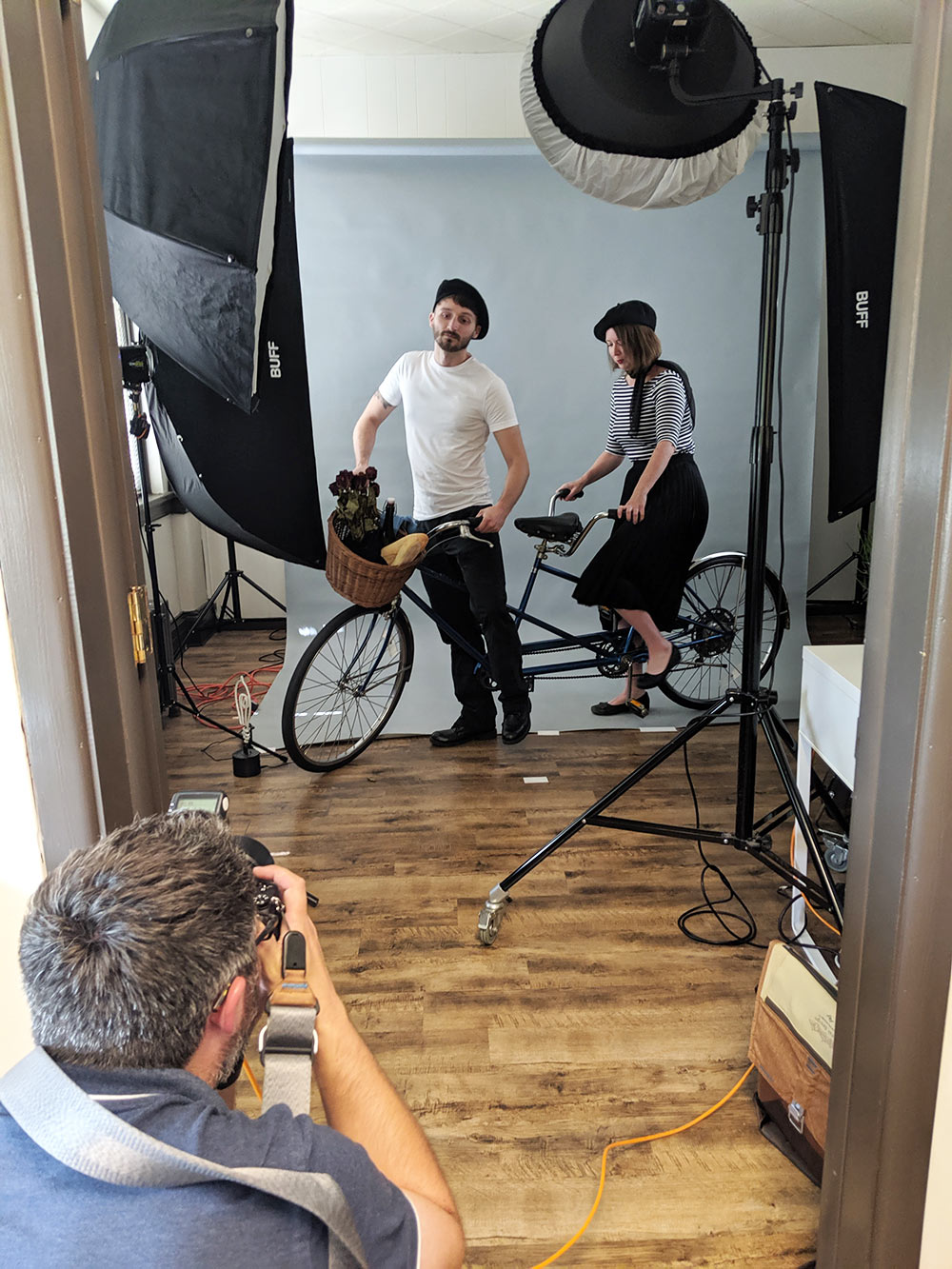 Check out how Culvers uses the same wooden cutting board and blue napkins in most of their food photography as example of well-branded photoshoots.
Adding plants or flowers in the scene is a great idea to help soften the look of a desk or office building and make it look more organic or approachable. That's why practically every stock photo these days contains one or more succulents!
Planning Your Photoshoot Wardrobe
Decide whether people should wear business suits, more casual attire, fancy clothes, or company uniforms. Shoes may be in the shot, so let people know in advance so they dress appropriately. If you're staging action shots for the business, you may want to have people bring a change of clothes that is not the company uniform in case someone needs to pose as a customer. If you are doing more than just a headshot for your photoshoot, make sure to bring multiple outfits so you can get different looks. You may think an outfit looks good on the hanger but then you see it on camera and you can see distracting creases, bra straps or unmatching belts, etc. It's best to have options.
Solid colors are usually best. Bold patterns can be distracting. Above all, do not wear clothes that clash with your brand. For example, if your brand colors are black and lime green, don't wear a color that is close but doesn't quite match (i.e. sea green or irish green) or a color that is totally out of left field such as red, pink or purple. When in doubt, go neutral. Neutral colors (black, gray, brown, tan, navy, blue, white, cream) work well.
Avoid seasonal clothing such as sleeveless tops, down jackets or holiday sweaters. Clothes should not look specific to any season so the photo looks appropriate year-round.
If you have a tie, scarf or earrings that match your brand, then definitely wear them. But in general, jewelry and accessory items should be kept to a minimum. The emphasis should be on your face or the action in the shot, not on your Cleopatra necklace or oversized cowboy hat (unless that's part of your brand!) Nothing dates a photo faster than super trendy fashion accessories!
Make sure your clothing is ironed (trust me, we hate ironing too). Tell models to bring clothes on hangers and bring a few options if they are not sure what color will look best. Wrinkles are tough to Photoshop out, so make sure your clothes are wrinkle-free.
Consider Hiring Other Pros
If you have multiple models or a highly stylized photoshoot, consider hiring a branding agency, a professional stylist and/or makeup artist.
If that is out of the budget, or it's just you and the photographer, consider going to get a "blow-out" or styling done at your favorite salon. At the very least, you and the models should bring a brush or comb, makeup, and hair products to touch up right before the shoot. Make sure you have a full-length mirror available.
Final Details
Send Reminders
Make sure to keep everyone in the loop including the models, creative team and facilities / maintenance / security staff. Send a final reminder the day before the shoot letting each person know when and where they need to be.
If you have models in the photoshoot, make sure to resend them details of what to wear (and what not to wear).
Build Anticipation
Turn your out-of-office responder on your email  for the day so your customers know you're predisposed. Nothing will get higher social media engagement than the reveal of a professional photoshoot. Post teasers on social media a couple of times before and during the shoot, and use the out-of-office message to start building anticipation for the final reveal of the new photos.
Don't Forget to Eat
Make sure to have plenty of snacks and water during the photoshoot! (We also like to have a little champagne for the models.) Have planned breaks during the day, and make sure the photographer has plenty of time to reset after each shot.
Have Fun with Your Photoshoot!
Photoshoots can be super fun and entertaining! The more fun you have with it, the better the photos will turn out. Did we mention we like to have a little champagne?