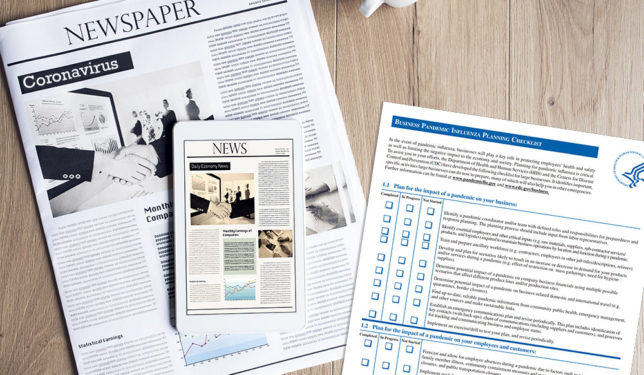 Coronavirus Survival Tips for Solopreneurs and Micro Businesses
With stock markets plunging and the number of coronavirus cases exploding, it's not surprising small business owners are freaking out a bit. We have found a good deal of information on the web about how businesses can survive the coronavirus.
Here are a few guidelines the Centers for Disease Control and Prevention have for businesses:
Keep sick employees home.
Establish remote working policies and protocols and identify ancillary workforce (subcontractors, temps, retirees).
Determine impact on travel, especially for sales staff.
Establish an emergency communication plan.
Develop a plan for a dramatic increase or decrease in demand for your products or services.
Keep open communication with your employees about school closings, public transportation closings and any other issues that may affect their ability to get work.
Clean and sanitize your office regularly!
We found this helpful checklist on the CDC website to help employers prepare for the worst.
Those are all great tips, but we haven't seen a lot of information about how solopreneurs and micro businesses will be able to survive the upheaval. Many of our clients are consultants and public speakers. If this craziness keeps up, there won't be any audiences to speak to!
Many of the policies and tax cuts that are being proposed don't apply for sole proprietorships or won't be significant enough to help them get through this disruption. A low-interest loan is great, but that doesn't make up for a year of lost sales if all hell breaks loose!
In the span of a couple of days, Bizzy Bizzy has seen customers get spooked. The same business owners who were excited about their 1 Day Branding or 1 Day Website a week ago have been bowing out due to either health concerns or just general concern about the future of their businesses and the economy at large.
We're already taking a hit.
To be frank, we're freaking out a bit. We built a whole business model around our 1 Day Branding and 1 Day Website, which is a process best done in person. That's one of the most unique parts about what we do! We get to sit in the room with our client and team for the whole day and share ideas, design concepts and snacks while creating marketing magic with them!
Sure, we have remote telecasting software like Zoom and Join.Me, and we've done remote 1 Days, but it's not nearly as fun.
But fun or not, now we're scrambling to reframe our website content and start pushing remote 1 Days in order to protect our staff, our clients and our business.
None of us know how the Coronavirus will affect our small businesses. But we do know if things keep getting worse, life as we know it could change.
Since we couldn't sleep anyway, we put together a few ideas on how to survive the coronavirus pandemic.
Spend your extra time creating content
Content marketing is a strategic marketing approach focused on creating and distributing valuable, relevant, and consistent content to attract and retain a clearly defined audience, according to the Content Marketing Institute.
The type of content can take many forms. But the objective is the same. To educate your audience and, ultimately, drive profitable customer action.
But the problem is that content marketing either takes a lot of money to hire out or a lot of time to create!
If you are dealing with low sales or being marooned at home because of the coronavirus, spending your time in content marketing is an investment that will pay off for years to come.
Write some blog posts
Practically every website has a blog these days, including almost every WordPress website we've ever built. And we all know by know that creating high quality blog articles helps your search engine ranking with Google.
Batch write a bunch of blogs and put them on a content calendar to be published and distributed over the next weeks or months. In WordPress, you can schedule your posts so you don't have to even remember to post them on your website.
Start that podcast
Podcasting is a growing industry, and creating valuable content for your industry or potential audience not only increases your credibility and trust with your existing audience, but it allows you to reach new audiences. The good news, just like blogging, it's not terribly expensive to produce your own podcast. This article on podcasting walks you through step by step how to get started.
Write that book
If you have been thinking about codifying all those years of experience and knowledge into a business book, now is the time to write it! Check out these tips for self publishing we've put together.
Create an Online Course
If you are a consultant who is feeling light on work, consider monetizing your knowledge and expertise by creating an online course a WordPress plugin like LearnDash.
Prepare Social and Email Content
Of course, after you've created all that content, don't forget to write social media posts to go along with each blog article, podcast episode and book chapter! Use a scheduler like Hootsuite or Buffer to schedule your posts out over time.
And lastly, get email blasts prepared and scheduled to send out via Mailchimp or other email marketing software to your lists to promote, share and distribute all that content and drive traffic to your website.
Telecast Meetings and Webinars
If you are a public speaker, it's going to be tough to find a live audience right now. You may need to get savvy with your speaking engagements and turn them into online live webinars using software like Zoom or Google Hangouts. You can do a screenshare of your PowerPoint and/or show your webcam video.
If you don't want to do them live, you can just record them through Zoom and post the recording on your YouTube channel. Then you can embed that in your WordPress website.
If your sales meetings are generally done in person, use software to do video calls. Or consider doing emailed video follow-ups with tools like SoapBox. Turning your email into a video will help you stand out and keep your pretty face in front of your clients while all this coronavirus stuff blows over.
Educate Yourself
We all know there is no shortage of amazing online courses we could be taking. Practically every day, I add a new course to my wishlist and then never have time to actually take it.
Spend some time browsing sites like Harvard Business School Online, LinkedIn Learning (they bought Lynda.com which used to be our favorite online learning platform) or Skillshare. Ask peers in your industry what podcasts, books, courses or online training programs they like, and start soaking up that content!
Brush up on your business savvy, marketing chops or skills for your craft. Again this is an investment that will pay off for a lifetime.
Put Your Children to Work
Do you all the sudden have teenagers or would-be college students sitting around bored at your house? Put them to work!
Have them help you with filing, data entry, online market research or prospecting new clients, finding future speaking gigs or trade shows to attend (assuming conferences will still exist in the future). Hey, it's not hard to Google something and scrape some email addresses!
Have them take some online classes and do reports or presentations back to you so they learn something and you learn something.
Have them teach you a social media platform you're not that familiar with. You never know what the next big social platform is that could help your business (Tick Toc anyone?)
Pay them or not, that's your call. But keep them busy!
Work on Your Strategy
Strategy is one area that small businesses owners largely don't spend enough time on. Make a list of long-term projects and big picture goals that have been rolling around in your head, and make a plan to work on them. Any time you have a cancelled meeting, conferences or other engagement, pick up your plan and get to work.
Do some creative problem solving around new products and services you may be able to offer to fill the void in missing sales. Find opportunities you may not have had time or foresight to implement, and be agile with your business. That's at least one area where micro-businesses have an advantage. We can pivot quickly and change course more easily than large companies.
Set up Systems and Automation
Setting up systems for your business takes a lot of time. And sometimes small business owners get so focused on working "in" the business they don't work "on" their businesses. With your extra "coronatime" spend some time writing down your procedures, work flows and standard operating procedures.
Use automation tools like Zapier to find ways to automate some of those tasks. This may seem silly to do when you have so much extra time on your hands, but when things get booming again, you'll not only be in great shape, but you'll actually have set yourself up for scaling your business.
Support Each Other
Remember that you're not the only one dealing with this. Continue to support other small businesses that might be struggling through this. This article has some tips including ordering gift cards and takeout from local restaurants to keep them afloat.
Stay connected to other small business owners through email, social media, text and phone. In times like this, it's easy to get depressed, anxious, paranoid or otherwise incapacitated on your couch. Small business owners, especially solopreneurs and micro businesses are in a different place than salary employees and hourly wage earners. We face different challenges during this time. And you shouldn't try to get through it alone.
If you are facing financial difficulties, reach out to your network. Find out what resources are available to you. And don't be afraid to ask for or accept help. Now is not the time for pride! We're in this together!
Use Your Time Wisely
If the coronavirus continues to disrupt our lives at this pace, who knows when we will be on the other side of it? But one thing is for sure. Our businesses will be affected by it. And there may never be another time in your life like this. So use your time wisely.
Don't let the negative impact of the coronavirus on your small business be compounded by spending that entire time watching Netflix and hoarding toilet paper. Don't let your business go dormant! Do something strategic and productive with your time and your future business will thank you for it!