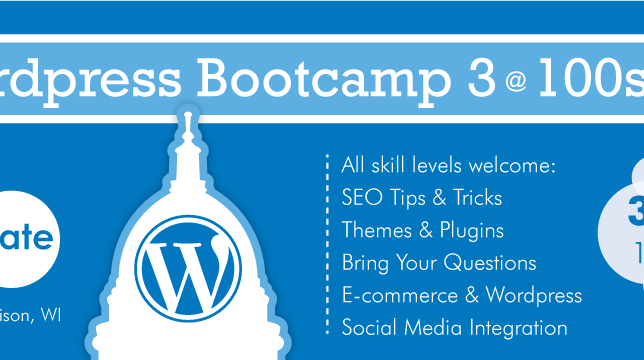 WordPress Bootcamp in Madison @ 100 State
I recently joined 100 State, the co-working space in downtown Madison, and I am excited to be a part of all the community-oriented projects and entrepreneurial ventures there.
In particular, I'm pleased to announce Grow Madison, a new venture formed by myself and a few other local website developers and marketing experts in Madison. Our mission is to help Madison small businesses, entrepreneurs, non-profits and startups increase growth by providing high quality, hands-on, experiential learning opportunities.
This is something I have long been passionate about. At iCandy Graphics & Web Design, we strongly believe in empowering our customers to learn how to use their websites to grow their businesses, and we believe in letting them have total control. In the spirit of WordPress, we believe people shouldn't have to hire a web developer to make simple changes to their website that they could easily make if they had an easy-to-use Content Management System like WordPress.
In 2014 we introduced one-on-one WordPress training and search engine optimization training. But the problem is that one-on-one training can be cost prohibitive for many solopreneurs and microbusinesses.
That's why I've teamed up with other local developers Matt Nelson of MadTown SEO and JJ Pajac of Atomic Coffee Media to host the WordPress Bootcamp. 100 State is gracious enough to let us use their amazing space located just above the Veteran's Museum near the Capitol building. This boocamp will allows us to get a bunch of people in a room and train them all at once! WordPress users can help each other, get their questions answered and learn all the basics of WordPress. It's going to be awesome!
[hr]

Saturday March 21, 2015
10:00 am – 4:00 pm
100 State
30 W. Mifflin St. 6th Floor
Madison, WI 53703
[hr]
Come take part in a full day of training in a hands-on WordPress workshop. We'll be available to help answer your questions, saving you weeks of "Googling it." Here's the agenda for the day: 
WordPress 101
Overview
Theme Selection
Adding/Editing Pages and Posts
Plugin Selection and Installation
Backups and Upgrades
Building Your WordPress Website
Setting Up Your Theme
Working With Pages/Posts
Custom Posts Types
Adding Images/Video/Audio
Creating Menus/Navigation
WordPress Tips and Tricks
Blogging Tips and Tricks
CSS/HTML Basics
Social Media Integration
Ecommerce and WordPress
SEO and WordPress
All skill levels are welcome. Bring an idea and leave with a website, or bring a website and leave with a better website!
This workshop is designed for beginning and intermediate students looking to learn how to build their own website, or want to learn how to better manage an existing site.