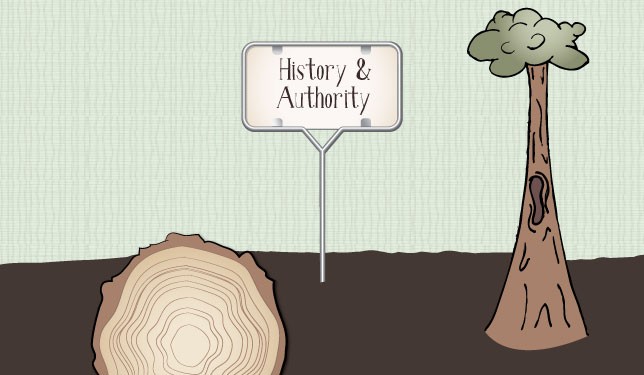 Longevity Is An Advantage, History & Authority
Building your garden's reputation as a destination is not something that happens overnight, just as building your website search engine authority takes time. The goal is to stick around in the same place long enough to allow things to develop and to be able to leverage your longevity.
The longer your garden is around, the better it gets. More visitors are likely to go to an established garden that has mature trees and developed plants. No one wants to walk around a garden composed mainly of seedlings and dirt. Once you've planted your seeds, don't move the location of your garden unless it is absolutely necessary. This should be avoidable with proper planning.
Websites that have been around a long time automatically have more authority than brand new websites (all other factors being equal). Websites for government agencies, nonprofits, industry organizations and media outlets also have more automatic authority.
Resource: One way to measure your search engine authority (and your competitors' authority) is at this website: www.alexa.com.
The Internet has over a billion websites, according to www.Internetlivestats.com8. That's a website for every 7th person on the planet! It is incredible that there is a formula to rank all of them. Out of the billion websites in the world, Wikipedia.org's rank is #6, according to Alexa.
Search engine authority, or credibility, is affected by many things, including the number of external links to your site, the length of time your domain has been registered, the total number of pages indexed for a site and many other variables. Trusted, authoritative websites (as Google sees it) are ones with high traffic and lots of high quality, fresh content.
In addition to following the SEO best practices outlined in this book, you can increase your website's authority by driving more traffic to your site. This means, instead of sitting around hoping people find your site on Google, you should be actively giving your clients, leads, employees, media and others reasons to visit your website. The more traffic you drive to your website, the higher it will rank. The higher it ranks, the more traffic you will get. So you can see how once you get some SEO momentum, you can keep building on it as long as you keep at it.
Like with gardening, you must be prepared to continually work on your search engine optimization. In addition, be prepared for your SEO strategy to take some time to be implemented and to start gaining traction. But once you get some momentum, you can leverage that earned authority to get an even better ranking for more competitive keywords.
Search engines may take days or weeks to react to the new content you add to your website and then to index it appropriately. To speed up the process of your website being indexed, you can register your website with major search engines. Google and Bing have webmaster tools that allow you to submit sitemaps. Make sure your website is being indexed properly using their tools and insights.
Resource: www.google.com/webmasters and www.bing.com/toolbox/webmaster
Domain Names
You can change your website host at any time, but don't change your website domain unless absolutely necessary. It's best if you pick a flexible domain in case your business changes later. For example, don't buy redtulips.com if it is possible that some day you would also be selling yellow tulips or other types of flowers. It's OK to buy multiple domains, but your primary domain name should be something you can use for a long time (hopefully the lifetime of your business or organization).
Of course, like all rules, there are exceptions. For example, let's say you start a business called The Garden Center, and you can't find a domain name that works well because all the good ones are taken. You end up choosing "yourgarden-centermadison.biz". This is one of those horrible domains that gives you grief every time you try to tell it to someone over the phone. Some people don't know what a hyphen is, and others type in ".com" even though you tell them it's ".biz." Then five years go by, you're starting to gain some SEO traction, and "thegardencenter.com" becomes available. By all means, buy that domain and switch immediately!
You'll want make sure your website developer adds "301 redirects" from your old URLs. But the benefits of having a memorable and easy-to-use domain in this case far outweigh the short-term loss of search engine authority. A 301 redirect is like a note to Google saying "We've moved. Visit us at our new location!" By connecting the old and new domains, you are proving that you have nothing to hide and that the switch was for a legitimate reason.
Sore Thumb SEO
There is a good reason that the length of time your website has been around is a factor in SEO. Many sore thumb marketers will build websites and drive traffic to them by committing some of the "sore thumb no no's" we've discussed in this book. When they inevitably get discovered and banned from Google's indexes, they reappear as a new website under a new domain and start the Sore Thumb process again. That's why it looks suspicious to search engines to change your domain name frequently, so don't do it unless it's really necessary.
15 Ideas to Drive New and Repeat Traffic to Your Website
Add your website URL to all of your marketing materials (brochures, business cards, stationery, etc.)
Mention your URL in all radio or TV ads.
Add your website URL to your email signature.
Link to your website from your social media posts regularly.
Give away special offers on your website like discounts or coupons.
Instead of describing products, services, capabilities or Frequently Asked Questions in an email, send links to that information on your website.
Give away e-books or white papers on your website with valuable industry information.
If you have a questionnaire or form that needs to be filled out, have people fill it out on your website instead of on paper or a PDF.
Use a QR code on marketing materials, t-shirts or places around your business and encourage people to scan them with their phones for more information or a special offer. (QR codes are machine-readable code consisting of an array of black and white squares, typically used for storing URLs or other information for reading by the camera on a smartphone.)
Accept job applications or requests for charitable donations via forms on your website.
Post an event calendar, class schedule or employee schedule on your website.
Add special tools, software or features to your website such as a special calculator, estimating system or help forum.
If people need to send you files or images, create a form with upload fields on your website.
Deliver customer product delivery or service updates on your website instead via emails or phone calls.
Provide a download of your high-resolution logo and other branding files needed by designers or media outlets where you are advertising.